Vistara, India's leading full-service airline, has recently launched an exciting new flight route that connects the bustling city of Mumbai to the vibrant capital of the United Kingdom, London. This new service offers passengers a convenient and comfortable way to travel between these two major cities, further expanding Vistara's international network. In this blog post, we will delve into the details of Vistara's newest flight between Mumbai and London, exploring the features, benefits, and experiences that await travellers on this remarkable journey.
Vistara's New Route Details
The Mumbai-London route operated by Vistara covers a distance of approximately 7,120 kilometers, linking Chhatrapati Shivaji Maharaj International Airport (BOM) in Mumbai with London Heathrow Airport (LHR). This non-stop service operates multiple times a week, providing passengers with increased flexibility and options when planning their travel itineraries.
Sector
Flight No.
Days of Operation
Departure
Arrival
Mumbai – London
UK 015
Mondays

Tuesdays

Thursdays

Fridays

Sundays

1435 hrs
1955 hrs
London – Mumbai
UK 016
Thursday
2150 hrs
1100 hrs (+1)
Mondays

Tuesdays

Fridays

Sundays

2155 hrs
1100 hrs (+1)
* All timings shown are in local time zones, exact timings may differ slightly for respective days of operations*+1 indicates next-day arrival

** Subject to regulatory approvals
Aircraft and Cabin Experience
Vistara's newest route (Mumbai-London) is operated using a state-of-the-art Boeing 787-9 Dreamliner aircraft. The Dreamliner is renowned for its advanced technology, fuel efficiency, and passenger comfort. It features a spacious and modern cabin layout designed to enhance the overall travel experience.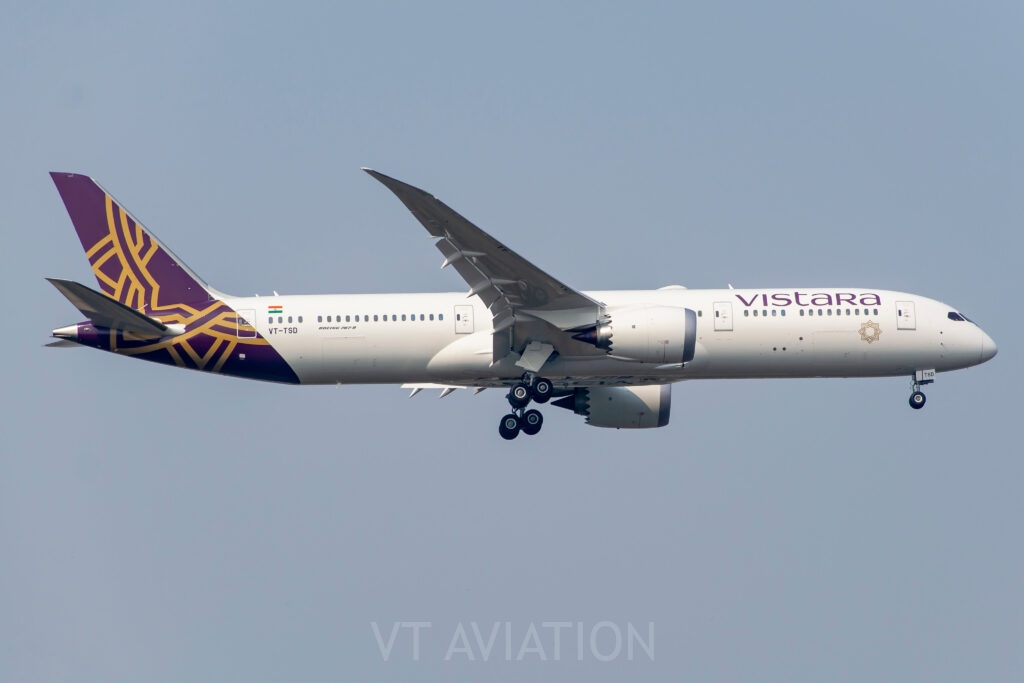 Vistara's Dreamliner offers a three-class configuration, including Business Class, Premium Economy, and Economy Class. Business Class passengers can indulge in fully lie-flat beds, ensuring maximum comfort during long-haul journeys. Premium Economy Class offers extra legroom, enhanced amenities, and a dedicated cabin crew. Economy Class passengers can enjoy ergonomically designed seats, ample legroom, and an excellent selection of in-flight entertainment.
Entertainment and Connectivity
Passengers on Vistara's new route (Mumbai-London) can stay entertained throughout their journey with a wide range of in-flight entertainment options. The Dreamliner's advanced entertainment system offers an extensive selection of movies, TV shows, music, and games, catering to all preferences and age groups. Additionally, Wi-Fi connectivity is available onboard, allowing passengers to stay connected with their loved ones or catch up on work while in the air.
Culinary Delights
The airline takes pride in its culinary offerings, and on Vistara's newest route, there is no exception. Passengers are treated to a delightful dining experience with an array of delicious meals prepared by renowned chefs. From flavorful Indian cuisine to international delicacies, the airline ensures that every taste bud is satisfied. Dietary requirements and special requests are also taken into consideration, making the dining experience personalized and enjoyable for all.
Vistara's Onboard Service
Vistara is known for its exceptional service and attention to detail, and the Mumbai-London flight is no different. The airline's friendly and professional cabin crew go above and beyond to ensure that passengers have a comfortable and enjoyable journey. From the moment passengers step onboard until they reach their destination, they can expect warm hospitality and personalized assistance throughout their flight.
Wrapping Up
Vistara's new route between Mumbai and London opens up exciting possibilities for travellers looking to explore new horizons or connect with friends, family, and business associates in the UK. With its cutting-edge aircraft, comfortable cabins, world-class entertainment, delectable dining options, and impeccable service, Vistara ensures a memorable and enjoyable journey for every passenger. Whether you're a leisure traveler or a business professional, Vistara's Mumbai-London flight offers a seamless and luxurious experience that sets the stage for an unforgettable travel adventure. So, fasten your seatbelts and get ready to soar to new heights with Vistara!