Have you seen those things on the wing tip of an aircraft like the Boeing 737, Airbus A320 etc., that pops straight up or looks curved upwards? Ever wondered what they are and what's the purpose of having them? They are called Wingtip Devices (a.k.a. Winglets/Sharklets).
What are Winglets?
Winglets are curved shaped metal wingtips. They are the vertical expansion of the wings. In aviation, longer the wingspan, lower the induced drag! But every aircraft cannot have a huge wingspan due to various reasons.
These wingtips are inspired by the characteristics of nature. Aviation always has the tendency to look up to birds and their skill of flying. If you have noticed, birds curl their wings up at the ends to improve the efficiency of their flight. Planes fly by developing high-pressure air under the wings and low-pressure air above the wings, causing a phenomenon at the tip of the wing known as induced drag. It decreases the speed of the aircraft and burns more fuel.
Just like birds, winglets help to reduce induced drag. This results in saving fuel, lower the carbon emission and less noise pollution. Another benefit is that they reduce the power of wingtip vortices that are dangerous for other aircraft., which means the plane needs less power from the engines.
Why and How Winglets came into existence?
Winglets are the straight outcome of the 1973 oil crisis. When the world faced the oil crisis, aviation experts had to find ways to reduce the fuel cost. This lead to the development of winglets. Richard Whitcomb, an American aeronautical engineer got his inspiration from watching birds fly. The research lead to the testing of the U.S. Air Force KC-135 with winglets, which had positive results. They saw a 6.5% reduction in induced drag and fuel consumption.
Introduction of Winglets on Passenger Jets
The first commercial aircraft to get winglets was the new version of Boeing 747-400 which was introduced in 1989. It increased the 747-400's range by 3.5% over the 747-300, which was similar but did not have these wing tip devices. In the meantime, McDonnell Douglas announced MD-11 with Split-tip winglets in the year 1990.
In 1993, Aviation Partners Inc. came up with blended winglets for Gulfstream II, which resulted in 7.2% less drag. It was a huge success, leading to a joint venture of Boeing and Aviation Partners Inc. in 1999 to develop winglets for Boeing aeroplanes.
Now winglets have become a standard feature in modern aviation. Apart from efficient performance, they also give a new look to the aircraft. There are various types of wingtips like Canted winglet, Raked tip, Tip fence, Whitcomb winglet, Blended winglet, etc.
We will take a look at the different types of winglets, the generated performance improvements and other technical details in another separate article. Drop us a comment if you would like to see that article on our blogs!
Wingtip options on the Boeing 737 family aircraft
In this article, we will focus on the different wingtip options that are used on a Boeing 737 family aircraft. The 737NG was originally introduced with no winglets. Since the year 2000, the winglets are a most noticeable feature to appear on the Boeing 737s. The winglet option is now available as a standard production line option for all the Boeing 737NG aircrafts, except the -600 series. For older aircraft, the winglets are available as a retrofit from APB.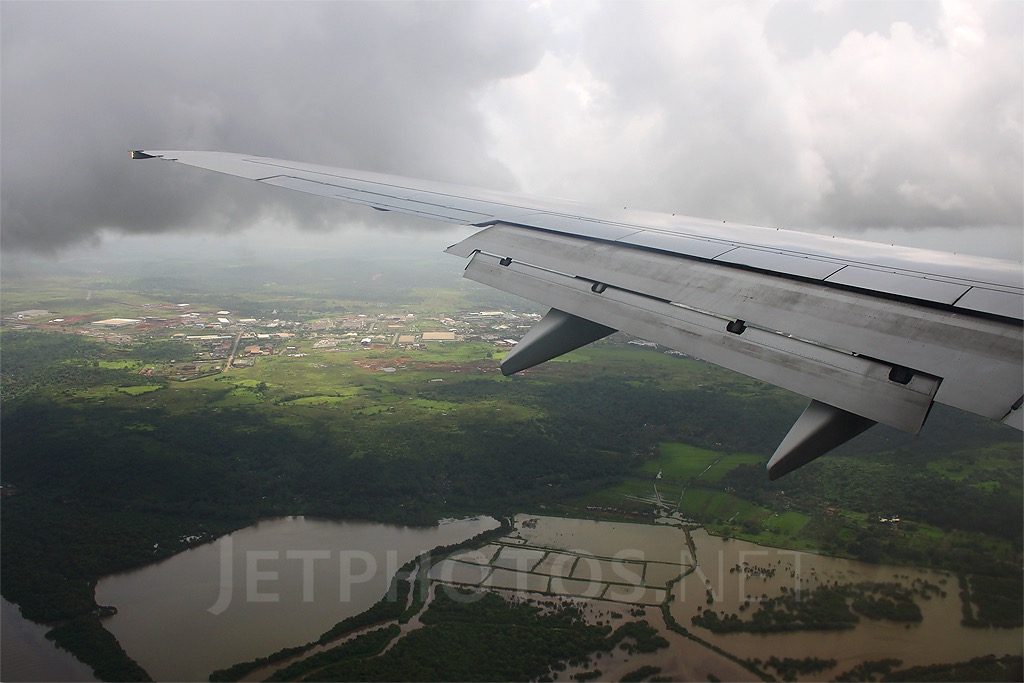 The wingtip is about 8′ 2″ tall and about 4′ wide at the base, narrowing to approximately 2′ at the tip and add almost 5′ to the total wingspan. (Source: Boeing 737 Winglets)
There are four types of winglet options on the Boeing 737s –
Mini Winglets (on the -200 variants)
Classic/NG Blended Winglets
Split Scimitar Winglets
MAX Advanced Technology (AT) Winglets
For the benefit of our readers, we will cover only the Blended and Split Scimitar winglets in this article.
Boeing 737 Classic/NG Blended Winglets
Blended winglets are designed and fitted in such a way that it blends with the wing, giving it a smooth curve and reducing the aerodynamic drag. They lower the block fuel and carbon emissions by up to 4 % on the 737 and up to 5 % on the 757 and 767 (that have the wingtips). These aircraft variants weren't equipped with these wing tip devices initially. They were introduced as an option for 737-800 in 2001. The 8′ tall winglets add 119kgs of weight to the aircraft, and is made up of carbon graphite, aluminum alloy and titanium.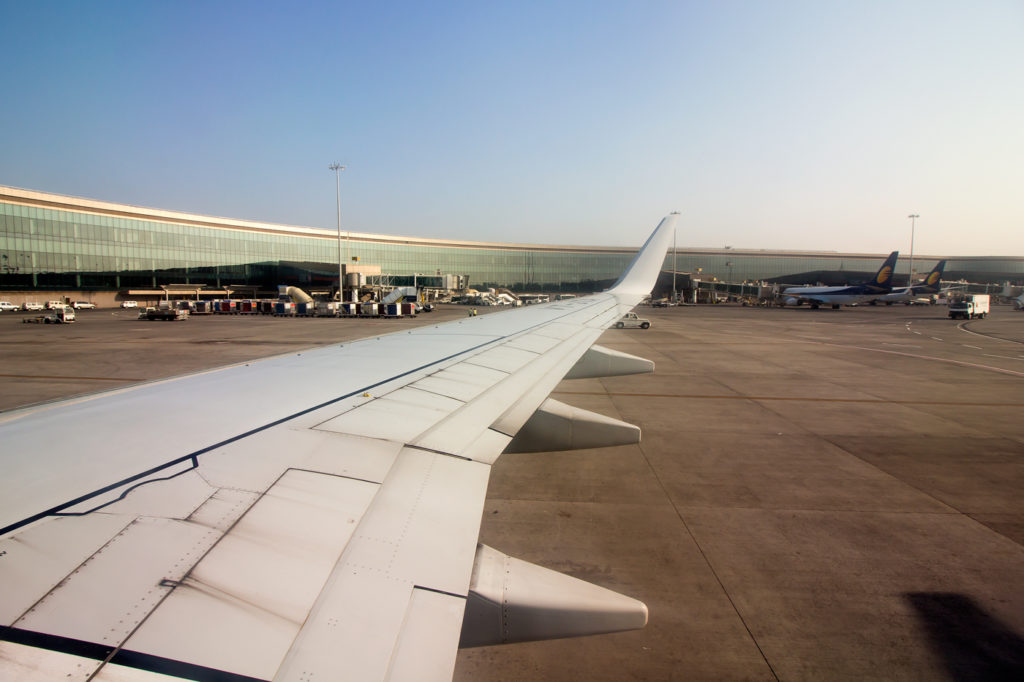 These winglets are a piece of standard equipment on BBJ (Boeing Business Jets) since 2000 and retrofitted (optional) on the 737-300, 737-500, 737-700, 737-800, and 737-900 Extended Range (ER), 757-200/-300, and 767-300ER aeroplanes.
Blended winglets improve the performance in Boeing 737NG aircraft by
Reducing induced drag by 5-7%
Increasing payload
Saving Fuel up to 6%
Improving Take-off /Landing Climb
Reducing Take-off /Landing Field Length
Improving High Altitude Take-off /Landing Capability
Improving Hot Climate Performance
Reducing Noise Pollution by 6.5%
Reducing carbon emission 5%
Reducing Nitrogen Oxide emission by 5%
Reducing engine maintenance cost
Blended winglets are now installed in all the Next-Generation 737 models during production. They are not only beneficial but also give a superior look to the aircraft.
Facts:
Hapag-Lloyd is the first airline to operate a Boeing 737-800 with retrofit Blended Winglet technology
South African Airlines is first to order winglet-equipped Boeing 737-800
Air-Berlin is first to fly a Boeing 737-800 with factory-installed Blended Winglets
Copa Airlines is the first operator in America to fly with Blended Winglet technology
A Boeing 767 reducing half a million U.S. gallons of jet fuel a year per aeroplane results in an annual reduction of more than 4,790 tonnes of CO2 for each aeroplane
Blended winglets can help reduce fuel consumption by 3% that is about 100,000 U.S. gallons of fuel a year, per aeroplane
Continental Airlines, KLM and Alaska Airlines were the launch customers to retrofit their 737- 900s in the year 2007
The Boeing 767 winglets are 11 feet tall and the 737s and 757s are 8 feet and 2 inches tall
Blended Winglets have now been installed on more than 8,500 aircraft, including, in chronological order of FAA supplemental type certification, the: Gulfstream II; Boeing 737-BBJ; Boeing 737-800; Boeing 737-700; Boeing 737-300; Hawker 800; Boeing 757-200; Boeing 737-500; Boeing 737-900; Boeing 737-900ER; Boeing 767-300ER/F; Dassault Falcon 2000; Boeing 757-300; Dassault Falcon 900; and Dassault Falcon 50.
Split Scimitar Winglets
Blended winglets are a common sight now. As they enhance the efficiency, Aviation Partners Boeing came up with the concept of Split Scimitar Winglets that deliver even better performance. Split Scimitar Winglets derive their name from a Middle Eastern Sword that has distinct curved blades ending with a sharp point (Courtesy: Simpleflying). These wing tip devices are specifically designed for 737-800 and 737-900ER and also available as retrofit options for existing airframes.
While the Blended winglets reduce the vortices created at the ends of the wing, by adding another downward-pointing fin, the Split Scimitar winglets will further reduce energy loss. The Split Scimitar Winglet uses existing Blended Winglet technology but adds new aerodynamic Scimitar tips. The blended winglet plus the downward sword-like wingtip, make the 'Split-Scimitar'. They weigh 133kg but increases fuel saving between 1.6 to 2.2% as compared to blended winglets.
Split Scimitar Winglets, offered for 737-800 and 737-900ER, came into service in 2014 but now most of the latest 737s use this technology. Besides offering all the benefits provided by a standard blended winglet, the drag has been reduced by more 2%
First Generation Winglets – (Boeing 747, MD-11) 2.5 to 3% improvement in fuel burn compared with aircraft not equipped with winglets
Second Generation Winglets – (Boeing 737, 757, 767) 4 to 6% improvement in fuel burn compared with the first-generation
Third Generation Winglets – (Boeing 737 MAX) 1 to 2% more improvement in fuel burn than second-generation.
Facts:
United Airlines was the first airline to retrofit its fleet of Boeing 737-800s and 737-900ERs
A single set of scimitar winglets on one plane at United saves about 45,000 gallons of jet fuel in a year. That is as many gallons of gasoline as an average car would use in 72 years
Southwest Airlines started using the Split Scimitar Winglets on one of its 737-800s, retrofitting 52 existing planes, and having the winglets pre-installed on 33 new aircraft
Virgin Australia Airlines is the first airline in Australia to install Split Scimitar Winglets on its Boeing Next-Generation 737-800 aircraft (Source: WorldAirlineNews)
Dubai-based FlyDubai is the first operator in the Middle East to use the Split Scimitar Winglet technology. By October 2020 majority of the fleet will have the split scimitar winglets
SkyUp Airlines has become the first operator in Ukraine of its latest Split Scimitar Winglet technology (Source: Aviator Newsroom)
Pobeda Airlines is the largest Split Scimitar operator in Russia
Blended Winglet and Split Scimitar Winglet technologies have now saved the world's commercial and business jet operators an estimated 9 billion gallons of jet fuel, resulting in a corresponding global reduction of over 95 million tons of CO2 emissions
Split Scimitar Winglets are now installed on more than 1,100 aircraft including, in chronological order of FAA certification, the: Boeing 737-800; Boeing 737-900ER; Boeing 737-BBJ; Boeing 737-700; and Boeing 737-900
Wrapping Up
Retrofitted or pre-ordered, winglets play an important role in various factors. From Blended Winglets to Split Scimitar Winglets, as time passes, technology keeps upgrading and getting better. We are curious to see what's in-store for tomorrow.
What are your thoughts about this article? Have pictures of these winglets taken from an airplane? Feel free to share them with us! More in our next article in the series of winglets on an airplane 🙂