IndiGo, a low-cost carrier based out of Gurugram (Haryana) has brought out significant updates in the recent weeks. New routes, new linguistic website, enhanced network and a lot more to serve its customers. IndiGo, over the years, has grown to become the most successful airline of India, with one of the finest On Time Performances (OTP) for a long time.
IndiGo Network
IndiGo connects to 63 destinations in its domestic network and 24 internationally. The airline has a fleet of 250+ airplanes including the Airbus A320, Airbus A320neo, Airbus A321neo and the regional bird, ATR72-600. The airline operates 1500 daily flights to its wide network of domestic and international destinations.
Talking about new routes and an enhanced network, IndiGo commenced operations from Chhatrapati Shivaji Maharaj International Airport, Mumbai to Aurangabad. The first flight was flown by Aurangabad's Capt. Kirti Raut whose roots belong to the same city. The airline has also commenced operations to Shirdi from Delhi and Chennai.
The planned service from Mumbai to Chengdu has been put on hold due to the ongoing Novel Coronavirus. However, the airline will be soon announcing the revised dates for resuming its operations to China and Hong Kong.
IndiGo's brand new Hindi website
IndiGo recently launched a complete Hindi website, the first ever such initiative by an airline. The website will enable customers to efficiently use and find necessary information regarding flight status, bookings and discounts in Hindi.
After having the highest market share in Indian Aviation of nearly 48%, IndiGo seems to have not left any stone unturned and will be coming up with more languages in the future. The Hindi website has been launched to meet the consumer demand and to reach out to more masses. Here's a preview of IndiGo's Hindi website :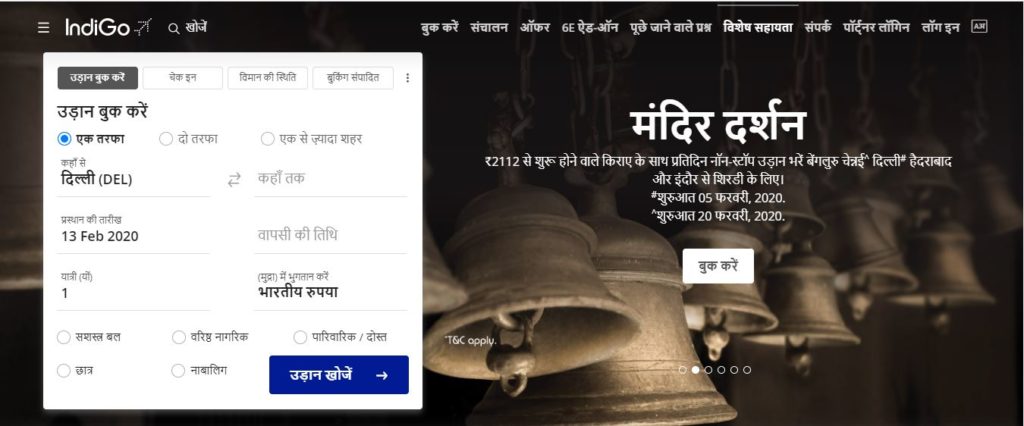 Stay tuned to read more about many #6EUpdates from India's 6E airline.