The ongoing COVID-19 crisis has made it a tough time for the aviation industry around the world. From frequency cuts to grounding planes, the air transport industry has been facing the heat of this pandemic situation. International Air Transport Association (IATA) estimates 2020 global revenue losses for passenger business of between $63 billion and $113 billion! Airlines have been adapting to the situation too! Many airlines are operating cargo flights to deliver essential items, repatriation flights and evacuation flights to bring back stranded citizens.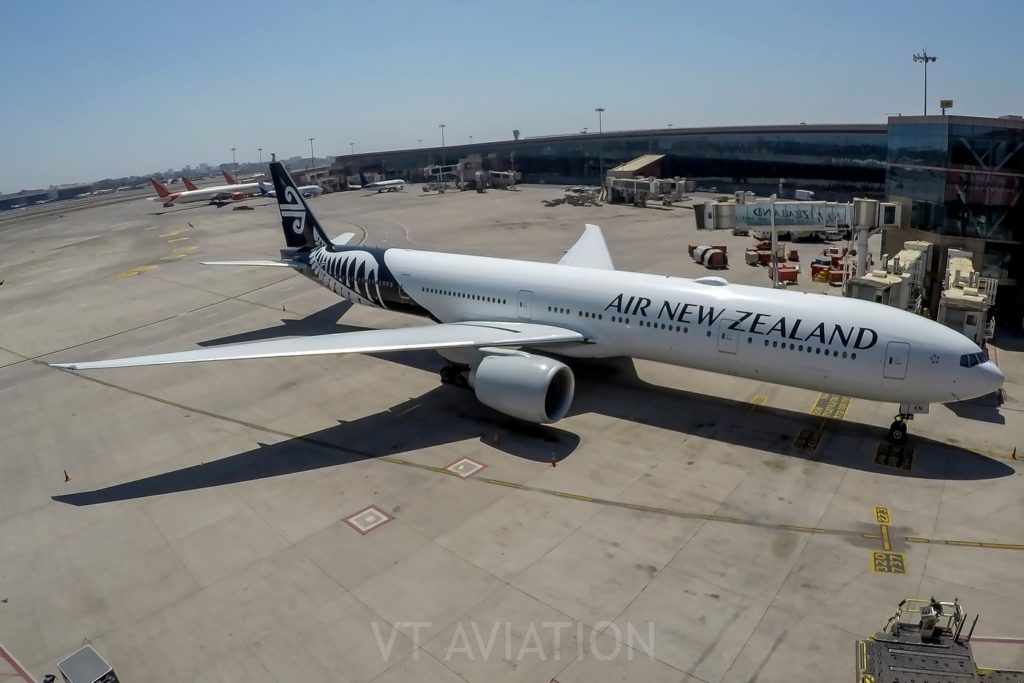 The Kiwi Repatriation Effort
In late-April 2020, the New Zealand Government decided to repatriate Kiwi nationals stranded in India due to COVID-19 crisis. The Government chartered two Air New Zealand Boeing 777-300ER aircraft (ZK-OKO and ZK-OKN) for this operation. Two flights were planned to New Delhi while one flight was scheduled to operate to CSMIA, Mumbai. The Boeing 777-300ER aircraft has a seating capacity of 342 passengers.
The spokeswoman for the Ministry of Foreign Affairs and Trade (MFAT) said, "We are conscious significant numbers of New Zealanders in India are stranded a long way from New Delhi and Mumbai, including in southern and eastern India. We are working with partners to look into options for them, and will continue to provide them with consular assistance."
This is the largest repatriation mission taken up by the Government of New Zealand. "There are over 1360 expressions of interest to take these flights! It is extremely complex and it has taken time to get everything in place." , the spokesperson added. (Source: Stuff)
Air New Zealand is an 80-year-old flag carrier of New Zealand, earlier known as Tasman Empire Airways Limited (TEAL).  TEAL used to operate Trans-Tasman flight between New Zealand and Australia. In 1965, the New Zealand government took up the airline and re-named as Air New Zealand Limited. In the year 1999, Air New Zealand fully became a part of Star Alliance. Currently based in Auckland, the airline operates 52 international and domestic destinations.
Scoop reported that a team of Air New Zealand employees, including six pilots, fourteen cabin crew and one ramp support staff member have volunteered to operate these repatriation flights.
People opting to travel on these repatriation flights had to pay ticket prices of NZ$5500 (~3360 USD). These fares are set by the Government of New Zealand on a cost-recovery basis! A statement from the New Zealand Government said, "These prices are based on length of the flight and is consistent regardless of the location that the flight is departing from. Ground transportation is included in the cost." (Source: Simpleflying.com)
Kiwi Repatriation Flights Take Off!
From an AvGeek point of view, this would be the first time for an Air New Zealand aircraft to touch down on Indian soil. There are no scheduled services from Air New Zealand to India. On April 22, the first flight took off from Auckland International Airport as ANZ1954 to New Delhi. The aircraft with registration ZK-OKO performed this flight. The aircraft departed back to Auckland on April 24th. Most of the passengers were visiting relatives in Punjab when a nationwide lockdown, including a ban on commercial air travel, was announced by Hon. Prime Minister of India in late March.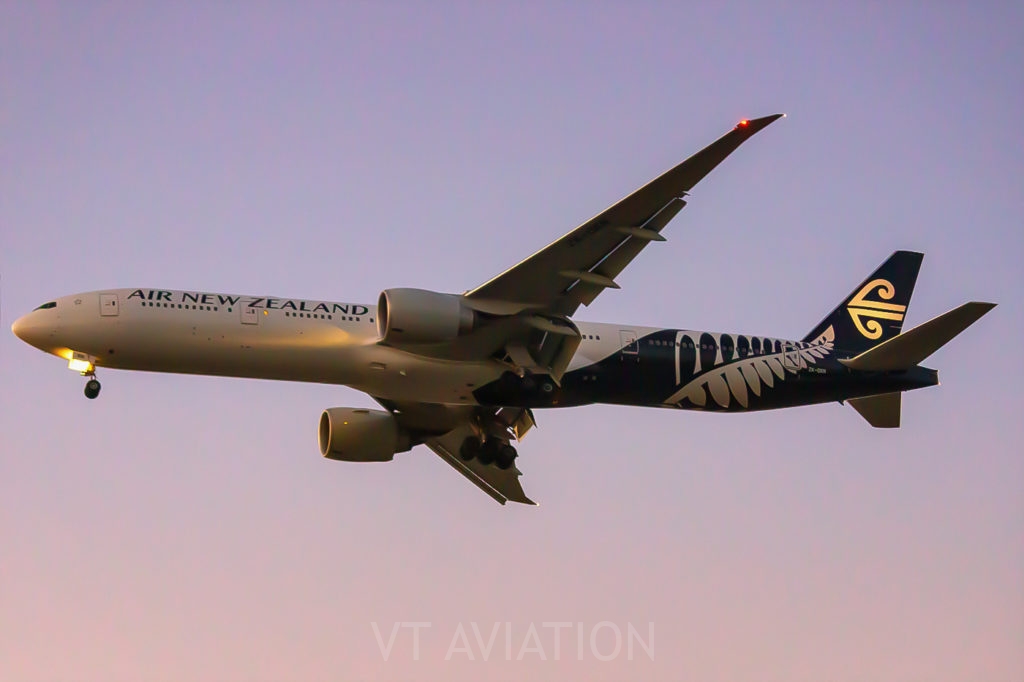 The second flight departed to India on April 25, 2020 – destination CSMIA, Mumbai. The aircraft with registration ZK-OKN performed the flight ANZ1956. The flight landed at Mumbai Chhatrapati Shivaji International Airport at 19:14 hrs after a non-stop 14:15 hrs flight.
Exclusive Photo Opportunity with the Air New Zealand Boeing 777 Aircraft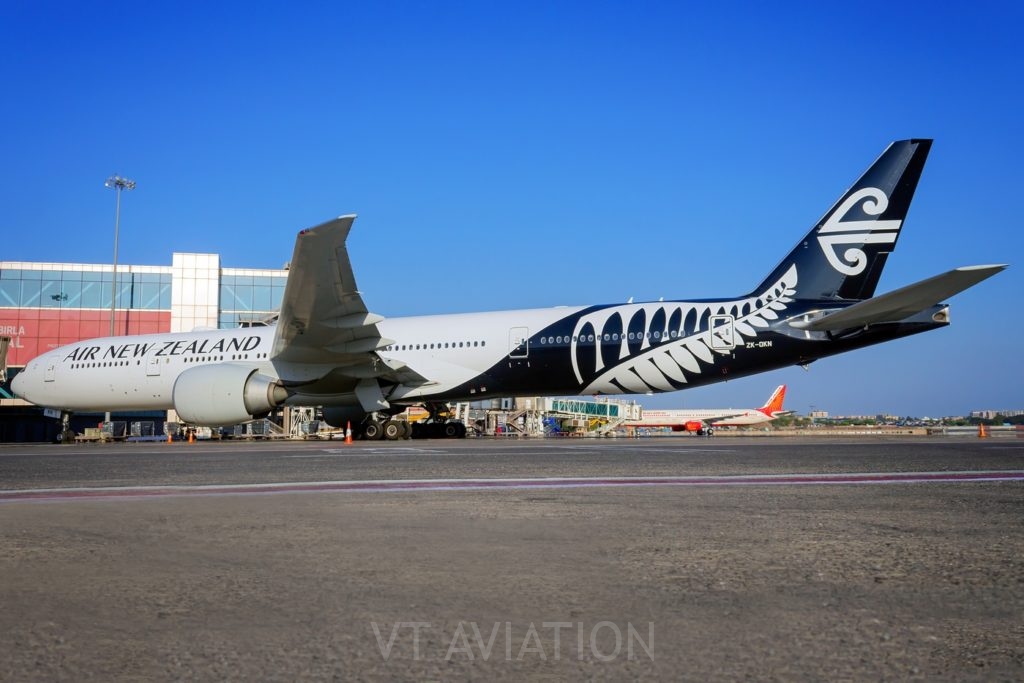 Team VT Aviation received an invitation from the airport authorities to cover an exclusive story of this rare, special and historic flight. The team ensured full safety due to the COVID-19 and adhered to all the safety regulations. The distinct black color of the aircraft looked amazing under Mumbai's crystal clear blue skies. On behalf of Team VT Aviation, we extend our thanks to CSMIA, Mumbai for their support and co-operation to facilitate this event. Check out the album with exclusive pictures –
Air New Zealand Boeing 777-300ER Repatriation Flight from CSMIA, Mumbai
After being on ground for about 30 hours, the aircraft departed back to Christchurch as ANZ1957 on April 27, 2020. The aircraft then aircraft flew to Auckland. The flight had about 199 passengers on board. The third repatriation flight operated (once again) to New Delhi on April 28th and returned to Auckland on May 1.
"We are looking forward to welcoming Kiwis back on to home soil! We're pleased to be able to assist the New Zealand Government with these repatriation flights to bring Kiwis home.", says, Captain David Morgan, Air New Zealand Chief Operational Integrity and Standards Officer.
"There's always an additional level of complexity to a repatriation mission when landing at a new location. Our teams are highly experienced in managing such a detailed operation, and we have been working closely with both governments to ensure safety is the number one priority.", added Captain David Morgan.
Special Touch from Air New Zealand Crew!
Amidst these tough times, the crew of Air New Zealand made the situation look completely different! On the repatriation flight from Mumbai to Christchurch, the crew surprised passengers with a performance of a hit song from the movie Slumdog Millionaire ("Jai Ho"). One of the passenger, a registered diversional therapist, shared this video of the performance by the crew. At the airport, the passengers sang the national anthems of India and New Zealand as a thank you gesture for these special flights. Check out the exclusive videos shared by Palak Makwana on her Facebook page.
The New Zealand High Commission to India, Bangladesh, Nepal & Sri Lanka also posted exclusive pictures from CSMIA, Mumbai before the flight departed to Christchurch.
Overall, a mission well planned and executed by the New Zealand Government to fly back Kiwis from India! Well done!
Share your thoughts about this repatriation efforts in the comments section below!