Flying during the pandemic? That too on an international flight? It is definitely a question that will raise a lot of eyebrows. Given the circumstances (and the necessity!), one of our team member had to take an international flight, from Mumbai to the United Kingdom (UK).
How pandemic messed our travel plans!!
The travel was originally scheduled in the early part of November 2020. We had three flight options to pick from – Air India (AI) vs. British Airways (BA) vs. Virgin Atlantic (VS). Unfortunately, due to the second phase of lockdown in the UK, our travel plans were put on hold. Then, we decided to fly out in December. This time, Virgin Atlantic popped up with attractive fares (and additional baggage allowance too!). Tickets booked, and guess what! Just one day before our departure (end of December), Government of India imposed a ban on flights to & from the UK. Once again, tickets kept on hold for the next set of dates.
Finally, call it third time lucky, as things looked to return back to track in the UK, we decided to make the trip. Our new travel date was March 2nd. Without any hassle, Virgin Atlantic reissued our tickets for the new dates. Ready to join us on this epic journey in the middle of the pandemic? Let's go!
But, before we go further, we wanted to share this useful guidelines information for our readers if you are traveling to UK. Traveling to the United Kingdom during these days of pandemic requires additional attention and information. Only people with a certain type of visas are allowed to travel during the lockdown. Check your eligibility with your airline before you plan your travel or contact the Embassy. Remember to follow these steps (NOTE: This information is subject to change):
Guidelines for traveling from India to the UK
Get a COVID-19 test done within 72 hours of your arrival in the UK from India and it should have a negative result. If you are flying out of Mumbai, you can even take a COVID-19 test at the airport; but the result takes approximately 4-8 hours.
If you are flying from India or any of the countries not in the red-list, ensure you follow the 10 days quarantine rule. If you are coming from a red-list country, you need to ensure institutional quarantine at a hotel.
Self-safety and sanitization is always a must. Ensure you carry sanitizers and masks on your travel.
Keep checking the Government announcements of both the countries in order to stay updated to the latest information
The Airport Experience
Right, now let's fast forward to the travel date – March 2, 2021! The departure airport was our home airport, a place where we have been into so many times for airside photography as a team – CSMIA, Mumbai. Chhatrapati Shivaji Maharaj International Airport (IATA: BOM, ICAO: VABB), situated in the heart of India's financial hub, Mumbai, has been awarded as the busiest single runway in use airport in the world. The airport has always played an important role in the economic development of the city and nation both.
This airport has 3 terminals for passenger operations which includes Terminal 1 (for domestic operations), Terminal 2 (for domestic and international operations) and the General Aviation Terminal for private and business jet operations. The iconic Terminal 2, is India's first and most advanced vertical passenger terminal that integrates world class design, architecture, infrastructure and operational efficiency, with a rich infusion of Indian heritage & cultural character. (Source: CSMIA)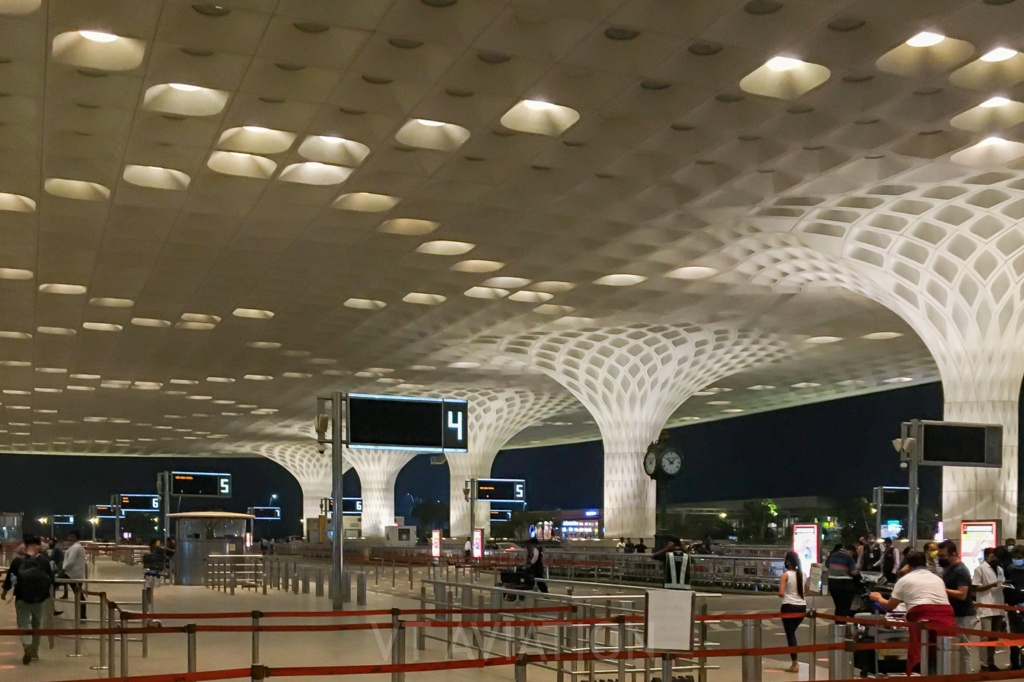 Entry and Check-In
Virgin Atlantic (VS/VIR), like every other international airline, operates out of Terminal 2 at CSMIA, Mumbai. The airline has a dedicated entry from Gate 3. The airline's dedicated check-in counters are located on island D of Terminal 2. However, always look for the information when you arrive at the landside area. There are boards showcasing the airline names. These are always subject to change due to operational reasons.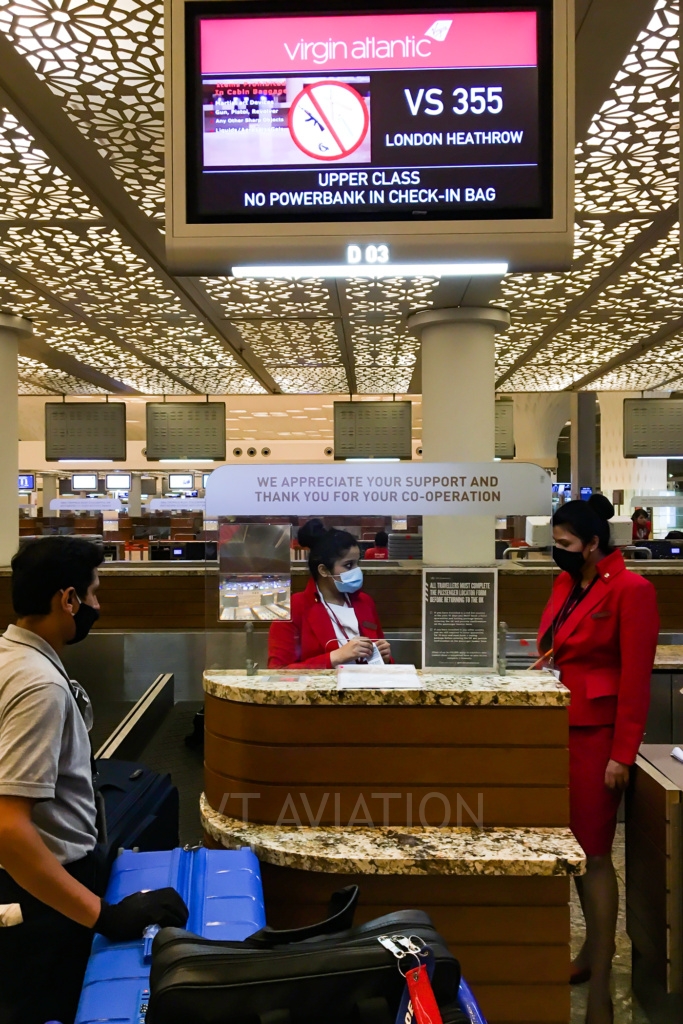 While we first entered the splendid Terminal 2, it was a different feeling. Unlike every time, this time, we were on the other side of the ramp and were going to be flying as a normal passenger. Mixed feelings of flying in COVID-19 were, "Is it safe to fly?" and at the same time "How much we missed flying?".
While passenger safety is an utmost priority for any airport, Mumbai Airport too has taken enough measures as regulated by the authorities. Sanitizer points, face coverings for frontline staff, floor markings for social distancing, everything was accounted by the airport.
After a smooth and easy security check at the main entrance, we headed towards the island D, where the ground staff of Virgin Atlantic was all set to welcome its guests. We headed towards the Economy Class check-in desks of the airline where there were several passengers ahead of us. What happened next was really amazing! The duty manager of Virgin Atlantic, Ms. Jasmine came in to get us out of the economy que and assisted us to the upper class check-in for a priority check-in. That was so nice of her. Such gestures, happy and super friendly staff and the excitement to get on a flight cannot be expressed in words.
A big kudos to Ms. Jasmine and Ms. Zeel for helping us check-in our bags and even granting us an access to the GVK lounge. Wow! That was so nice of them.
Point to Remember – If you are booking a ticket with Virgin Atlantic, always make sure to check your luggage allowance. The airline has different fare classes in economy and every fare class has a different luggage allowance.
For us, since our team member was flying on a student visa, the airline allowed us to carry 3 x 23 kgs Check-in bags, 1 x 7 kgs cabin bag and 1 x Laptop bag for the economy ticket. Another point to remember (a mentioned on the screen in the picture), always ensure you do not keep your power-banks or any battery operated gadgets in your check-in bags. The ground staff will remind you if you have done so, so that you can move it to your cabin luggage.
With approximately 5-7 mins of wait time for the check-in, and a quick turn around for every passenger on each of the counters by the ground staff team, we were done and relieved from our bags. Phew! Our boarding pass was in our hand and we were assigned seat 53A on the Boeing 787-9 which is one of the better leg room seats on the aircraft. Even if you are tall, the airline's economy seats are designed in such a way that you can easily be relaxed on a long flight.
Security Check, Immigration and Duty Free Area
After a smooth and easy check-in, it was time to head towards security and immigration. It was shocking to see the effects of pandemic at both the check points of the journey.
We do not know how to react to this one honestly! The security counters were completely empty, sadly. However, we were happy to have got our security checks done within 5 minutes. This was the fastest ever security check ever done. Proceeding towards immigration, we were stunned to see less than 5 people in the entire immigration hall. This was tragic and we know how much the aviation industry must have been hit looking at the empty airport terminals. Sad, but true!
After a quick 2 minutes at the immigration counter and a bit of the chat with the immigration officer, who was keen to know our travel plans in this pandemic, we headed towards one of the most glamorous areas of the Terminal, the Duty Free shopping.
The duty free of Mumbai Airport provides a wide variety of exclusive items for purchase. From alcohol to fragrances to chocolates to cosmetics, it has everything to offer be it to a kid or to an adult. Do check it out next time you fly out of CSMIA, Mumbai on an international trip.
While we were exploring and soaking in the awesomeness of the Mumbai Duty Free area, we were happy to bump in on Virgin Atlantic's station manager of Mumbai, Mr. Rishi. Such a gem of a person who ensured we had an amazing experience at the airport. Not just this, with a quick talk (of course more of #Aviation), we got his company till the GVK West-side Business Class Lounge. It was great to know that the airport, even after having so many restrictions and challenges, made sure passengers do not miss out on the experiences they seek during every travel.
Lounge Experience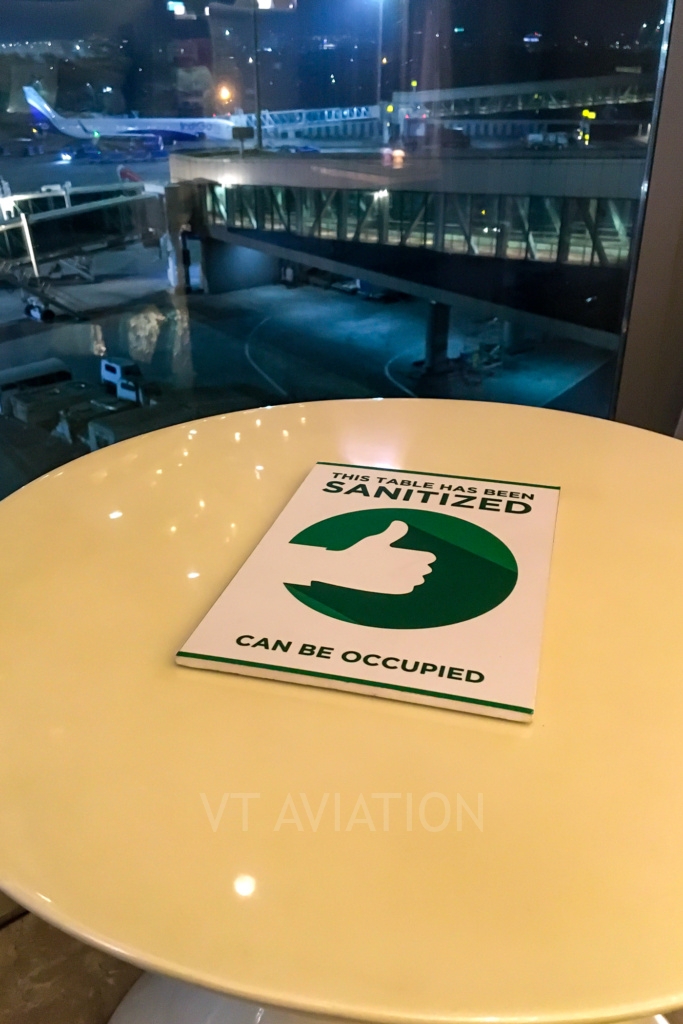 GVK Lounge is the first airport lounge to have made luxury accessible to only First class and Business class travelers. From excellent concierge services to a world-class spa and more, the lounge is elegant both in its ambience and amenities. The interiors boast of world-class designs with a distinctive Indian touch that creates a comfortable, enchanting environment you'll never forget.
The lounge too, ensured all safety and sanitization protocols were followed. Once you enter the lounge, look for the tables that display the board "This Table Has Been Sanitized". If you are more than one, the lounge does have a strict social distance protocol. Did you know that the GVK Lounge has been awarded with multiple awards for its outstanding design and service across the world? The next time you visit the GVK Lounge, you can find a set of awards right near the entry.
Lounge Services Offered
Due to the pandemic, a number of services offered by the lounge have been paused. However, the lounge offers the following world-class services and facilities to its guests which include:
Concierge Services
Smoking Zone
Food & Beverages
Spa & Shower Area
Relaxation Area
Library
Business Center
Lounge Operations during the Pandemic
While the new normal of flying calls for some additional protocols to be followed, every single touch point in the lounge was completely sanitized. Do you think lounges work in the traditional way? No! As per the Government Regulations, in order to reduce contact, GVK Lounge has started providing packed meals to its guests. However, there are a lot of options in both, food and beverages to choose from. No matter vegetarian or non-vegetarian, alcohol or aeriated, the lounge has it covered for one and all. You even get multiple options for coffee and tea at the lounge. So you can sit back, relax and enjoy your meal/drink as it will be served directly to your table. Isn't it cool and safe?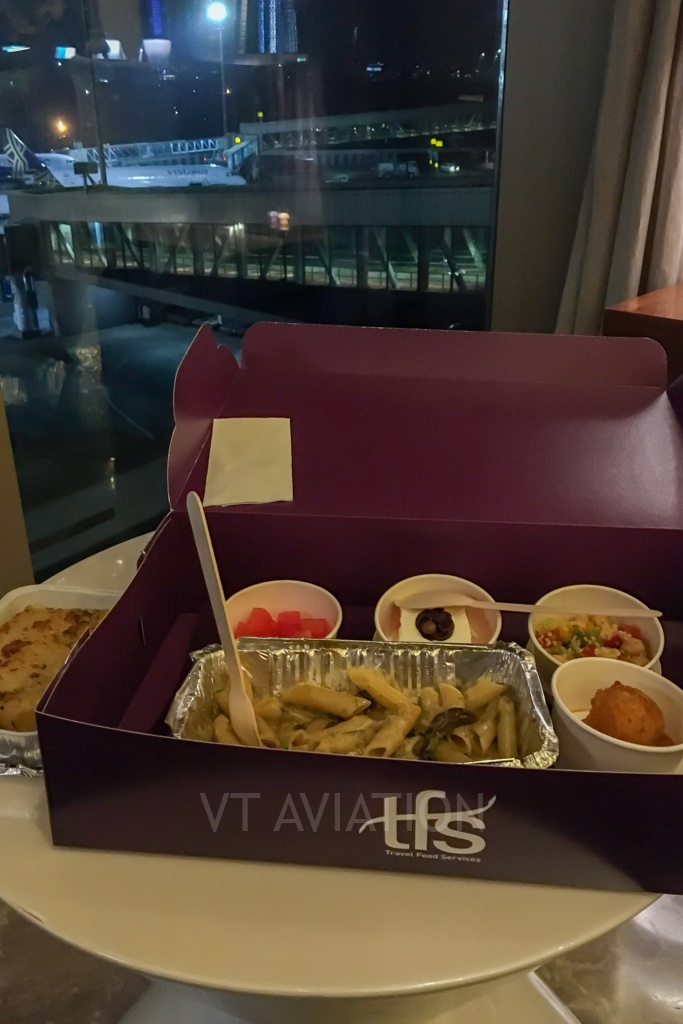 We had ordered a Vegetarian Pasta to go with some Coke. To our surprise, it came in a box full of happiness. It was food with a perfect view of the apron. Isn't that a dream view? We can have all our meals everyday with such an amazing view of airplanes. A big thank you to the Virgin Atlantic team for giving us a complimentary lounge access even while we had an economy ticket. They surely got our loyalty and we were delighted to have made the right choice.
After a sumptuous meal, adoring the beauty of the lounge and the view outside of the busy ramp, we decided to take a quick rest before proceeding towards our gate. The silence and beauty of the lounge would even make the most anxious flyer calm. Meditating or taking a nap before a flight would make you feel less tired after your journey.
Fun Fact -Being a silent airport, no periodic announcements are made at the lounge. You need to keep a check on your flight time. We would advice you to keep an alarm if you are taking a nap. Also, there are information screens that keep showing information about the flight and the gate.
So we are now done with:
Check-in ✓
Security ✓
Immigration ✓
Duty Free Shopping ✓
Lounge ✓
It's now time to head to the gate.. Let's go!! But before that, some flight/aircraft details to munch in for all those #avgeeks reading this.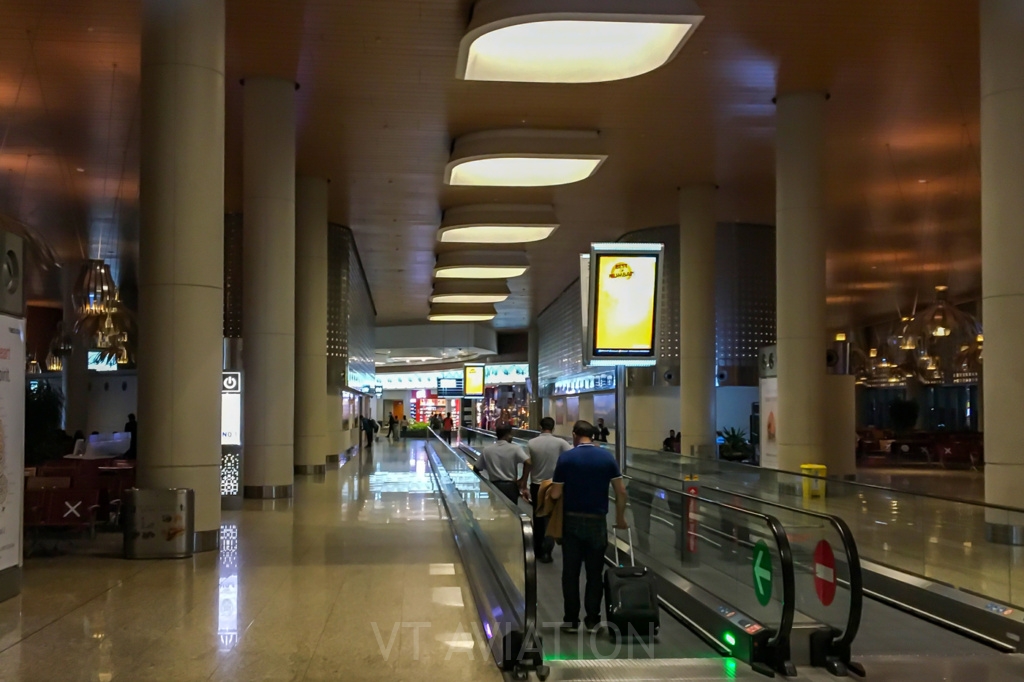 Flight Experience
Flight Details
Airline: Virgin Atlantic
Flight Number: VS355
Sector – Mumbai (BOM) to London Heathrow (LHR)
Equipment: Boeing 787-9 Dream)liner
Registration: G-VCRU a.k.a. "Olivia-Rae"
Configuration – C31W35Y198
Seat Number: 53A
STD/ATD: 0230/0245
STA/ATA: 0650/0624
While we bid a good bye to the beautiful GVK Lounge, it was already 0115 hrs. The departure time was 0230 hrs and boarding was scheduled to start at 0150 hrs. Walking towards Gate 72, we were almost on Cloud 9 of our excitement.
Early Priority Boarding. But Why?
As we wanted to take some exclusive pictures and videos from the aircraft for our readers, we had requested the ground team of Virgin Atlantic to let us board early. Again, they agreed to it with a smile and gave us that 15-20 mins time to board and click whatever content we needed.
At 1:30 AM, it was time to board the Dream)liner. By this time, we were all pumped up to experience the beauty from within. While we reached the gate, the cabin crew and pilots had already boarded the aircraft and were preparing for the passengers to board. Before we move ahead, let us share a short story with you.
Why has Virgin Atlantic named G-VCRU as Olivia-Rae?
Virgin Atlantic has named every single aircraft and there is a story behind it. G-VCRU was named as Olivia-Rae and here is why. Air Steward Quinton Garrathy was hit by a car while in St. Lucia on August 3, 2014. He was married just over a year and left his wife and daughter Olivia-Rae. In order to pay tribute to Quinton, Sir Richard Branson decided to name the Boeing 787-9 as Olivia-Rae. With this, the airline surely has got a lot of appreciation from everyone including the media publications.
As we speak of G-VCRU, there is another coincidental fact. This was the same aircraft that we clicked from the ramp at CSMIA, Mumbai back in 2019 when Virgin Atlantic restarted operations to CSMIA, Mumbai.
Its said that a smile can make your day! Even behind the mask, you can see every single ground personnel having a wide smile and staying happy, even during these testing times. Masks may have hidden the smile but it was still clearly visible as to how excited they were. Every guest was welcomed with that smile and it surely made you feel at home. Again, Virgin Atlantic's duty manager, Ms. Jasmine escorted us till the aircraft. After a quick security check pre-boarding, we were now just a step away to take this magical ride with Virgin Atlantic.
Smiles all around – and suddenly!!!!!
At the door, Paul, the Flight Service Manager (FSM), welcomed us with a big smile. The smile also had the biggest surprise of the night! "An UPGRADE"! From 53A of Economy, we were bumped on to 8K in the upper class. Virgin Atlantic call their Business Class cabin as "Upper Class". Can our day get any better? It was all thanks to Paul who welcomed us with a seat in the upper class to ensure we have a completely fantastic and luxurious experience. How much pampering is much pampering? Guess we are still thinking for an answer!
The Cabin and In-flight Experience
Virgin Atlantic's Boeing 787-9 comes in a 3-class configuration. The Upper Class (C) comprising of 31 seats, Premium (W) with 35 seats and Economy (Y) with 198 seats. VS' upper class features a "herringbone" seating that offers direct access to the aisle for all passengers. The cabin looks spacious, and swanky; and, to add to it, the mood lighting definitely creates a wonderful experience.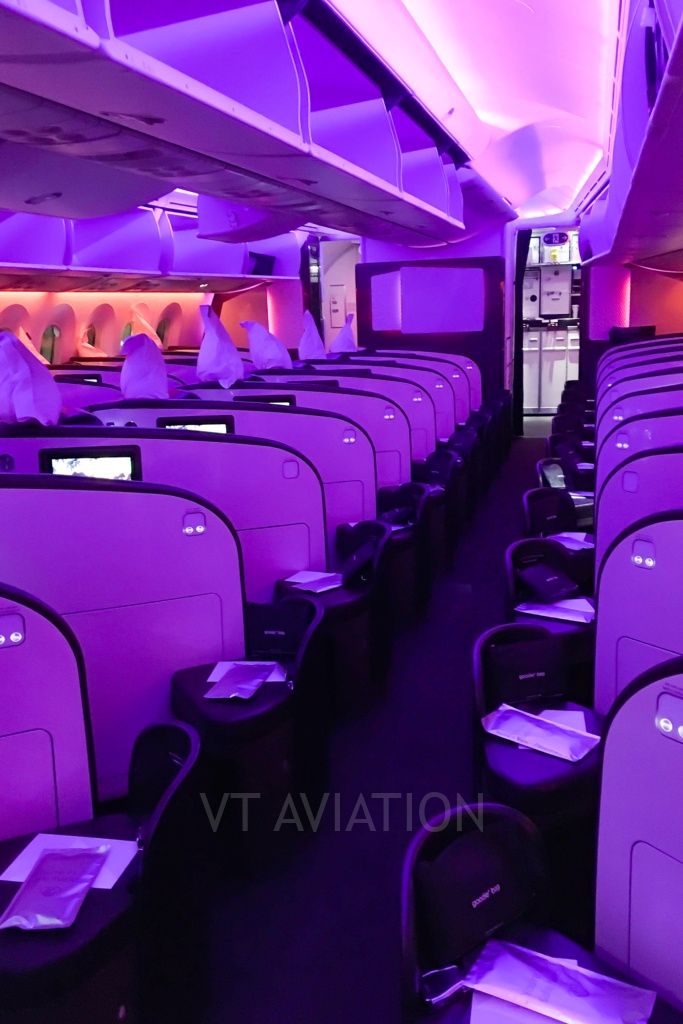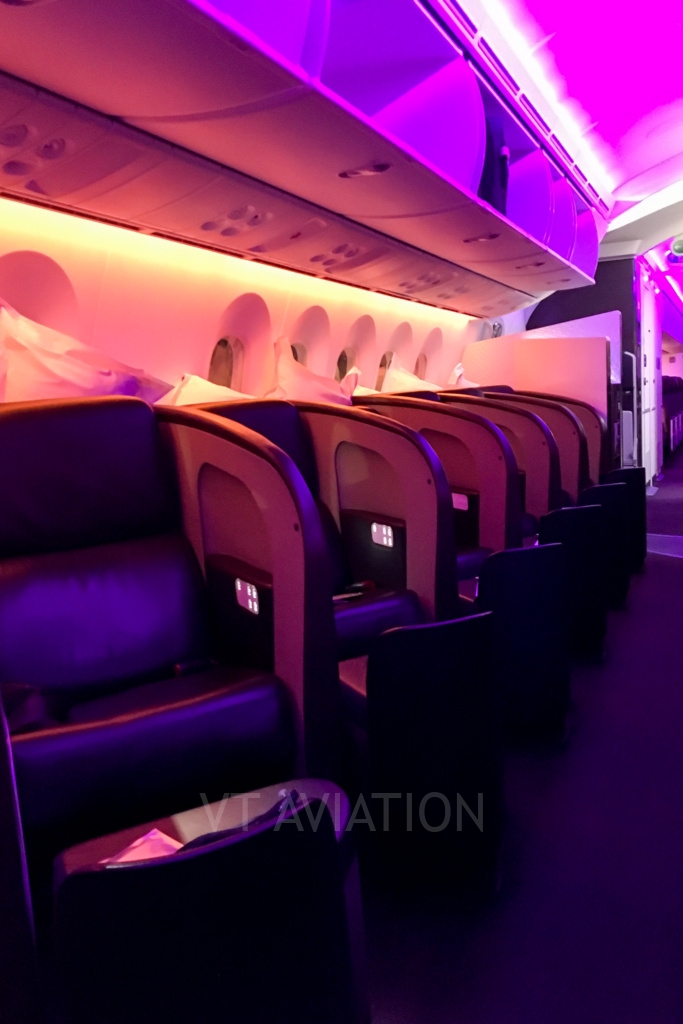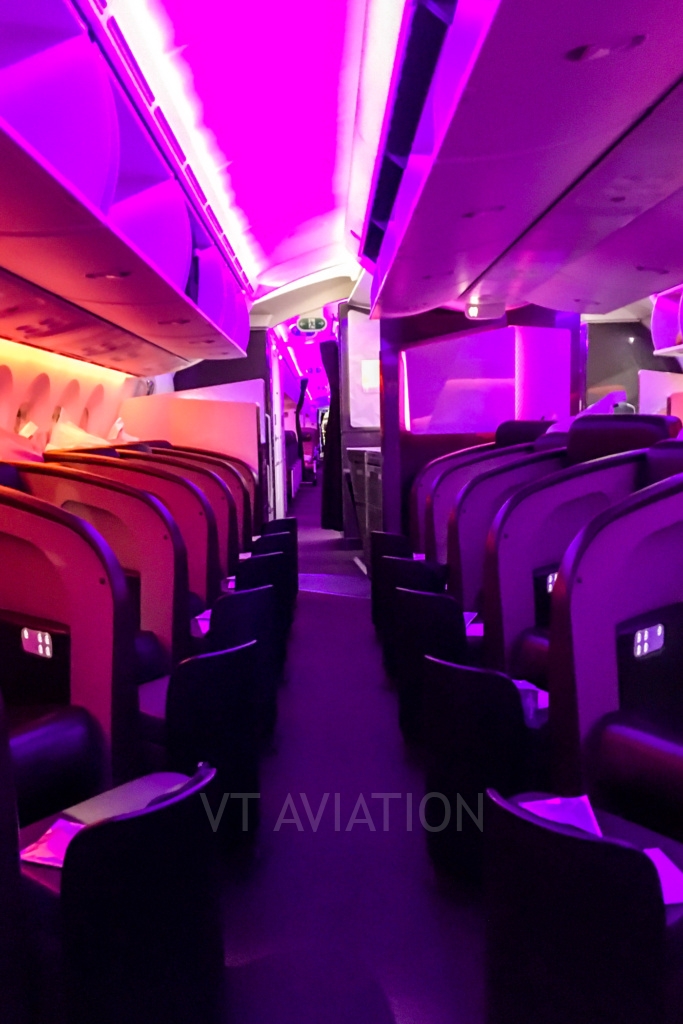 Did you Know? – Herringbone seats are made in the shape of the human body when asleep! This seating configuration is appreciated by many flyers. However, one major drawback of this herringbone seating arrangement is the access to window. This is purely from an #avgeek perspective. The window is right behind the seat and becomes difficult to see outside as you are forced to keep turning completely to peep outside. We felt that a bit inconvenient. However, it did not matter much since it was an all night flight and was scheduled to land in London before the day break. One other disadvantage is the lack of side storage space in this configuration.
Here are some pictures of the Premium cabin of the Boeing 787-9 –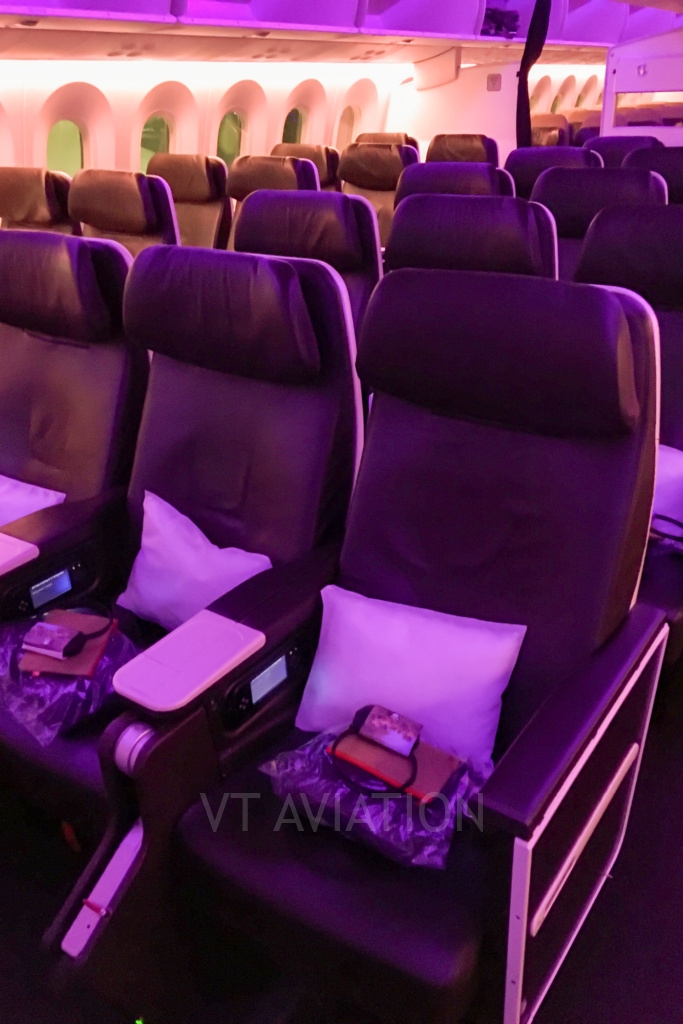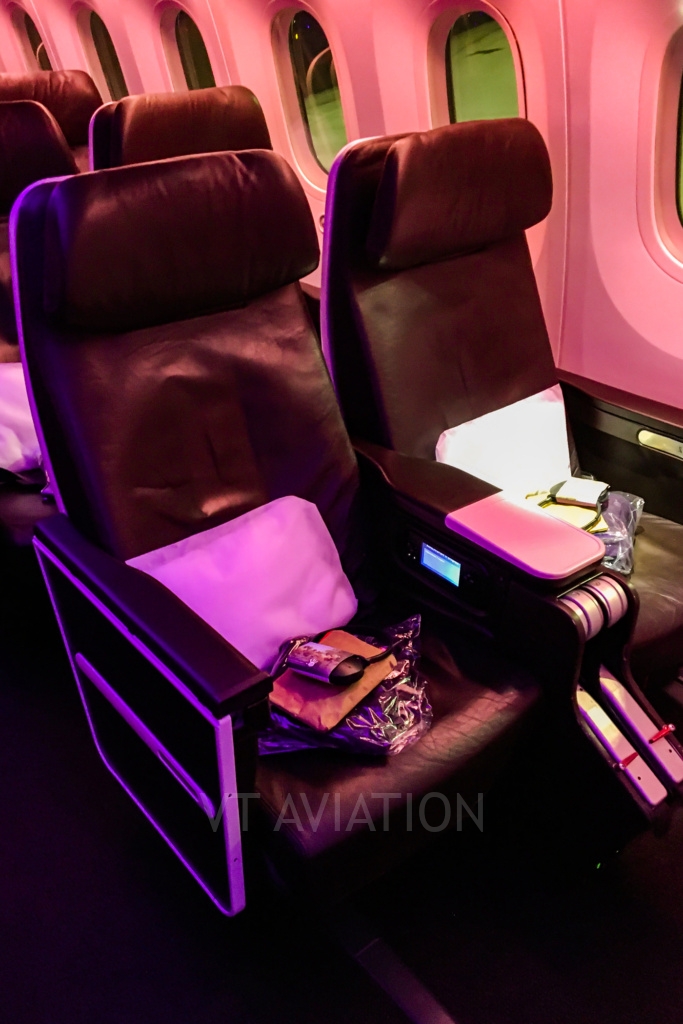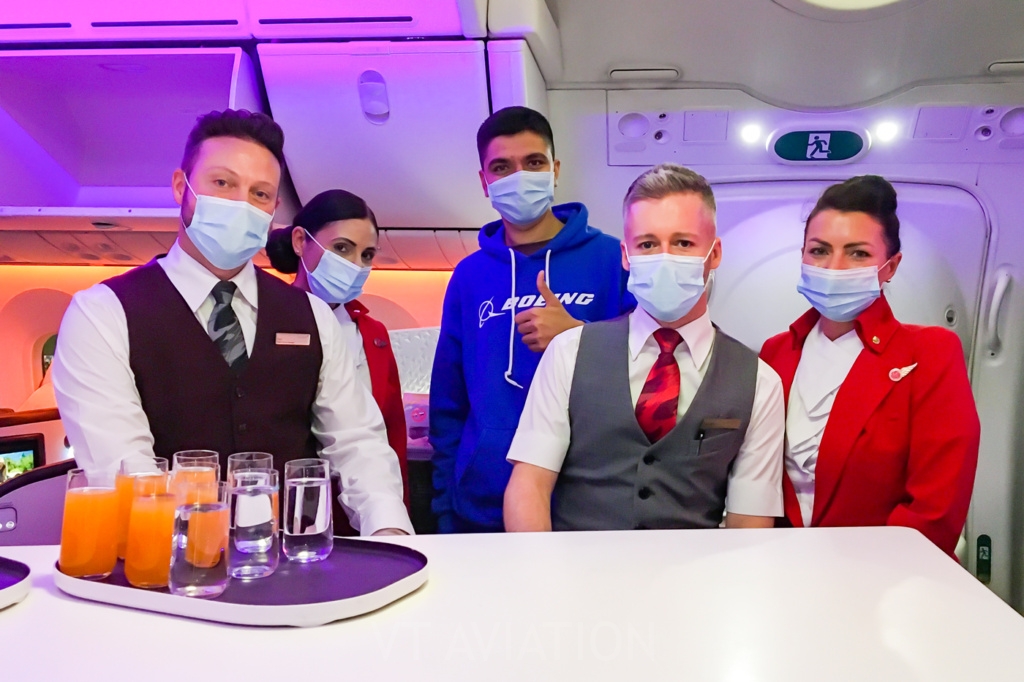 Paul, our FSM on VS355 that night has been working with Virgin Atlantic since the past 17 years. He led a team of 7 other team members, Helen, Steven, Claire in the upper class and premium cabin along with Jayne, the cabin supervisor for Economy being assisted by Tamas, Alex and Hayley.
It's Departure Time! Time to settle down for the flight!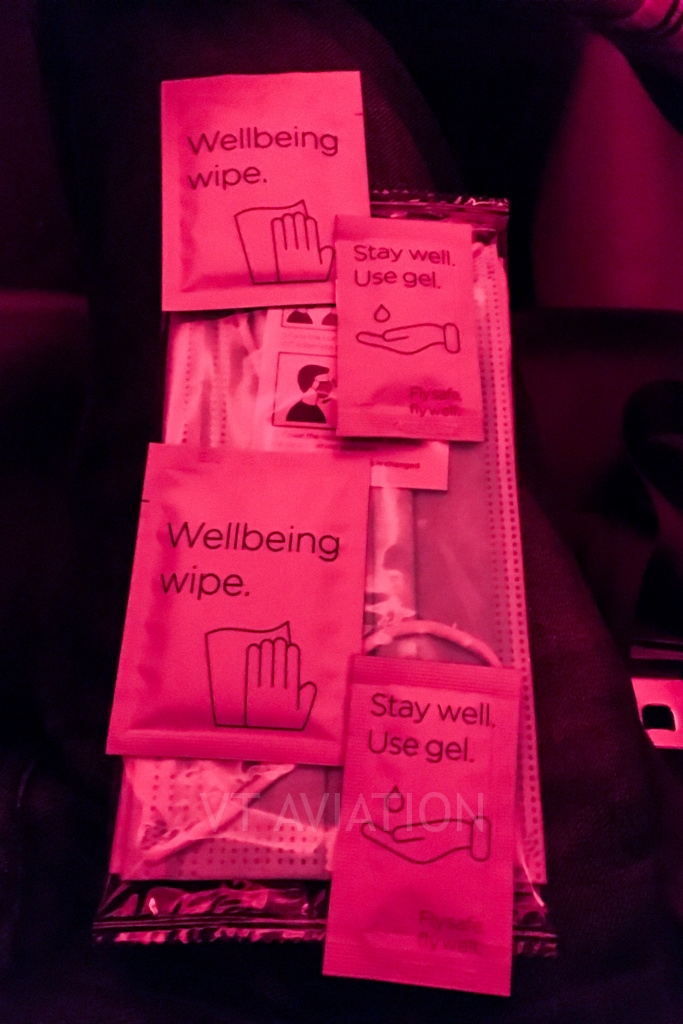 While we were done taking some pictures and videos of the cabin, it was now time for the other passengers to board. Every seat on the flight was having a safety and sanitization kit which consisted of wipes, face masks and sanitizing gels. That was really thoughtful of you, VS!
The enhanced COVID-19 measures call for extra precautions and this calls for some extra eyes on passenger safety and sanitation. The airline does believe in spreading a message "You Are in Safe Hands". Paul and his team ensured that all the passengers boarded on time, served with welcome drinks and even assisted elderly guests and guests with babies to reach their seat so that we have an on-time departure out of Mumbai.
Every seat had a goodie bag with the amenities kit (#LiveFromVirgin). What's interesting to note is that the amenity kit is made from recycled materials. The kit contained socks, ear plugs, eye shades, dental kit, Lip Balm, few bottles of lotions and a pen.
Under the command of Capt. Zane Dunning, Training Capt. Craig Butcher and Senior First Officer James Gardner, our Boeing 787-9 was all set to push back on schedule at 0230 hrs. With the cabin secured, doors closed and armed, the aircraft finally pushed back for its flight back home to London's Heathrow International Airport, which is also Britain's busiest airport.
A quick taxi after pushback to Runway 27 of CSMIA, which is the primary runway of the airport, we were off within minutes leaving behind the city that never sleeps and which is one of the busiest cities of the country. The aircraft took a routing over the Arabian Sea and flew all the way through Middle East and Europe.
While the flight was almost full and the aircraft was a little heavy, Capt. Dunning ensured that we have a smooth ride till the UK. Cruising initially at FL340 (approx. 34,000 ft), our Boeing 787-9 was at FL380 (approx. 38,000 ft) while we reached our descent.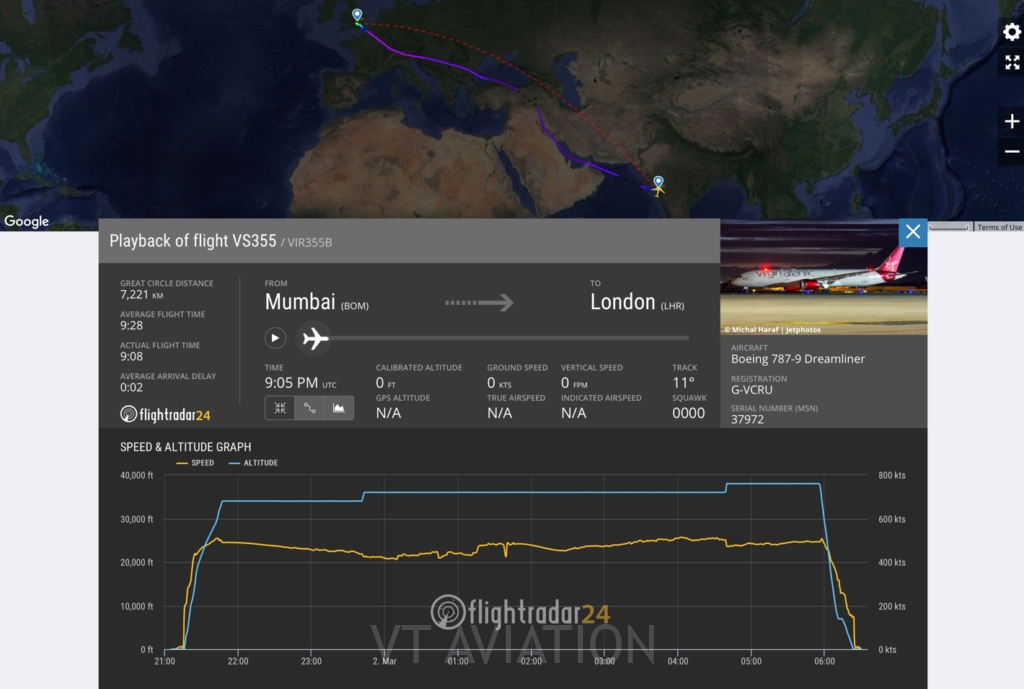 In-flight Meals
Let's talk about the most interesting part of the flight now – in-flight meals! A look at the menu on offer for the Upper Class passengers on tonight's flight.
This is the Vegetarian Meal option served on-board the flight which included an Asian-Paneer wrap, salad and cheese cake. Yum! No matter what, the airline always ensured its best to ensure that everyone on the flight has an amazing experience. Later, we were also offered with beverage service which included alcoholic drinks, aerated drinks, tea and coffee.

INFLIGHT MEALS UPDATE: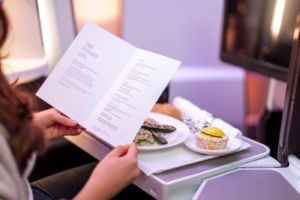 From March 2nd, VS have refreshed their onboard menus with the new Spring Menus. Our flight (since it originated from LHR on March 1st) was probably the last flight to have the older menu. Below are the new menu for the three classes (Source: Virgin Atlantic)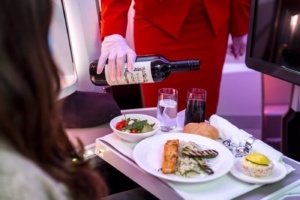 As part of the new onboard menu, Upper Class customers can now enjoy welcome drinks, a choice of three individually plated hot meals along with a light bite option. This is also accompanied with a salad and choice of three desserts including cheese and biscuits. On day flights, customers are offered a second meal service including the signature Eric Lanlard Mile High Tea and can now opt for a deli dish or a lighter option if they prefer. For those travelling on night flights, there is a choice of three hot breakfasts as well as side dishes including fresh seasonal fruit, bircher muesli and pastries. All these options can be washed down with a selection of champagne, wine, liquors, soft drinks and teas and coffees.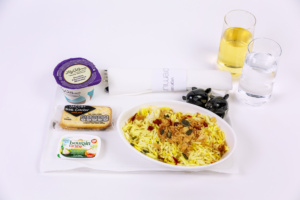 Premium customers also receive a bespoke meal service including a choice of three hot meals, cheese and biscuits and a dessert, all served on a tray. For the second meal service, Premium customers receive the Eric Lanlard Mile High Tea with a choice of prosecco or hot drink or on night flights, a breakfast including a warm pastry, seasonal fruit and yoghurt served with PG Tips tea or Change Please coffee.
Customers in the Economy cabin can choose from two hot meals as part of the Fly Safe, Fly Eat meal box, which also includes cheese and biscuits and a dessert. The second meal service includes the Eric Lanlard Mile High Tea on day flights or a breakfast consisting of a warm pastry, fruit and yoghurt on night flights. Customers in Premium and Economy can also choose from a selection of wines, beers, liquors and soft drinks throughout the flight.
At the end of the meal service, the crew started to set the beddings for the Upper Class passengers to ensure they are well rested by the time they arrive in the United Kingdom.
Upper Class Bedding
The Virgin Atlantic upper class cabin has a 180 flat bed seat, enough comfortable and long for a 6ft tall human. Everyone is provided with a pillow, bed cover and a blanket. Such a wonderful feeling of sleeping and flying after a tiring Monday!
Point to note – Virgin Atlantic has stopped the service of Pyjamas on board their flights due to the pandemic times.
Inflight Entertainment and Onboard WiFi
After the meal service, we took some time to explore the inflight entertainment system onboard the Boeing 787-9. Each business class seat comes with a foldable TV screen. Here's a look at the IFE screen and the options available for customers.
Virgin Atlantic offers prepaid WiFi for customers across all the cabins. The plans are categorized based on usage levels – Messaging, Chat & Surf, Wi-Fi Max. Here's a screen recording of the different WiFi plans and their pricing.
Interaction with the cabin crew
After the meal service, we were excited for the next adventure on the flight. It was time for us to sit with Paul and have a chat on his experience in terms of working with Virgin Atlantic and flying in this new normal time.
We understand that cabin crew are responsible for the safety of the passengers on board. While most passengers have their sound sleep on board the aircraft, the cabin crew team still has a lot of work in hand and are constantly busy preparing for various phases of the flight. They even have to look after the paper work which needs to be submitted after the flight.
Also, the crew has now become extra vigilant and cautious to ensure all passengers wear a mask (except while having meals), follow social distancing procedures on the flight and ensure personal hygiene. Anyone who doesn't follow these instructions is warned by the crew.
During the off-service hours, Paul was happy to have a chat with us and was ready to answer the questions we had for him. So here is what we asked Paul and you can find his responses below the questions :
How has flying changed now?
"Flying is no longer the same luxury now. Things have changed big time. We have limited our interaction and services with guests on-board. We spend a little less time with customers now. The so called "magical powers" of the Virgin Atlantic crew are resting these days. However, we ensure that everyone in the aircraft is safe and we pay extra attention to the hygiene. When things came back and flight operations resumed, we had to quickly adapt to a lot of new policies and regulations. This was not just by the airline but also by the various regulatory authorities and every country had a different rule for the pandemic. "
Do you miss the mask-free days?

"Masks have actually hidden our smiles. We love smiling, spreading smiles and love around the cabin. With masks on, even though we are smiling, it becomes difficult for people to gauge our smile. We surely do miss those days when used to operate without masks. However, we are sure that we would get to see those old days very soon. Until they resume, we are happy to be in the mask, keeping our fellow passengers and colleagues safe."
What do the customers say about this new normal method of flying?

"Of course, no one likes to be covered by a mask for a long flight. However, it is a must to ensure everyone around is safe. While passenger feedback is utmost important to enhance our services and make it a better flight experience, we take the voice of our guests very seriously. Our guests miss the traditional food and beverage service. As an alternate, we came up with this unique idea of serving meals on tray. We had received customer feedback regarding drinks on the flight and how much they missed it. Then, we took it as a mission for customer satisfaction and got the drinks back. At Virgin Atlantic, We make sure we take in all the feedback and implement everything that is possible."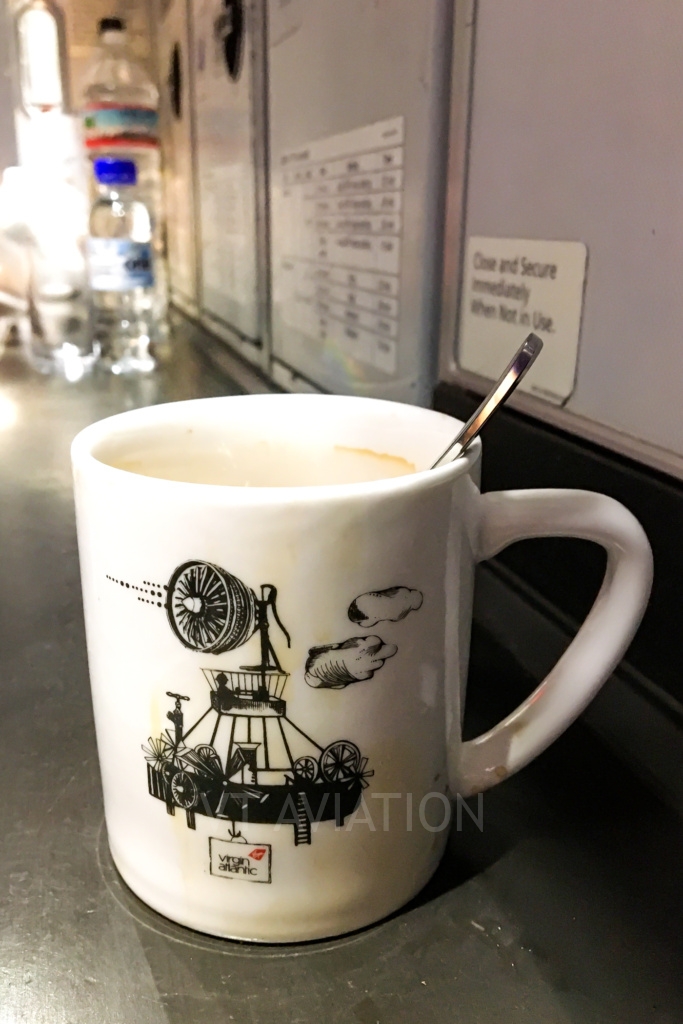 What has changed in terms of training for the crew?

"A new method of flying does call for some change in the way crew have to react and work. While the passenger satisfaction, safety and comfort of the passengers remains key focus, the crew have now been extra trained. In order to maintain hygiene, the crew is now trained to keep sanitizing the aircraft, making it an extra duty for them. Ensuring everyone is with masks and wiping the most used surfaces also adds to this new training. With the help of virtual learning, the crew quickly adapted themselves to this new normal."
What do you love the most about your job?
"Virgin Atlantic is not just an employer, but it is a family. A family that has helped me grow over the last 17 years. From a newly joined young cabin crew to an experienced Flight Service Manager, the airline has moulded me to take up these challenges. We love the brand more than anything else. And hence, we hold our head high and say we are proud to be employees of Virgin Atlantic."
What is the way-forward now?

"As we know, things have changed at a rapid pace. Airlines have seen a massive downfall in load factors. However, as things are getting better now with the introduction of the vaccine, we are delighted to welcome our guests again. When you fly Virgin Atlantic, you are in safe hands. Our main aim now is to enhance the growth of the airline. Sky has always been our home and we are all set to welcome you as if it was Day 1 of the airline. We hope to see you on-board soon! Stay safe and stay heathy.
Time to catch some much needed sleep!
While we were done with this amazing interaction with Paul, it was already 3 hours into the flight. The best thing about having a business class seat is to relax and take a nice nap before we land. Off we went into that cozy bedding and we had one of the most comfortable sleep in the 180 degrees flat bed. After a good 5 hour sleep and missing the breakfast service (Lol!), we were almost over France, cruising at FL380 and almost hitting the top of descent. Our aircraft was flying through tail winds and we were almost 30 minutes before our scheduled time of arrival.
And .. It's time to set foot into England
Before arrival, the cabin crew got in to action, secured the cabin and at 0624 AM local time in London, we touched down on Runway 09R. With one of the shortest taxi time, we were already at the gate in Terminal 2, Heathrow Airport in less than 10 minutes. Due to the enhanced COVID-19 measures, not all the Terminals of Heathrow Airport are used round the clock.
So after approximately 8 hours and 50 minutes, our journey ended as we docked in at the stand and had to bid a good bye to G-VCRU, Olivia-Rae, and one of the most amazing set of crew members. Its always hard for us to say good bye to an airplane and we thoroughly enjoyed this amazing Virgin Atlantic experience. A big thanks to everyone who contributed and ensured we had a lovely flight.
Arrival Experience
After a long walk from the gate, we arrived at the Border Control of Terminal 2, Heathrow Airport.
ATTENTION PASSENGERS: You must carry your passenger locator form and a COVID-19 negative certificate with you before you arrive at the counter. The immigration officer would surely have a look at both of the documents. One of the challenging aspect after landing into London Heathrow Airport is the time spent at Border Control. One of our team member who had been to the UK back in 2018 for the Farnborough Airshow spent approximately 2 hours at the Border Control line before heading to the baggage claim area. Given the morning rush of inbound aircraft at LHR, we had to wait for 2 hours wait in the queue to clear immigration. Finally, we were out in the arrivals area where we picked up our luggage and was out in no time. Hello England!!
Let's Wrap Up!
Phew! That was quite a journey, ain't it? While the journey from Mumbai to London was memorable, we'd like to rate our experiences at each checkpoint:
Check-in – 5/5
Security – 5/5
Immigration at CSMIA – 5/5
Duty Free Shopping at CSMIA – 5/5
GVK Lounge – 5/5
Boarding Experience – 5/5
Cabin Experience – 5/5
Seating – 3.5/5 (We like the traditional window seats)
Bedding Comfort – 5/5
In-Flight Experience – 5/5
Meal and Services – 5/5
Crew Friendliness – 5/5
Overall Virgin Atlantic Experience – 4.5/5
Walk from the gate to Immigration – 3.5/5
Signages at Heathrow – 4/5
Immigration at Heathrow – 3/5
Baggage Claim – 4/5
Exit and Way-out – 4/5
We hope you had a virtual journey along with us from Mumbai to London by reading this article. If you have enjoyed reading this article, kindly share it with your friends and family. We would surely want to hear from you and hence we would request you to share your comments below. It would help us improve our content. Thank you for reading this detailed flight review. Until next time, stay safe, stay healthy!
Which is your favourite aspect of reading this article? Let us know in the comments below! Have you flown with Virgin Atlantic? Let us know more about your flight experience.