On the wee hours of the morning of July 24, 2020, Vistara, a joint venture between Tata Sons and Singapore Airlines, welcomed the first Airbus A321neo aircraft to their fleet. Back in 2018, Vistara placed an order for 50 Airbus aircraft in a mix of Airbus A320/A321neo aircraft. This is the first out of six Airbus A321neo for the airline. The first aircraft registered as VT-TVA (MSN 9297) took off from Airbus facility in Hamburg (XFW) at 2100 hrs (on July 23rd) and landed at New Delhi's Indira Gandhi International Airport around 0830 hrs on July 24th.
Aircraft Configuration
Vistara's Airbus A321neo airbus aircrafts are powered by the CFM LEAP-1A engines. These engines are the same ones that power the Airbus A320neo aircraft in the fleet. These engines claim to be 50% quieter, offer 15% fuel savings and emit less carbon when compared to other variants. Vistara's Airbus A321neo comes in a 3-class configuration (Business, Premium Economy and Economy) with 188 seats. The aircraft will feature 12 seats in Business Class with lie flat beds. This configuration makes Vistara the first airline in South Asia and among the very few airlines around the world to have the lie-flat beds option on a narrow-body jet.
"We are excited to welcome our first A321neo aircraft, the latest addition in our growing fleet. The new aircraft ensures operational enhancement, cost efficiency as well as reduction in carbon footprint for us while enabling extra payload capacity, greater fuel efficiency and higher range. The new cabin products on our A321 aircraft truly complement our promise of providing a premium and world-class flying experience to travellers from and to India. All of these aspects perfectly align with our international growth strategy," said Leslie Thng, Chief Executive Officer, Vistara. (Source: Airbus Media)
Vistara will continue their tradition of being the only airline in India to offer the Premium Economy seating on the A321neo aircrafts also. The aircraft will have 24 seats in Premium Economy cabin. The Airbus A321neo will feature 152 seats in the economy cabin. Across the cabins, customers can take advantage of the 4-way adjustable headrests and movable armrests for a genuinely comfortable journey. Every seat comes with seat-back entertainment system that features a content-rich multimedia library of up to 700 hours of content, a superior map experience with 3D flight path map and flight tracker and in-seat power/USB charging ports.
The Airbus A321neo is an ideal aircraft for Vistara's long haul operations. The business class cabin with lie-flat beds provide a great marketing opportunity for Vistara to sell the product to premium paying customers. Additionally, Vistara offers WiFi on their international sectors and this will be available on the Airbus A321neo aircraft as well.
Vistara Airbus A321neo – Business Class with Lie-Flat Beds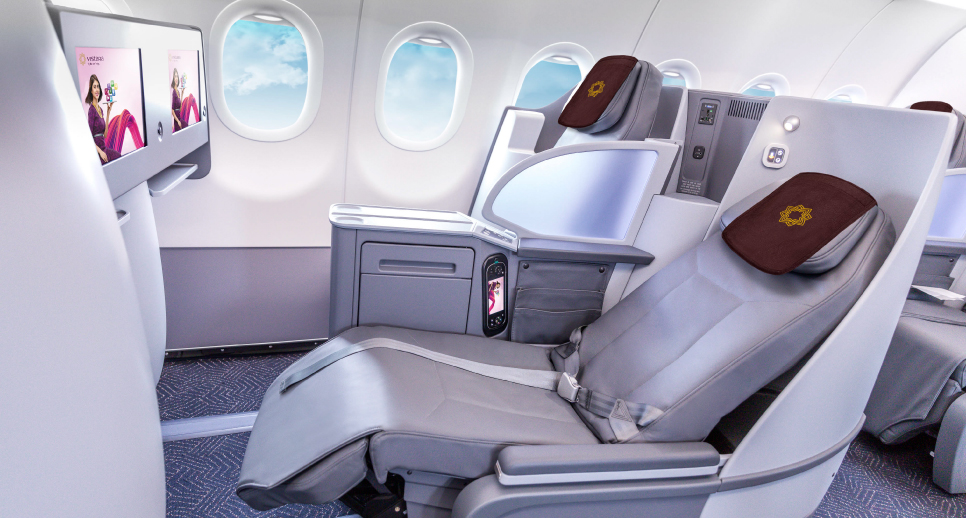 The business class seats on Vistara's Airbus A321neo have genuine leather upholstery with a generous 63″ seat pitch. Each of the 12 business class seats have full reclining capability into 84″ fully-flat beds. Every seat comes with 16" High Definition (HD) touchscreen in-seat TV and a Video Handset to navigate the IFE system. The other features in this cabin are –
Four-way headrest, headset hook, cocktail table, reading light and coat hook
USB port and 3-pin charging point in every seat
Control Unit for customers to control seat functions
Vistara Airbus A321neo – Premium Economy Seating Configuration
As on their Airbus A320 and Airbus A320neo aircraft, Vistara offers their exclusive Premium Economy cabin experience with extra legroom and enhanced features. The Premium Economy cabin will have 24 seats with a seat pitch of 33″. The increased legroom with additional storage space is ideal for short/medium haul as well as long haul flights. Each seat has a dedicated 10" High Definition (HD) touchscreen in-seat TV, audio jack, seat recline control, a USB port and 3-pin charging point. The headrest can be adjusted in four different ways to offer enhanced comfort.
Economy Seating Configuration
The economy class will have 152 seats with a 29″ seat pitch in a 3-3 configuration. Every seat is equipped with quality, breathable fabric-upholstered seats with 4-way headrests for enhanced comfort. All seats have 10" High Definition (HD) touchscreen in-seat TV along with USB port in every seat and a 3-pin power outlet.
Offering Better Comfort and Safety
Given the present pandemic situation, all airlines are taking enhanced precautions when it comes to offering safety for passengers. The Airbus A321neo aircraft comes with powerful, in-built air filtration systems on this aircraft ensure elimination of viruses and bacteria to refresh the cabin air every 2-3 minutes, thereby ensuring safety and hygiene. Passengers can be rest assured of their safety while traveling onboard a Vistara Airbus A321neo aircraft.
Vistara currently has an active fleet of 40 aircraft including 11 Airbus A320 CEO, 21 Airbus A320 NEO, 6 Boeing B737-800NG (leased aircraft), 1 Boeing B787-9 Dreamliner aircraft, and the brand new 1 Airbus A321neo aircraft. The airline has flown more than 20 million customers since starting operations in 2015.
What are your thoughts on the brand new Airbus A321neo of Vistara? Which sector do you see the aircraft being put into operation? Share your thoughts as comments below.