August 7, 2022 will be etched as a historic day in Indian Aviation. Why? India's newest, youngest and most awaited airline to launch services after a worst hit pandemic period – Akasa Air will be taking off to the skies on its maiden flight. The airline operates the modern fleet of Boeing 737 MAX 8 (now known as 737-8) with total of 72 aircraft on order. The first 19 aircraft in the fleet will be the 737 MAX 8 variants. The remaining 53 are to be the 737 MAX 8-200s (similar to the ones used by Ryanair).
The maiden flight, QP 1101, took off from Mumbai's Chhatrapati Shivaji Maharaj International Airport (CSMIA) to Ahmedabad's Sardar Vallabhai Patel International Airport. Starting August 7, Akasa Air will be offering 28 weekly flights between Mumbai and Ahmedabad. From August 13, the airline will deploy 28 weekly flights between Bengaluru (BLR) and Kochi (COK). From August 19th, the airline will expand further to offer 28 weekly flights between Mumbai (BOM) and Bengaluru (BLR). Further, the airline is further will connect its new station, Chennai in the month of September.
We at Team VT Aviation did not want to miss the opportunity to be a part of this historic flight of Akasa Air. When ticket sales opened on July 22nd at 1030 hrs, we booked and got our tickets in less than 5 minutes! 48 hours before departure, we checked in within the first 3 minutes to strike that golden Sequence-1 ticket. Unlucky, we got Sequence-5 for the inaugural flight. Never mind! Not sooner did we realize that the inaugural flight would be full of aviation enthusiasts, airline reviewers and planespotters, in addition to the airline staff and investors. Well, of course it had to be! It was a historic day in Indian Aviation!
Akasa Air Web Checkin Experience
We wanted to try out Akasa Air's iOS mobile app that was launched just then for our checkin experience. The iOS interface is very clean, user friendly and way above par in user experience when compared to their website. We booked the Flexi Plus ticket that entitles us for a complimentary meal and a free seat. We decided to pick the meal of choice on board and chose seat 27A for the BOM-AMD leg. Here's a quick look at the entire check-in process –
Checkin Experience Rating
User Interface (iOS App) – 4.5/5
Ease of Checkin – 5/5
Overall Rating – 4.5/5
The Day of Inaugural
48 hours later, it's the big day! Let's go through the sequence of events with some pictures –
0725 hours – Made our way into a not so crowded Mumbai's CSMIA Terminal 1 Gate 2. This section of the terminal caters to all LCCs other than IndiGo (that operates from Gate 1). Upon entering the terminal, you'll notice Akasa Air's ticketing/airport front office to your left. A quick hello to the staff working there and wishing them all the best, it was time to head to the check-in counters.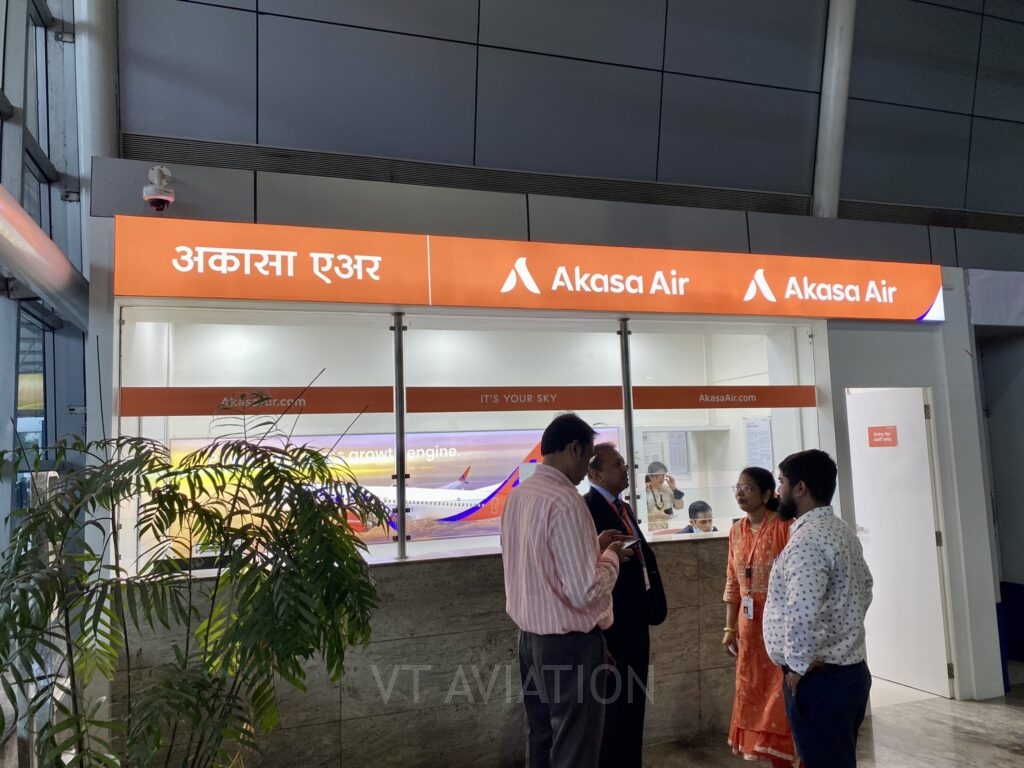 0745 hours – A quick dash to the checkin counter . Soon, realized that the selected seat during booking and checkin (27A) wasn't reflecting in their system. And to our horror, there were no window seats available on this flight. This was totally devastating news. After investigating the issue for almost 30 minutes, there was no option but to accept an aisle seat (22C). Given that it was the first day of operations, we accepted the excuse. It was then time to say hello to fellow aviation enthusiasts who were making their way one by one for this historic occasion.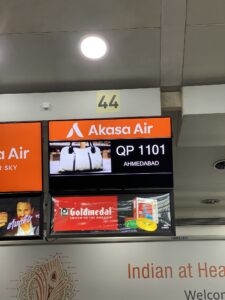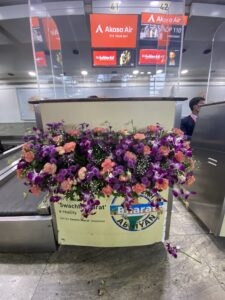 0820 hours – Mr. Belson Coutinho, Co-Founder and Chief Marketing & Experience Officer, Akasa Air, welcomed the gathering. Mr Belson introduced the Founder and CEO, Mr. Vinay Dube who thanked everyone for making this historic day happen and enabled to make this dream come true. Next, Mr. Dube handed out the #FirstToFlyAkasaAir boarding pass to an young aviation enthusiast appreciating his passion. After some customary photo clicks, there was a cake cutting ceremony to commemmorate the special occasion. A beautiful looking chocholate pastry cake with the "Our Journey Begins" branding.
"Today marks a significant milestone in Akasa Air's journey as we successfully commence our commercial operations with our maiden flight from Mumbai to Ahmedabad. This is not just a testament to the women and men of Akasa that have made this day possible, but also a testament of India's ongoing economic transformation and that of the country's rapidly progressing civil aviation landscape. The Akasa story is aligned with the nation's journey towards making air travel affordable through PM Modi-ji's clarion call – Ude Desh ka Aam Naagrik. We want to serve our country by creating strong transportation links which are the underpinning of any economic growth engine". – Mr. Vinay Dube, Founder & CEO, Akasa Air
0840 hours – After wrapping up the ceremony in the checkin counter area, it was time to clear security check and head to boarding gate 24. A virtual launch ceremony was planned with the Ministry of Civil Aviation (MoCA). After the welcome address from Mr. Rakesh Jhunjhunwala, promoter and investor of Akasa Air along with the traditional lamp lighting custom in India, it was time to get the first look at our aircraft getting ready for the flight from Gate 24 (Stand A7).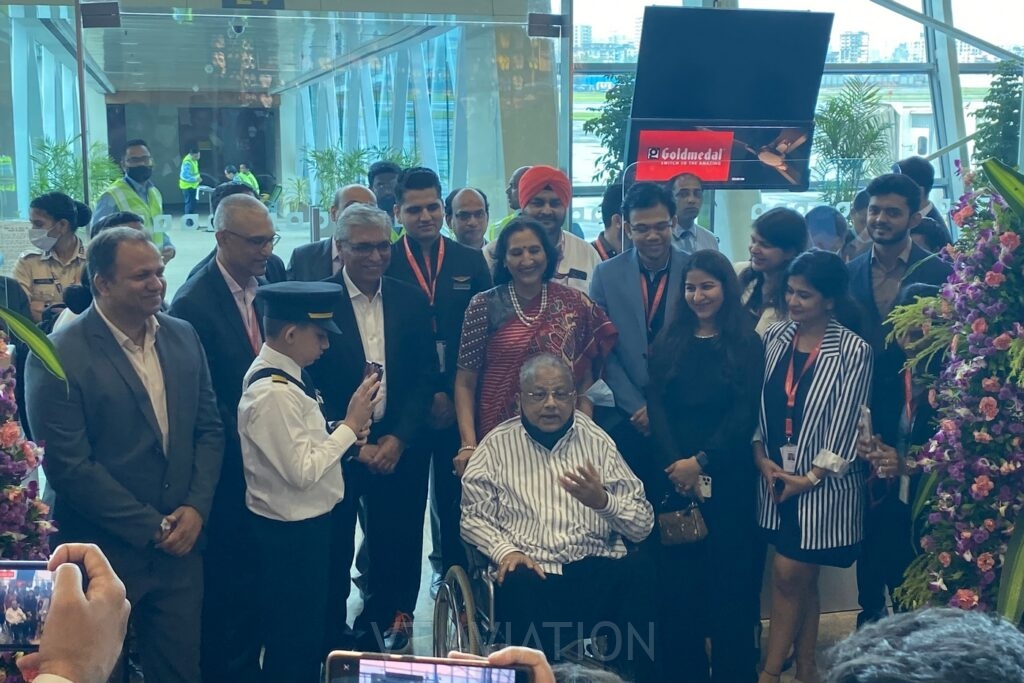 Before boarding, all aviation enthusiasts got together for a very rare group photo! Credits to Vinamra Longani (VT-VLO) on Twitter who initiated this idea on an #avgeek meetup before we all boarded the aircraft.
.@AkasaAir 's inaugural was mega special for many reasons. Among other things, it was an opportunity for fellow #AvGeeks and #aviation enthusiasts to meet up and celebrate this momentous occasion.
Gentleman, it was a real pleasure! pic.twitter.com/bdKe5xXGb2

— VT-VLO (@Vinamralongani) August 7, 2022
Aircraft Details
Flight Number: QP1101
Aircraft Type: Boeing 737 MAX 8 (now better known as 737-8)
Engines: 2 x CFM LEAP-1B
Registration: VT-YAA
MSN: 62871
Aircraft Age: 3.1 Years (not taken up by T'Way Air)
Seat Configuration: Y189
0915 hours (~1 hour before departure) – Boarding commenced in a sequential manner. We had opted for priority boarding (for an additional charge of INR 400) to get early access into the aircraft and get some pictures. Made our way through the aerobridge to get the first glimpse of the CFM LEAP-1B engines powering the Boeing 737-8 (yes, the MAX!) aircraft. An all excited, smiling (behind the mask) cabin crew welcomed us on board.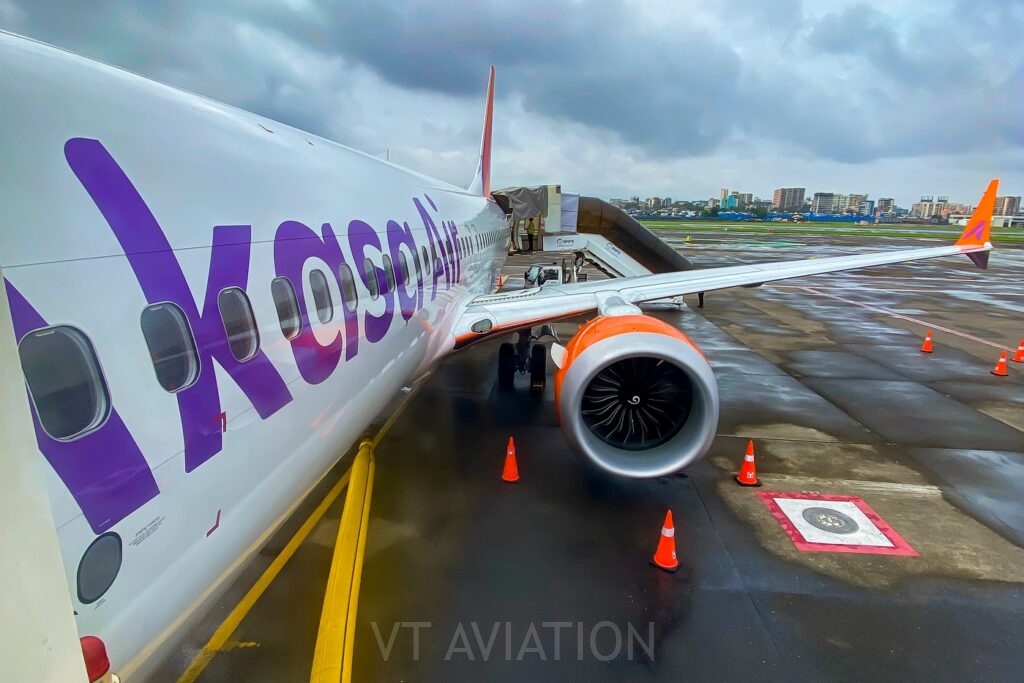 By the way, it's worth to mention now, the cabin crew outfit is probably the best amongst Indian airline carriers as of today. Bright sunrise coloured orange custom trousers, jackets, very comfortable sneakers – what more could have the cabin crew asked for! What's even striking is that the trouser and jacket fabric has been made using recycled polyester fabric made from pet bottle plastic salvaged from marine waste. Even better, the sole of the sneakers is carved from recycled rubber and manufactured without any use of plastic. WOW! Taking sustainability to the next level without compromising on employee comfort.
A quick turn to the right and the first look at the "colourful cabin". The fresh aroma in the brand new cabin, the boarding music with plush cabin upholstry, softer seat cushions in passionate purple colours and the "coolest" feature in Boeing 737s – the Boeing Sky Interior gave us the perfect welcome. Made our way through the cabin to seat 22C.
A quick seat tour
Akasa Air features the slim Recaro seats. Each seat comes with a decent legroom, a USB charging port to charge your personal electronic devices, adjustable headrest and a foldable tray table. The seat pocket contains the safety instructions card and air sickness bag kept in a zip lock cover (hope this is also made from recycled material???), and a Cafe Akasa menu.

VT-YAA, Boeing 737 MAX 8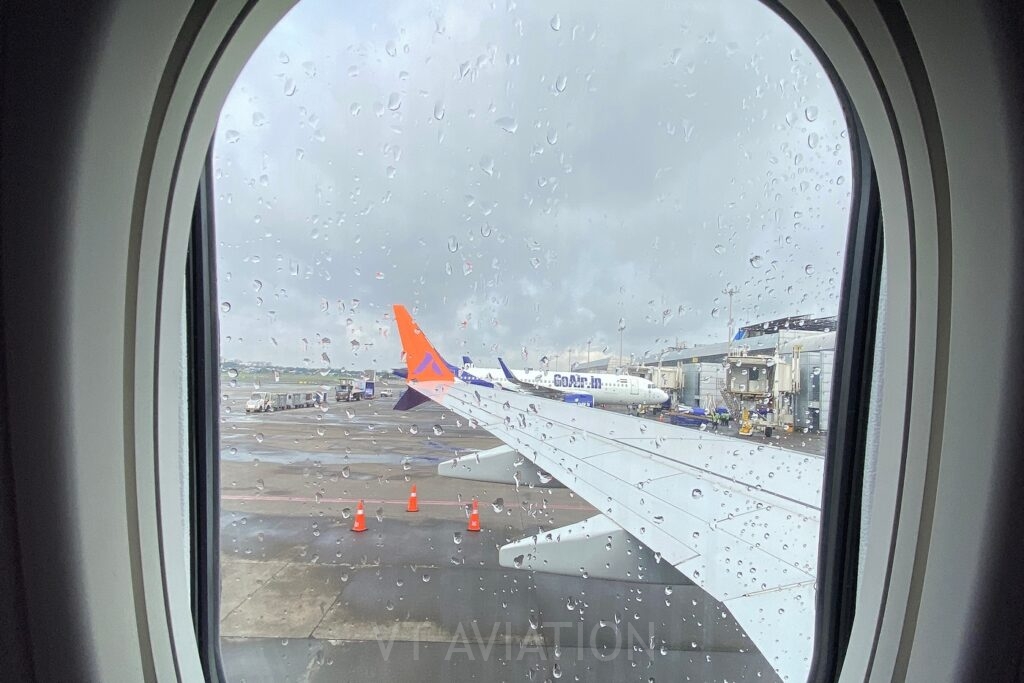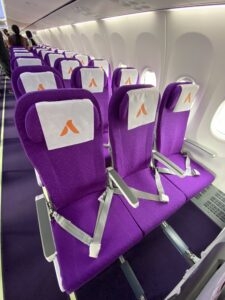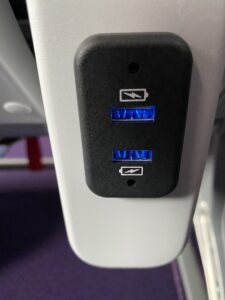 NOTE: If you are looking to pre-book a window seat, make sure you do not select seat 12A and 12F as they do not have a window seat.
Boarding and Cabin Experience Rating
Airport Checkin Experience – 3/5
Boarding Experience at BOM – 4.5/5
Cabin Experience – 5/5
Seating – 4/5
Comfort – 5/5
Crew Friendliness – 5/5
1000 hours – 15 minutes before scheduled pushback time, the captain welcomed the guests on board the inaugural flight and gave us the flight details (i.e) time to destination, cruising altitude, etc., He also welcomed us for the inaugural flight on behalf of Akasa Air.
1014 hours – Pushback commenced from stand A7. The CFM LEAP-1B engines slowly and smoothly sprung into action. What's fascinating is that each phase of the flight (pushback, taxi, takeoff, landing) was applauded and celebrated by everyone on board. The mood on board was simply #avgeeky! A long taxi with the help of a follow-me vehicle (a nice gesture from CSMIA given that it was the maiden flight) to holding point N1 Runway 27. We could see more planespotters perched up the famous spotting hill near Mumbai airport waiting to catch a glimpse of the new airline.
1033 hours – Behind the arriving Singapore Airlines Airbus A350 aircraft, we lined up on Runway 27. Within the next few minutes, we were airborne from Mumbai on Akasa Air's maiden revenue flight enroute Ahmedabad.
View this post on Instagram
1045 hours – 10 minutes into the flight, as the seatbelt signs went off, the cabin crew sprung into action to serve the customers. Being the inaugural flight and to celebrate the launch, the airline served complimentary meals and beverages to all passengers on all flights on this day (August 7th). A nice gesture from the airline that was once again welcomed and appreciated by the guests on board.
The meal option consisted of a vegetarian/non-vegetarian with a choice of beverage (Orange Juice, Watermelon Juice, or Coke). We went for the vegetarian option which had a Mushroom and Brie croissant with Orange juice. The croissant was cold but tasted yummy! The meal was packed in a 100% recyclable material made with paper sourced from sustainably grown crops. Once again, Akasa Air showing their act of being sustainable towards nature.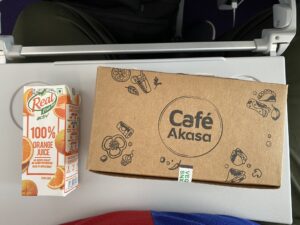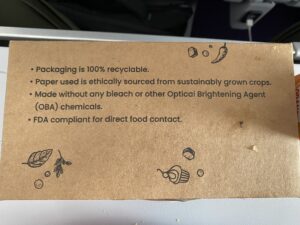 As we munched our meal, the lack of Inflight Entertainment (IFE) was compensated by the beautiful views out of the window. A quick pass of mobile phone to the avgeek over the window seat to get some cool pictures of the view. Enjoy the view!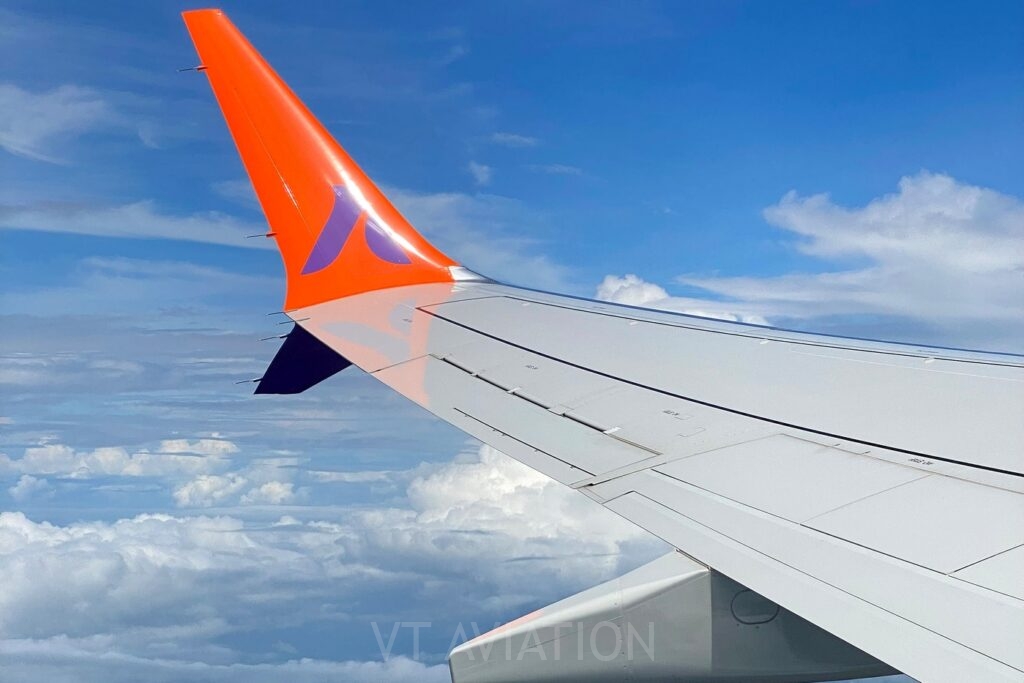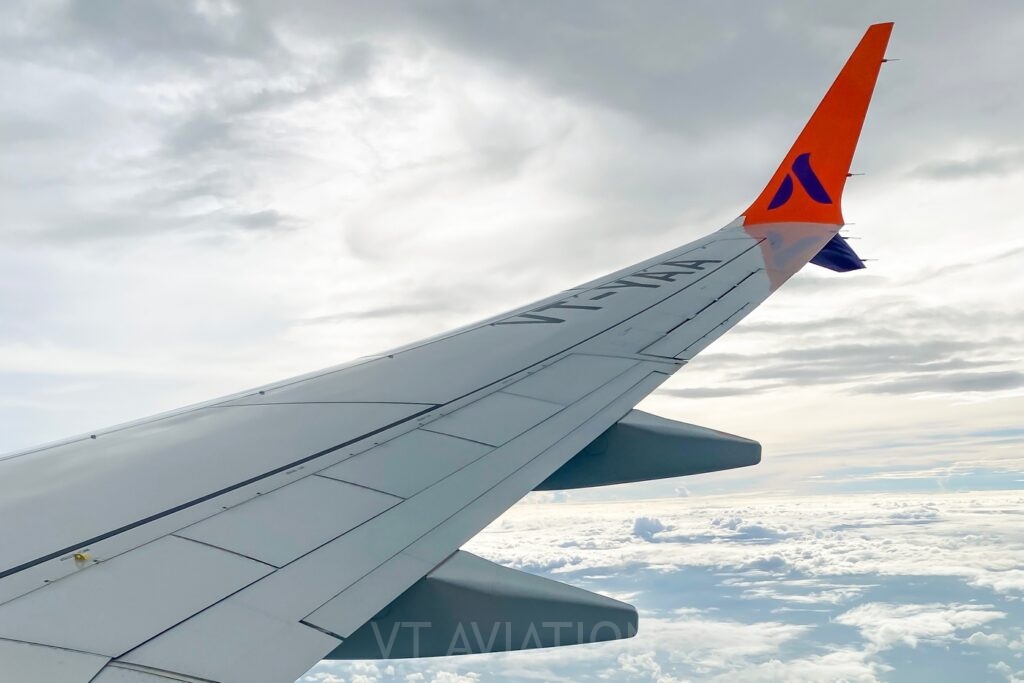 Café Akasa
Café Akasa – Akasa Air's buy-on-board Meal service! The choice of items on the menu is vast – from Ready to Eat (add hot water, keep for 6 minutes, and eat!), quick bites (cashews, popcorn, cupcakes, wafers), sandwiches, wraps/rolls. tarts, burgers, salads, to gourmet appetisers, the choice is aplenty! There's even desserts where you can surprise your loved ones with a  chocolate truffle cake and some in-air celebrations.
Customers can pre-book meals up to 12 hours prior to departure (with exceptions to cakes that have to be ordered 48 hours prior to the departure). What's more interesting is that the airline also has festive meals (available on pre-booking) for special Indian festivals!
The airline adds that hot snacks and beverages are only available on flights longer than 70 minutes. Also, for flights with multiple legs/sectors, passengers will be served pre-booked meals only one any one leg/sector (something similar to the lines of IndiGo).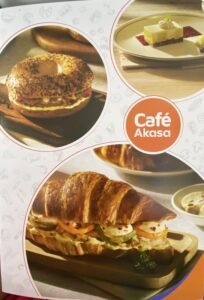 Meal and Inflight Experience Rating
In-Flight Experience – 5/5
Meal and Services – 4/5
1100 hours – The service was flawless and time just flew! The crew were enthusiastic and on their toes during this short hop. The captain announced that we were approximately 125 kms from Ahmedabad and commencing our descend shortly from 27000 feet. Cabin crew started to prepare the cabin for arrival. Seat belt signs came on indicating we were entering mild turbulence on our way into Ahmedabad.
1123 hours – A graceful, smooth touch down on Runway 23 at Ahmedabad, well appreciated by the passengers on board. While we expected the traditional water canon salute, the airline had other ideas. They stuck to their "environment first concept" and decided against the water canon salute. We docked at the gate around 1130 AM.
View this post on Instagram
The atmosphere inside was still intact that after landing, no one actually wanted to get up and leave the aircraft. Pictures taken, handshakes all around, the mood was still afresh. Given that the aircraft had a tight 40 minute turnaround, we had to leave the aircraft to the terminal. While half of the avgeeks and airline staff were flying back to Mumbai, others were departing back in the evening service.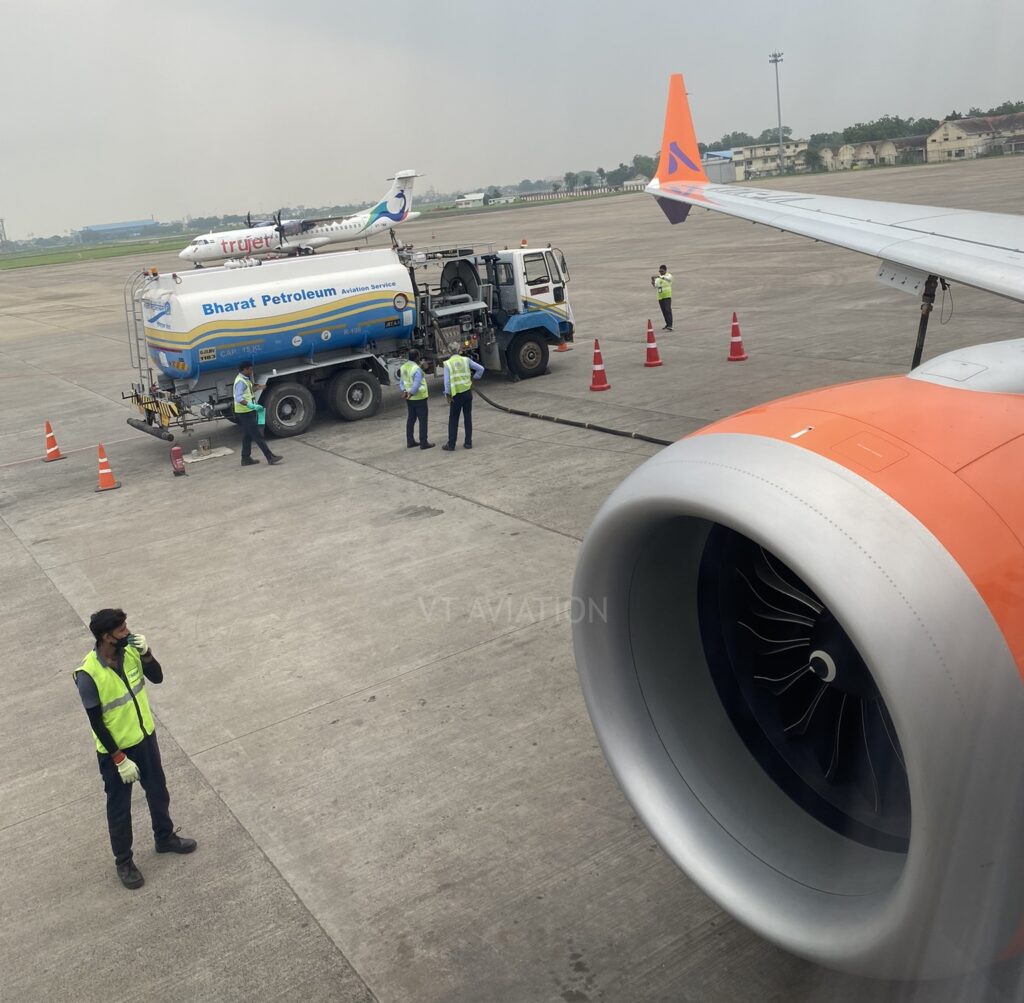 Then came the "Surprise Element" of the entire flight. Passengers were handed a goodie-bag that contained a #FirsttoFlyAkasaAir Certificate, a cool bag tag in the airline's sunrise orange colour. The "best-of-all" 1:200 Boeing 737 MAX 8 scale model of Akasa Air. This goodie bag is something that will be treasured by everyone who were on this historic flight.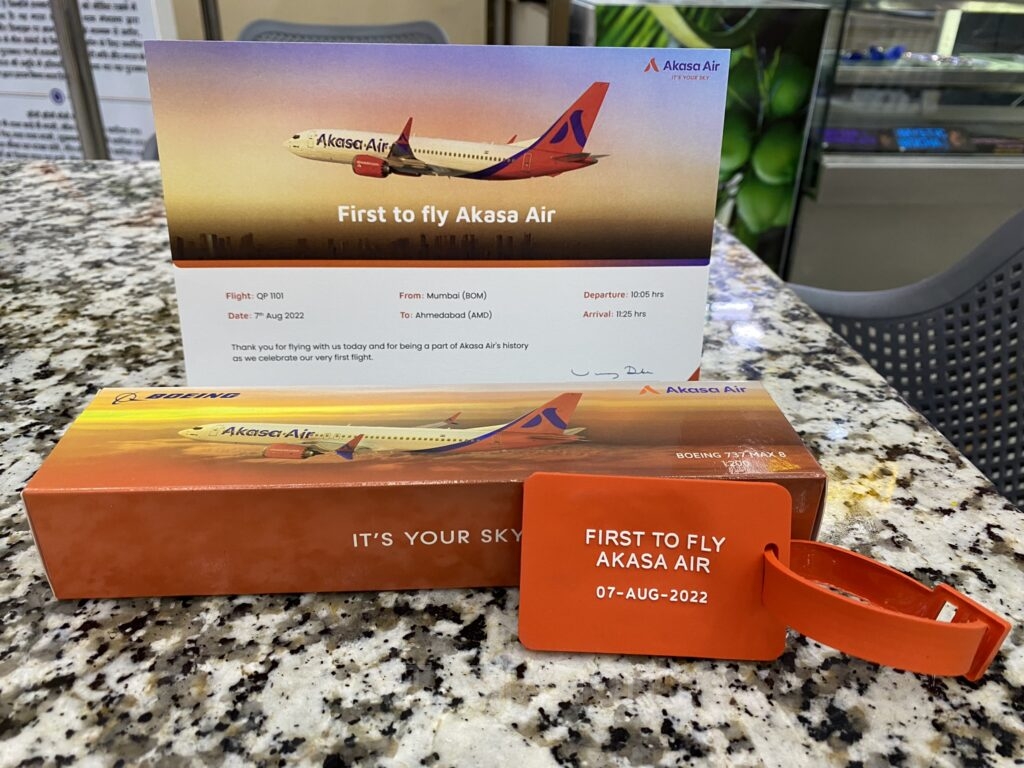 1220 hours – Entered the arrival hall at Ahmedabad airport. Another 4.5 hours before taking the return Akasa Air flight back to Mumbai. End of an exciting travel journey on India's brand new airline.
Overall Experience Rating (cumulative of two flights on the day of inaugural) – 4.5/5
Closing Thoughts
Ever since the announcement came about Akasa Air starting operations, expectations were set high. The time at which the airline planned to launch services after the pandemic (recovery mode on for other airlines) sparked a lot of debate. But here's Akasa Air – India's brand new Low Cost Airline up and running in no time. As Rakesh Jhunjhumwala says, Normally a child is born in nine months. We took 12 months to launch an airline! 
While still being an LCC, there are notable differences compared to other Indian LCCs (IndiGo, GoAir, SpiceJet, Air Asia India). These hard and soft product differentiators can play a major part in customer decisions. The one thing that Akasa needs to get right is to earn their passengers' trust right from the start. O-time performance, quality ground and inflight service, effective network planning and competitve fares are some ways Akasa Air can attract customers from their competition.
One must also not forget that IndiGo, on the other hand, will be keeping a close eye on Akasa's progress and upscaling their branding, network and offerings. There is an exciting battle on the  cards in the coming months for the Indian Aviation industry. With the addition of Jet Airways 2.0 (expected from September??), the aviation industry in India is all set for an interesting Winter Schedule 2022 and further.
Here's wishing Akasa Air the very best for their success. Given a chance/choice, would we fly Akasa Air again? DEFINITELY!
We hope you enjoyed reading our inaugural flight experience on board Akasa Air. Tell us which was the striking moment for you in the whole trip (if you have read till here). Leave your comment/feedback in the comments section below.