Akasa Air achieved a significant milestone on August 1, as it welcomed its 20th aircraft, making it the first airline in Asia to include the 737-8-200 variant of the Boeing 737 MAX with 197 seats in its expanding fleet. Previously, Akasa Air's fleet consisted of 19 aircraft, each with either 174 or 189 seats. The 20th aircraft, with the registration VT YAV, arrived in Bengaluru after being ceremoniously handed over to the airline in Seattle, USA, on July 28, 2023.
All set for International Operations!
With its fleet now meeting the Indian regulations requiring at least 20 aircraft for international operations, Akasa Air is eager to explore new horizons. The airline plans to expand its network to the Middle East, Southeast Asia, and other parts of South Asia, keeping a single-class configuration on its routes.
Vinay Dube, the Founder and CEO of Akasa Air, expressed great pride and optimism about the airline's future, emphasizing the tremendous growth it has achieved within just one year of starting operations. He credited the passion and dedication of the employees for the rapid expansion and the airline's commitment to service excellence.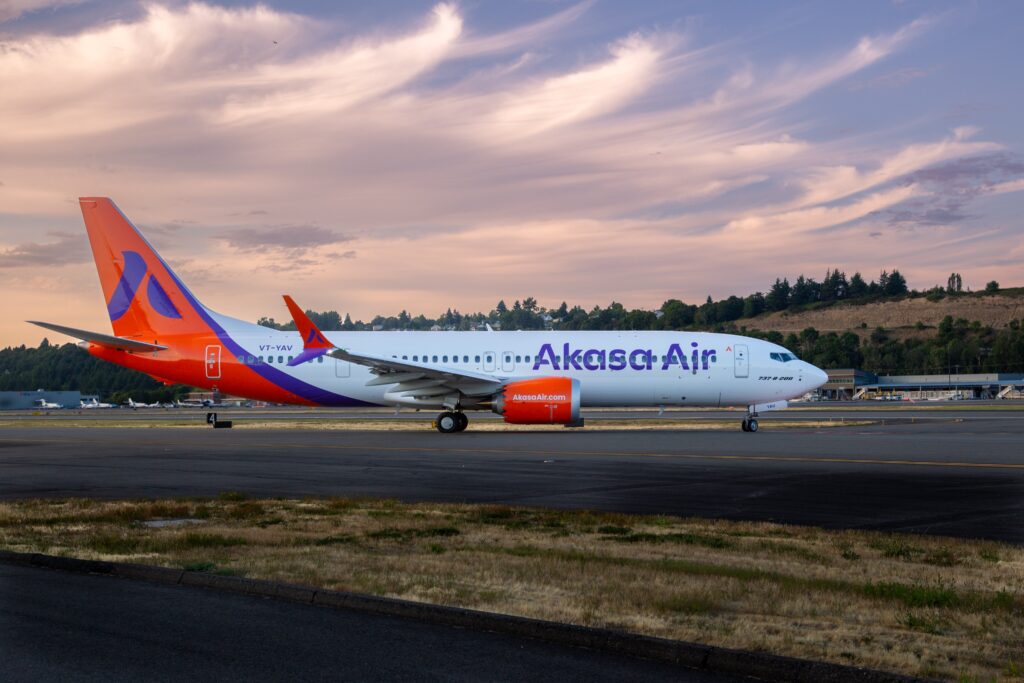 The addition of the Boeing 737-8-200 to the fleet aligns with Akasa Air's strategy to control operating costs while enhancing the customer experience. The aircraft is known for its environmental friendliness, offering a 20% reduction in fuel consumption and carbon emissions compared to its predecessors. Additionally, it boasts an impressive 50% reduction in cabin noise, providing a quieter and more comfortable flying experience.
Boeing 737 MAX – offering range and efficiency for the airline
Boeing also celebrated the strong partnership with Akasa Air, praising the airline's focus on service excellence and customer satisfaction. The 737 MAX family, including the 737-8-200 variant, offers extended range and fuel efficiency, making it a perfect fit for Akasa Air's operations.
As India's fastest-growing airline, Akasa Air has achieved remarkable milestones, carrying over 4 million revenue passengers and operating over 900 weekly flights with a network of 35 unique routes connecting 16 Indian cities.
Notably, Akasa Air takes pride in having an entirely next-generation fleet, with the 737 MAX offering superior economics, reliability, and efficiency. The modern Boeing Sky Interior, advanced technology winglets, and CFM International LEAP – 1B engines further contribute to the airline's vision of becoming an environmentally progressive company with the youngest and greenest fleet in the Indian skies.
Within just one year of its commercial launch, Akasa Air has already received 20 aircraft out of its total order of 76 from Boeing, demonstrating its commitment to growth and expansion in the aviation industry.