On June 20, 2020, Alitalia – the flag carrier of Italy – launched their first cargo freighter service to CSMIA, Mumbai. Alitalia plans to operate a non-scheduled weekly flight on the Mumbai – Rome – New York sector with their Boeing 777 Passenger to Cargo [P2C] converted aircraft. The flight is scheduled to operate every Sunday, till the end of July. This Rome-Mumbai flight has enhanced the connectivity between Italy and India. Alitalia is operating on this route after almost 12 years. Back in 2008, Alitalia used to function 6x weekly on the Milan-Bombay sector.
The first flight, operated by ship EI-WLA, a Boeing 777-300ER, landed at Chhatrapati Shivaji Maharaj International Airport at 0414 hrs on June 21 as AZ9460 inbound from Rome. The maiden cargo flight carried 8 tonnes of engineering goods, spares into Mumbai. The aircraft departed later in the evening at 1745hrs with 45 tonnes of pharmaceutical resources and medical equipment.
Airline Cargo Operations during COVID-19
The current COVID-19 pandemic has forced airlines all-over the world to strategize their operating model. Due to lack of passenger demand, airlines are operating cargo flights to carry essential and medical supplies. Airlines are taking advantage of both belly cargo and inflight cargo (strapped to the seats) to maximize the utilization. Few airlines have also converted their aircraft into an all-cargo configuration by removing the seats. 
Alitalia have also converted their one-and-only Boeing 777-300ER passenger aircraft into a cargo-carrying freighter. This move is to optimize both the lower deck and belly space of the aircraft. This gives the airline the flexibility to offer maximum cargo capacity of 50 tonnes per flight.
"The customers in Mumbai are delighted to have the Italian bird flying back to Mumbai and have given a stupendous welcome to the carrier which is clearly reflected by an overwhelming response to the capacity offered, with the first flight taken off with a whopping success of full capacity utilization for Italy, Europe and USA. We are here to serve during these challenging times and assure our complete support to our cargo fraternity because we firmly believe that problems are not stop signs, they are guidelines!" – Deepak Kumar, Cargo Manager – Western India, Air Logistics Group (Source: CargoBreakingNews)
Similar to Alitalia, other airlines in the likes of Turkish Airlines, Ethiopian Airlines, Virgin Atlantic, British Airways, Emirates, KLM, Spice Jet, Indigo and Oman Air have operated cargo flights by utilizing their passenger aircraft. Check out our Instagram Album (#VTExclusive) for pictures of these airlines operating cargo flights in/out of CSMIA, Mumbai.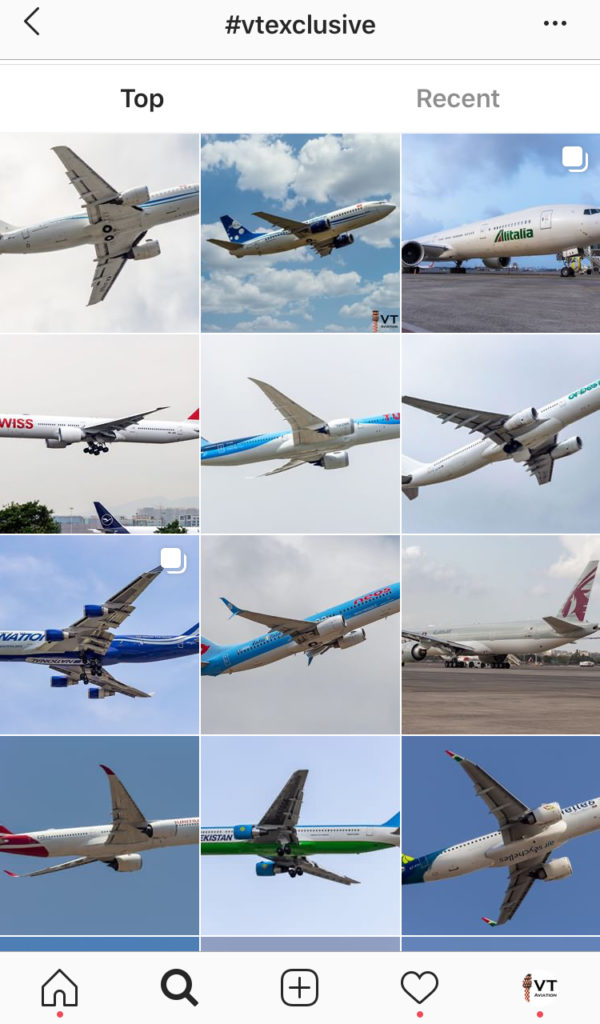 CSMIA Extends the Helping Hand
Despite several challenges and working with a minimal workforce, CSMIA is enforcing all its strength to fulfill the demand for essential stock in India and across the world. During the lockdown period in India, almost 3000 tonnes of supplies have been carried by over 900 flights including scheduled freighters and non-scheduled charters out of CSMIA, Mumbai. CSMIA is the gateway for Pharmaceuticals, Perishables, Engineering goods to India. The airport connects to over 500 cargo destinations around the world. CSMIA is extending a helping hand to Italy for its fight against the Coronavirus. It is aiding the export of medical equipment and pharmaceutical goods from Mumbai to Rome.
Photographing Alitalia Boeing 777-300ER
As always, thanks to CSMIA, we had the privilege to be up, close and personal with this Boeing 777-300ER aircraft. The aircraft arrived in the wee hours of the morning, which gave us the perfect opportunity to get pictures in the night and day light.
For more exclusive content from this inaugural event, check out our Instagram Highlights.
View this post on Instagram