After months of disruptions between 2019 till early 2022, air travel has seen a slow and steady rise in the demand from the hungry air travellers. Recently, air travel has risen to a level where in airports across the whole of the United Kingdom are struggling to cope up with this high demand from tourists and citizens who have not been able to fly since months. The post COVID-19 travel regulations have changed and so has the demand for air travel. From holidays to business trips, everyone wants to fly again to their favourite destinations. Let's read about how was my experience on flying with the finest, and highly awarded airline in the world, Qatar Airways. I took a flight from Manchester to Mumbai via Doha with Qatar Airways and here is my raw experience, penned down for you all to know what it is flying with them.
Flight Details


Airline: Qatar Airways
Flight Number: QR22 and QR556
Sector – Manchester (MAN) to Doha (DOH) &  Doha (DOH) to Mumbai (BOM)
Equipment: Boeing 777-300ER
Registration: A7-BAY and A7-BES
Seat Number: 35A and 35J
Why did I select Qatar Airways for our trip?
Over the last few months, I have been exploring various airlines and options to fly to Mumbai from Manchester, where I had been living for a few months. Since there has been no direct flight between the two cities, I decided to explore different airlines that I can fly on. While I  need a transit visa if I have to fly from most of the European Union countries, I decided to take up the simpler and hassle-free route to reach India which is flying via the Gulf countries. Also, I have been using the American Express British Airways co-branded credit card in the United Kingdom, which proved to be a saviour on this flight. Every GBP I spend, I earn Avios, which I can use on various bookings, be it flights, hotels, experiences etc. How cool is that! So for this flight too, I redeemed the Avios I had collected for a cheap flight ticket to Mumbai even though the price was sky high without redemptions due to the summer holiday season. By giving away a few thousand Avios, I was able to buy a one-way ticket on this sector for GBP 334, which I really felt was a steal-deal during the  holiday season where average ticket prices ranged between GBP 800-1300 for a one-way ticket to Mumbai. Also, after my previous experience flying on Etihad and Saudi Arabian airlines which was not that wonderful, I really wanted to try something new this time.
The Airport Experience at Machester
Qatar Airways operates out of the Terminal 2 in Manchester, which is one of the busiest terminals at the airport having flight operations of Emirates, Etihad, Saudi Arabian Airlines, Jet2.com, TUI Fly and a few more airlines. The early morning hours at the airport are always busy, chaotic and full of people running here and there to not miss their flights. Since this terminal operates international flights out of Manchester, it is always busy and there is hardly any time in the day  you will find lesser queues and quieter places to relax.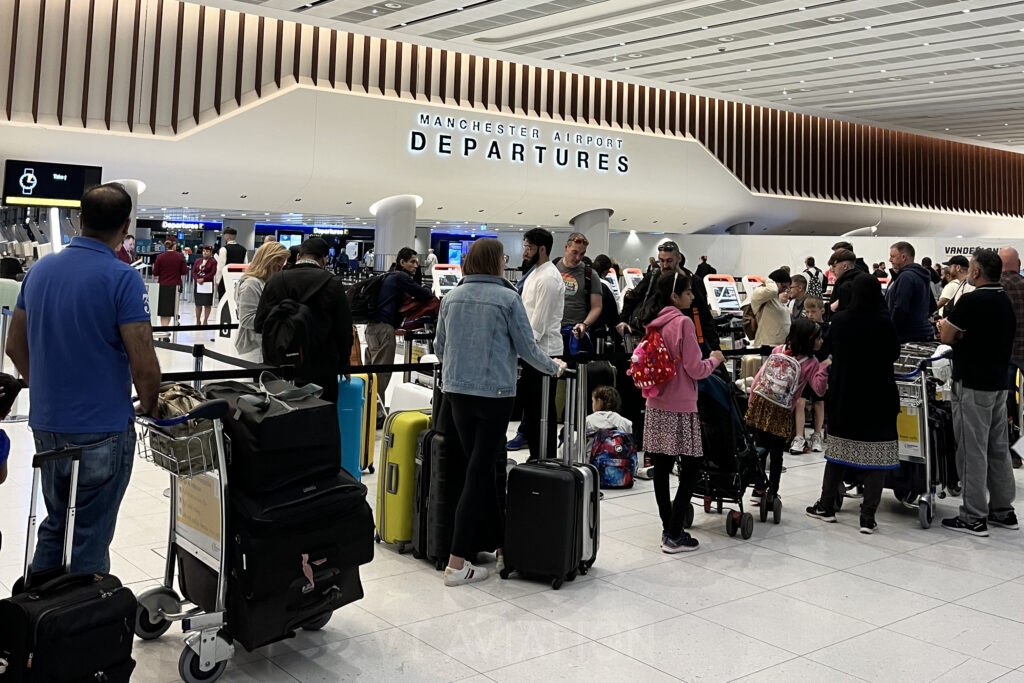 Qatar Airways operates a dedicated set of self check-in kiosks and counters at the Terminal 2. How does this help the passengers? If I am a traveller with the specified amount of luggage as per my ticket, I just have to head to one of these kiosks, place my luggage, get my tags and boarding pass and drop the bags on the baggage belt. Simple, reliable and quick way to check-in and hop on to the next step of the journey. However, I was told to proceed towards the check-in counters to drop my bags. Generally, due to high volume of passengers at this time of the year, and also, due to the enhanced network Qatar Airways provides, most of the flights from Manchester to Doha, are always full to the brim with hardly any seats going empty. We experienced something similar on this journey too where had to wait in the queue to check-in for almost over an hour. Fun fact: Swissport, a ground handling agency, looks after the ground operations of Qatar Airways. Note: If you are traveling with excess luggage, Qatar Airways will be charging you additional costs to check the luggage. Hence, always check your allowance on the ticket.
The Security, Duty-Free and Pre-Boarding Experience | Manchester v/s Doha
Ringway International Airport, Manchester
During the early hours, Manchester Airport has a really busy security check queue. Due to the shortage of staff, it had been in the lime-light before when the security queues were ranging between 3-7 hours due to the short-staffing. However, things have changed. I spent less than 15 minutes on August 6, even though it was a weekend and a busy day at the Terminal 2 for completing my security check. How cool and efficient.
Duty-free shopping at Manchester is a paradise for shop-o-holics. With wide range of options in almost everything you need, the place is always busy, lively and full of smiling and supportive staff who would share their best recommendations so you can shop correctly. You can check out what to shop or pre-book your purchase on the website :
https://manchester.worlddutyfree.com/en/
With a quick few minutes at the duty-free and not having much to shop, I planned to use the best possible time I had before the check-in commences at one of the favourite spots in the Terminal, the airside facing seats. Of course, my plan was to enjoy plane spotting from the Terminal which is surely, every avgeek's plan. Luckily, I got over 45 minutes to enjoy this hobby while waiting for my beauty bird, the Boeing 777-300ER of Qatar Airways to land and park.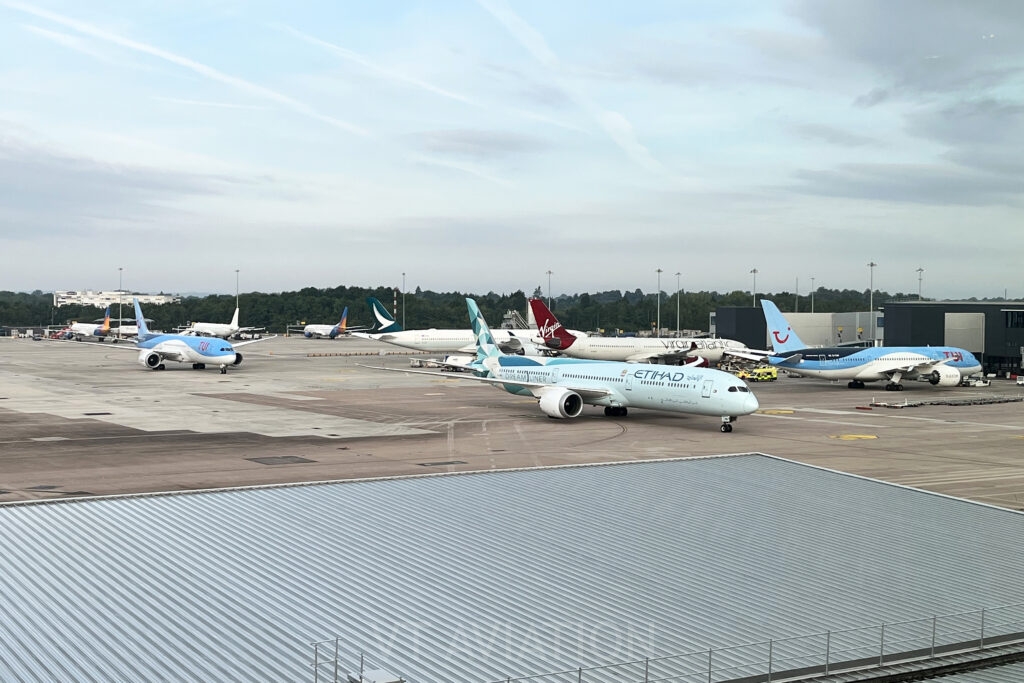 Hamad International Airport, Doha
While Doha was my transit stop, the airport itself feels like a city in the terminal. Qatar Airways is based out of Hamad International Airport and caters to hundreds of flights and millions of passengers. The airport feels modern, busy and lively. Unlike my previous experiences of transiting from Jeddah and Abu Dhabi, where I had to re-clear my security checks on a transit flight, it was relaxing to not go through security queues all over again after a tiring first half of the journey where I had been awake for more than 30+ hours already. The airport is spacious, offers a lot of shopping options too and is constructed keeping in mind the amount of people that travel to and from Doha. The staff at the airport is super friendly and they look after every passenger's query with a smile.
So which airport provided a better experience? I would say it was Hamad International Airport, Doha. With just over 2 hrs in the terminal, I felt it was surely one of the best options to fly through this airport.
The Boarding Experience at Manchester Airport v/s Doha Airport
Manchester Airport
Our ride for the day to fly us to Doha was the beast, Boeing 777-300ER, A7-BAY, a 10 year old bird with the old configuration of Qatar Airways with 24 Business Class seats and 388 Economy Class seats. While the aircraft had been slightly delayed after arriving at Manchester due to the busy ground movements in the morning hours, we had to wait a little longer before boarding commenced. Qatar Airways still follows strict COVID-19 guidelines as laid down in Qatar which makes it mandatory for people to wear a mask in the aircraft. Did you forget carrying a mask? Don't worry, they do provide it at the gate and in the flight too. Like I mentioned, the ground handling operations of the airline are handled by Swissport, which means, they would be ensuring the quick turn-around of the aircraft. How would I rate the ground staff of Swissport?
Helpful – 3/5
Customer Friendly – 2/5
Energetic – 3/5
Smiling and Caring – 2/5
Briefly, I missed the warm and friendly ground staff and this was not the first time I experienced this with Swissport at Manchester. The airline was surely not supposed to be blame but I hope they do take corrective actions after reading this trip-review and make the third-party staff, more customer-oriented. I feel the ground staff defines the image of an airline as they are the first point of contact at the airport for a nervous flyer (surely that wasn't me).
So we are now done with:
Check-in ✓
Security ✓
Immigration ✓
Duty Free Shopping ✓
Plane Spotting from the Terminal ✓
Waiting at the gate to board ✓
As I walked towards my gate at Manchester Airport, I couldn't resist myself from clicking this shot. I was left awestruck!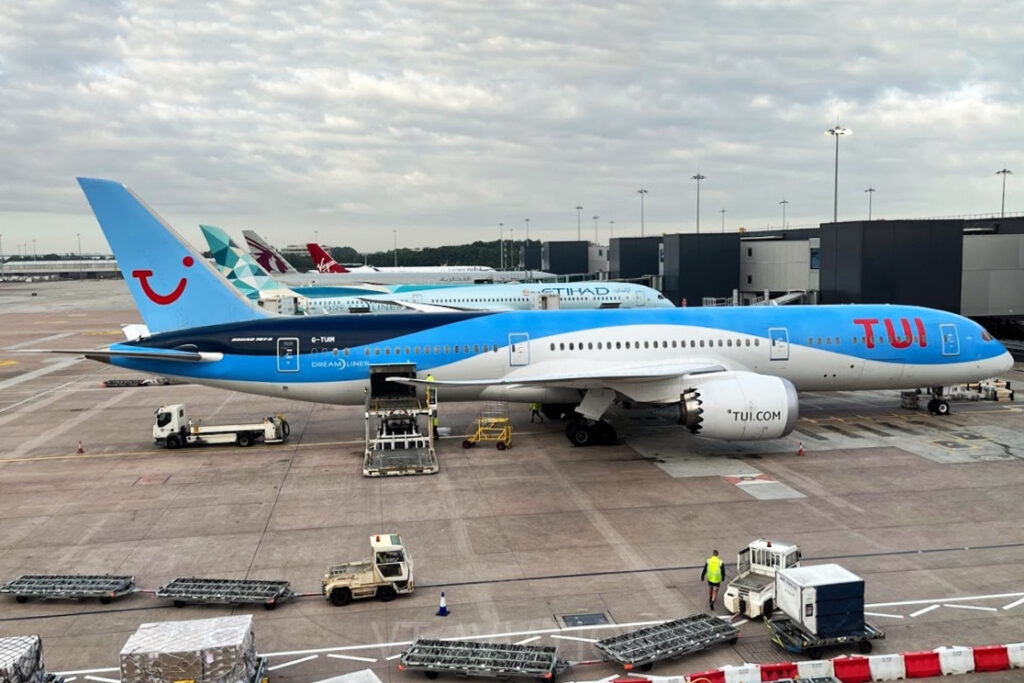 After a brief wait at the boarding gate, seeing a mix of nervous, over-excited, arrogant and rude, tired, mixed-emotions passengers, it was now time to board the beauty, Boeing 777-300ER which was going to fly us to Doha. PS: Boeing 777-300ER is my all time favourite aircraft. Look at this stunning "Bae", our "BAY" for the first sector. Isn't this bird, a gorgeous one?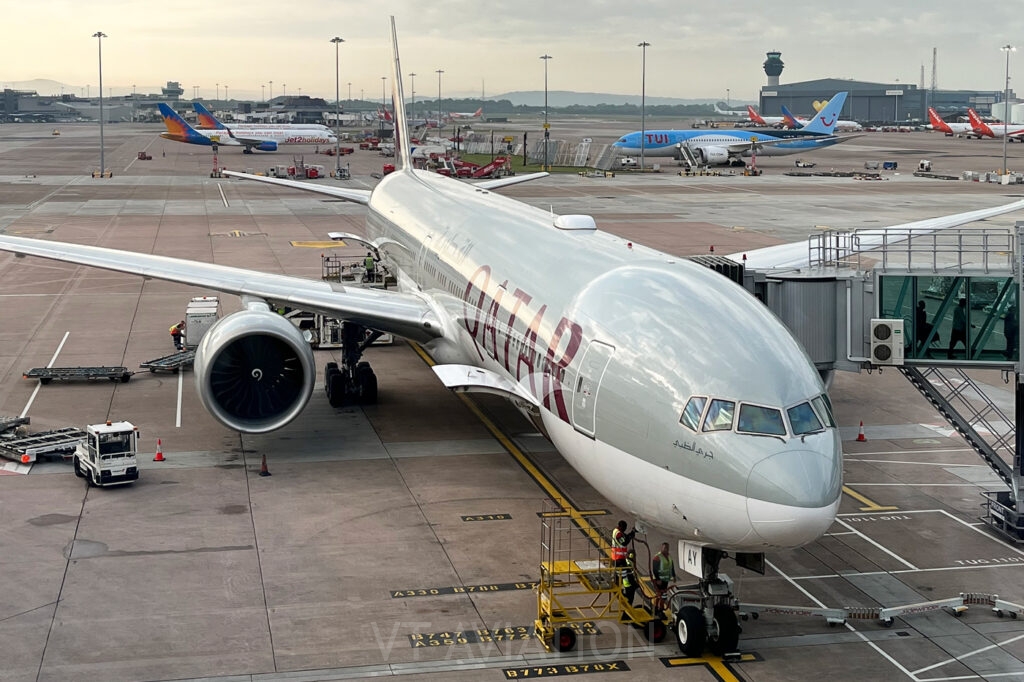 Whenever I am flying, the first impression of any airline is often from the friendly crew, both, on the ground and in the cabin. However, being a little sad about the ground experience, it was now time to experience the much-spoken friendly crew of the airline, which are the brand ambassadors for people to ensure they fly with them again. Masks may have hidden the smile but it was still clearly visible as to how excited they were. And guess what, the first welcome while I boarded the aircraft totally changed my mood and perception. The cabin crew was super friendly, smiling and had a different energy to make sure guests feel welcomed and have a great start to their journey. Once boarded, I walked passed the busy Economy cabin of "Alpha Yankee" to my seat which was 35A for this sector from MAN to DOH.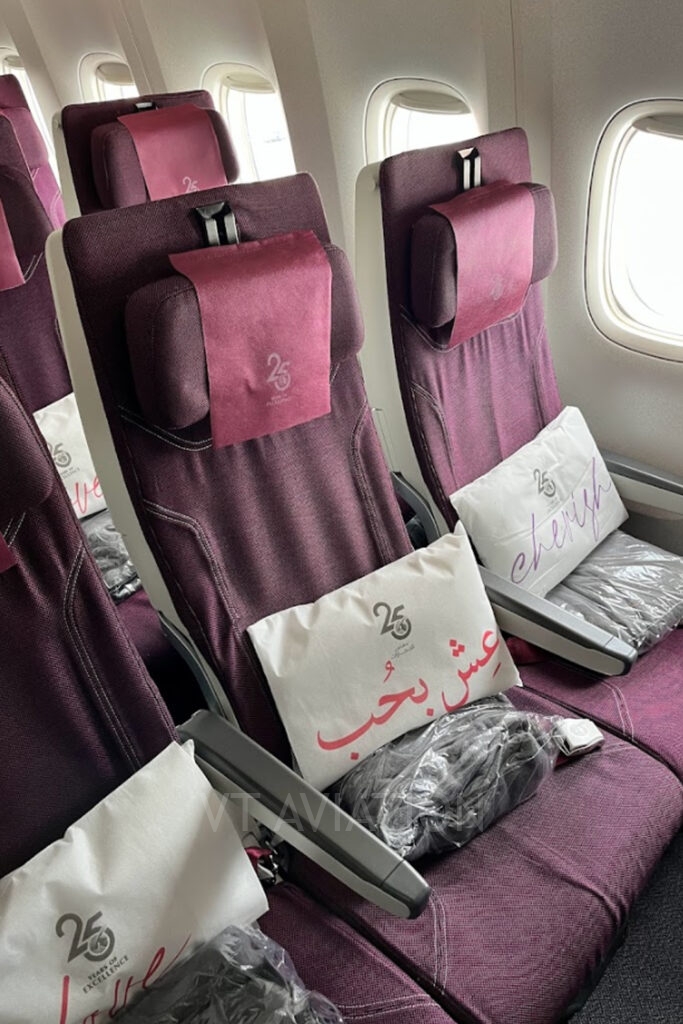 After the boarding was completed, with a little bit of operational delay, and which is common sometimes due to unforeseen circumstances, our bird was finally off to take me back home from Manchester.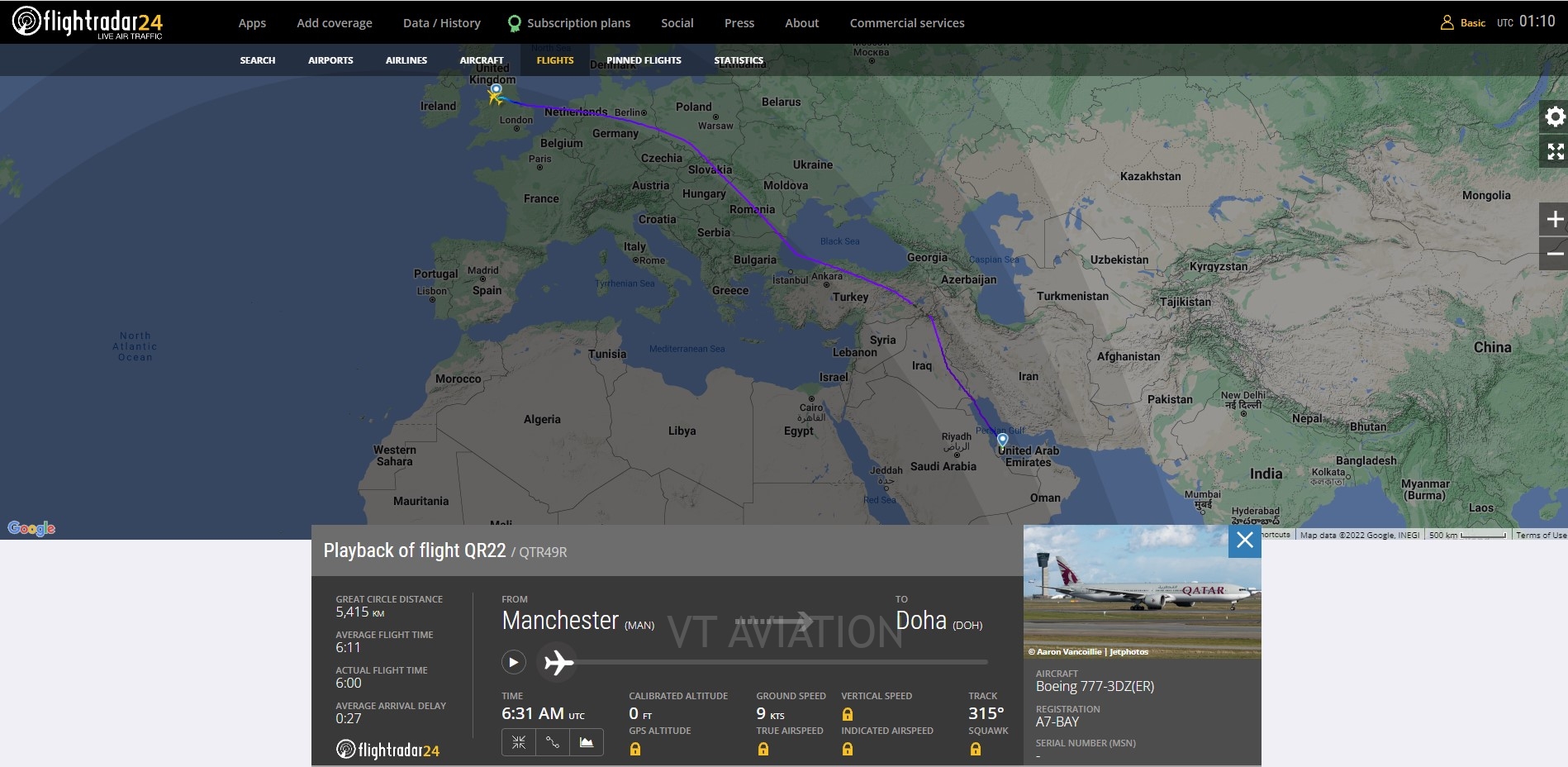 Powered with the mighty and powerful General Electric GE-90 engines, the start-up sounds of the engines is always mesmerising and there cannot be a better music to an avgeek's ears. A quick taxi to the Runway 23L of Manchester and I was all set to listen to these powerful engines as we were ready for take-off. Trust me, I was an excited kid on-board enjoying the music of my favourite jet engines and on-board my favourite aircraft. With a stunning view, heavy loads, beautiful bird and a happy passenger (that's me), we were all set to roll out of Manchester. Here are a few pictures of the stunning wing-view from our Push-back, Taxi and Take-off respectively.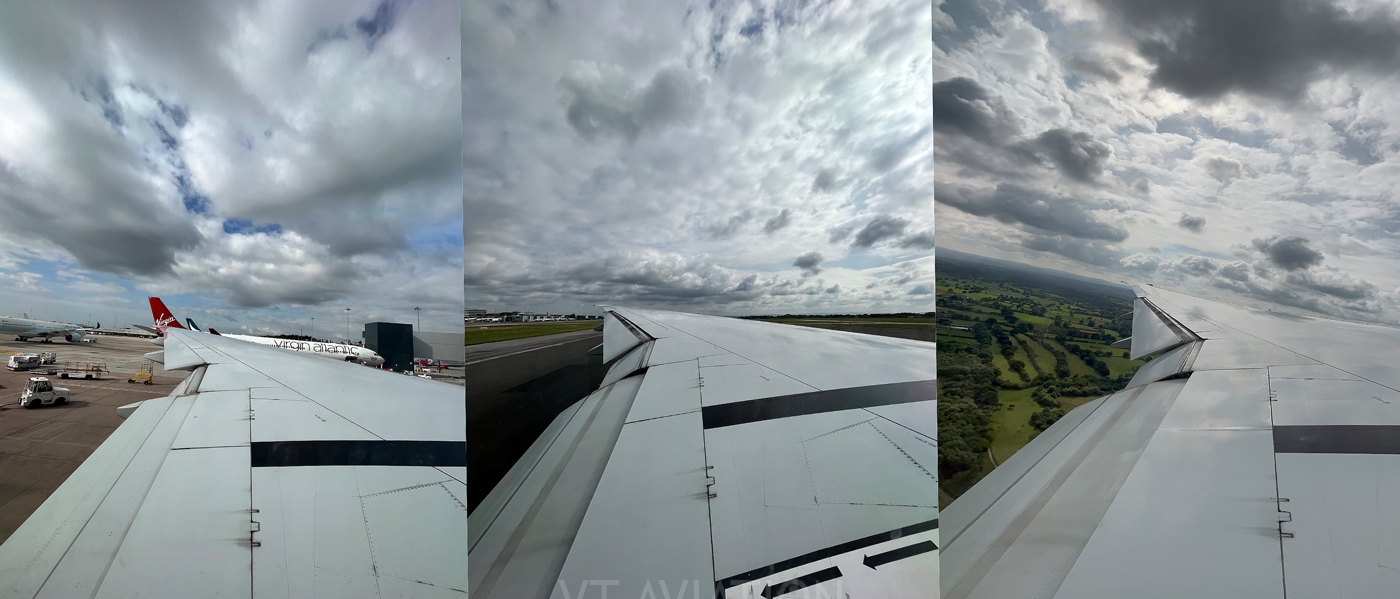 Doha Airport
Being on a transit flight, I did not have much time to spend at the airport and to have a look around. However, I did explore a bit of the shopping options around. Our ride for the day to fly us to Mumbai was the beast, Boeing 777-300ER, A7-BES, a 4 year young bird with the new configuration of Qatar Airways. Here is a summary of my airport experience with the staff of Qatar Airways at the airport where I had requested for a seat change from my existing 43K (Window) to 35J (Emergency Exit).
Helpful – 4/5
Customer Friendly – 4/5
Energetic – 5/5
Smiling and Caring – 3/5
Again, the crew was super welcoming, had a smile behind the mask and assisted all the guests in the best possible manner they could. Operational challenges are stressful for any airline and helping guests at such times is always a challenge. However, the crew, including the Captain ensured everyone was kept aware about the situation. As I had swapped my Window seat with an Emergency Exit seat, I felt relaxed even though there was an operational delay. With ample leg space for a tall traveller like me, the 35J on-board "Echo Sierra" offered me enough space to stretch myself out.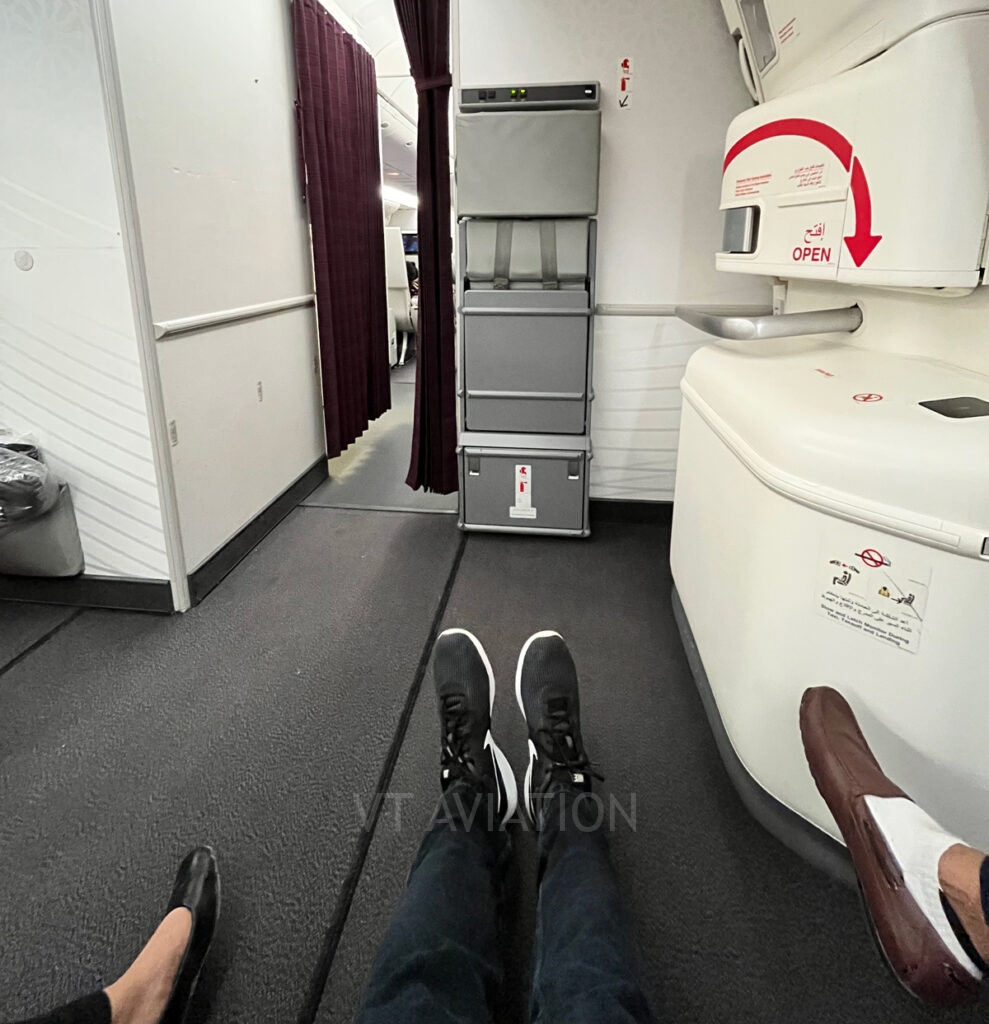 In-flight Meals | MAN – DOH v/s DOH – BOM
MAN – DOH
Let's talk about one of the most interesting topic on the flight, the in-flight meals. Qatar Airways' renowned hospitality and meals have won them several awards including the Skytrax Best Airline award. The airline is also the official airline partner for the upcoming FIFA 2022 world cup, which is going to take place in Doha, Qatar. Qatar Airways provides a variety of meal options which can be selected on web-check-in, absolutely free of cost. As I was flying with Qatar Airways for the first time, I wanted to try the Vegetarian Oriental Meal. The meal service (breakfast) had commenced within the first 45 mins of the flight as passengers had been at the airport very early. The meal consisted of a rice dish, cut fruits, a sweet dish, a multi-grain bread and some coffee/drinks of choice. Unlike Saudi Arabian Airlines which I flew in May 2022, the airline does serve a wide variety of both, Alcoholic and Non-Alcoholic beverages to its guests on-board. The airline offers 2 meal services on this sector, breakfast and snack (sandwich) before landing in to Doha.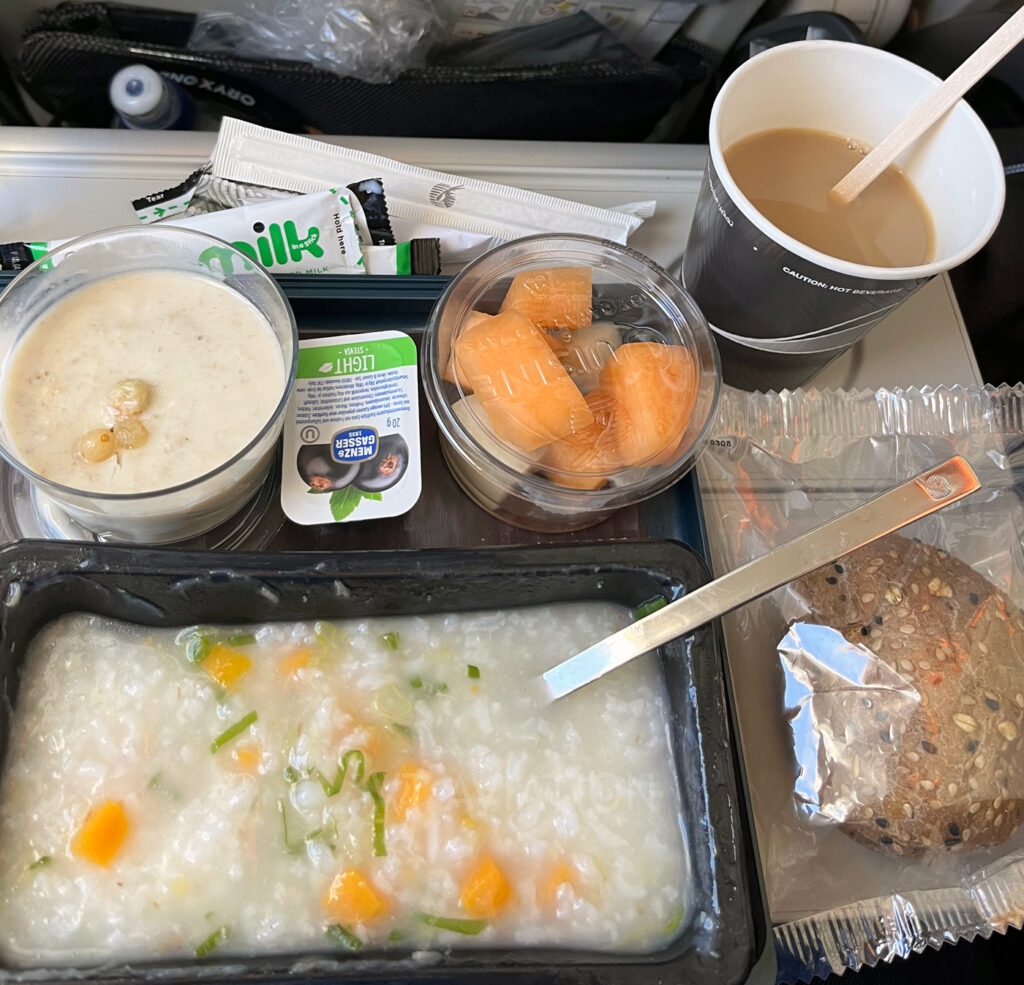 DOH – BOM
Again, I had pre-selected a Vegetarian Oriental Meal (VOML) on my next sector from Doha to Mumbai which had a flight time of approximately 3 hours. The dinner service had started as we were cruising over Dubai and since the flight time was less compared to the previous sector, it was one full meal (dinner service) served along with a choice of alcoholic/non-alcohol beverages and a tea/coffee service later. This time, it was one of my favourite dishes, some really hot and spicy noodles with gravy, salad, cut fruits and the multi-grain bun with butter.
Arrival Experience | Mumbai Airport
Mumbai was our final destination on this long journey from Manchester and even though there were operational delays, our landing in to Mumbai was just 10 mins behind the schedule. It was amazing to see how we covered up the lost time with the help of tail-winds. Mumbai experienced some heavy rains when we landed but the flight was super smooth  and comfortable. After a long walk to the immigration (approx. 20 mins) from the gate, having spent 45 mins in the immigration and almost 1.5 hours in customs, it was tiring to see a super long queue everywhere at Mumbai Airport. Note: You must declare if you are carrying taxable items. Check out https://www.cbic.gov.in/index for more information.
Let's Wrap Up!
Phew! That was quite a journey, ain't it? While the journey from Manchester to Mumbai via Doha was memorable, we'd like to rate our experiences at each checkpoint:
Check-in at MAN – 2/5
Security at MAN – 4/5
Duty Free Shopping at MAN – 4/5
Duty Free Shopping at DOH – 4/5
Boarding Experience at MAN – 2/5
Boarding Experience at DOH – 4/5
Cabin Experience – 5/5
Seating – 4/5
Comfort – 5/5
In-Flight Experience – 5/5
Meal and Services – 5/5
Crew Friendliness – 5/5
Overall Qatar Airways Experience – 4.5/5
Walk from the gate to Immigration at BOM – 3.5/5
Immigration in BOM – 3.5/5
Baggage Claim – 4/5
Customs – 2/5
Exit and Way-out – 4/5
We hope you had a virtual journey along with us from Manchester to Mumbai by reading this article. If you have enjoyed reading this article, kindly share it with your friends and family. We would surely want to hear from you and hence we would request you to share your comments below. It would help us improve our content. Thank you for reading this detailed flight review. Until next time, stay safe, stay healthy!