UPDATE (26 October) – On October 25, Vistara announced Colombo as their 4th International destination and announced some readjustments on the existing international routes. More details at the end of the article! Click here to read more.
---
Over the last few months, Vistara has been aggressive with its expansion plans, both on the domestic as well as the international sectors. After the successful launch of their international destinations – Singapore, Bangkok and Dubai, Vistara's new routes has been focussed towards increasing their domestic footprint.
Since August 2019, Vistara announced 6 new destinations within India – Udaipur, Jodhpur, Indore, Patna, Khajuraho and Thiruvananthapuram thereby taking its domestic stations to a count of 29. These new routes begin operations from late October 2019. The schedules of these new flights are listed below –
Eight new destinations launched since August, including three International. And more to come! #FlyHigher with India's Only Five Star Airline. pic.twitter.com/kPBYOgYXrR

— Vistara (@airvistara) October 1, 2019
Introducing daily direct flights to #Thiruvananthapuram from #Delhi, on India's Best Airline! Book now for flights commencing 9th November 2019 with one way fares starting at INR 5,299 all-inclusive. Hurry! https://t.co/fgyfGbOGwj pic.twitter.com/gZaWuL3t3H

— Vistara (@airvistara) October 16, 2019
Vistara New Routes – Indore (October 26)
Starting October 26th, Vistara will be operating daily non-stop flights between New Delhi and Indore. Indore is a key manufacturing centre in the state of Madhya Pradesh and over the years has seen a substantial increase in the number of flights. Vistara customers from Indore can also connect to various other cities in Vistara's network by connecting seamlessly through New Delhi's Terminal T3. The flight will be operated by an Airbus A320-200.
The schedule listed by the website is as follows –
UK913 DEL0655 – 0820IDR 320 D
UK914 IDR0855 – 1025DEL 320 D
Vistara to Jodhpur and Udaipur
Vistara also announced Jodhpur and Udaipur as their two new destinations in Rajasthan. Daily flights between Mumbai and Udaipur (Maharana Pratap Airport) already have started operations from October 4, 2019 on the Boeing 737-800s.
Mumbai – Udaipur
UK613 BOM1215 – 1355UDR 737-800 D
UK614 UDR0855 – 1025BOM 737-800 D
From October 29, the operations will expand further with daily direct flights between Delhi and Udaipur, Delhi and Jodhpur, and Mumbai and Jodhpur. These airports in Rajasthan are well known for attracting tourists and its definitely a positive move from Vistara for people to "Fly the New Feeling".
Delhi – Udaipur
UK627 DEL1300 – 1445UDR 320 D
UK628 UDR1520 – 1645DEL 320 D
Mumbai – Jodhpur
UK655 BOM1450 – 1610JDH 737-800 D
UK656 JDH1645 – 1810BOM 737-800 D
Delhi – Jodhpur
UK681 DEL1325 – 1455JDH 320D
UK682 JDH1530 – 1655DEL 320 D
Vistara to Patna – November 3
In November 2019, Vistara will be starting operations to Patna, Khajuraho and Thiruvananthapuram. On November 3, Vistara will launch daily flights from New Delhi IGI Airport T3 to Patna Jay Prakash Narayan International Airport. With Patna Airport recording double digit growth numbers in passenger traffic, Vistara's entry will make it directly compete with all other major players in India in terms of the number of flights operated on the DEL-PAT sector – IndiGo (7), GoAir (7), SpiceJet (5), Air India (3). Vistara will start off with a daily flight on this sector and it will be interesting to see how they increase the frequencies in the coming months.
The schedules of this sector stand as –
UK715 DEL1815 – 1955PAT 320D
UK716 PAT2030 – 2220DEL 320 D
Vistara to Khajuraho – November 5
On November 5, Vistara will commence operations to Khajuraho. The city of Khajuraho is well known for its history, archeological sculptures and monuments, number of medieval Hindu and Jain temples, and a UNESCO World Heritage Site. The flights would operate daily with a stopover in Varanasi before continuing to Khajuraho.
UK631 DEL1045 – 1345HJR 737-800 D (via VNS)
UK622/672 HJR1420 – 1950DEL 320 D (via VNS)
Vistara to Thiruvananthapuram – November 6
In the latest news, Vistara announced daily flights from Delhi T3 to Kerala's capital city, Thiruvananthapuram (a.k.a.) Trivandrum from November 9, 20219. Trivandrum becomes the second destination for Vistara in Kerala after Kochi.
Known for the world famous Padmanabhaswamy temple and other temples around the city, museums, beaches and backwaters, Ayurvedic centres, this new flight offers the perfect getaway for a vacation to God's Own Country – Kerala.
The schedules of this sector stand as –
UK897 DEL0700 – 1020TRV 737-800 D
UK898 TRV1100 – 1420DEL 737-800 D
With the introduction of these new routes, Vistara is definitely on the road ahead to increase their footprint in India. This map from their In-Flight Magazine shows the current network of Vistara with the proposed new routes.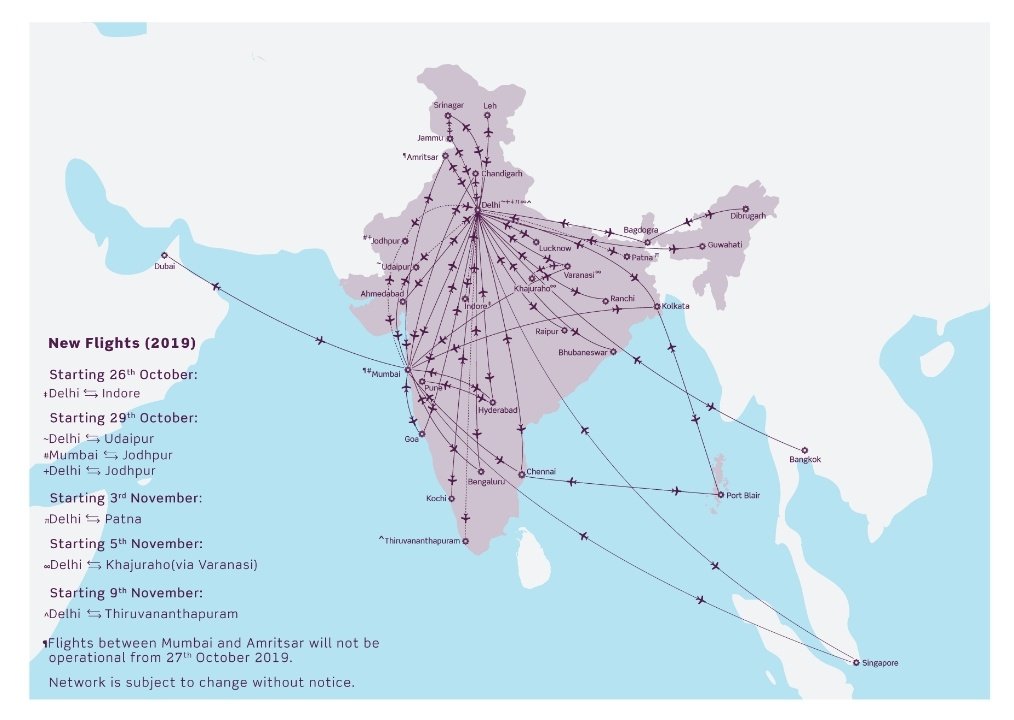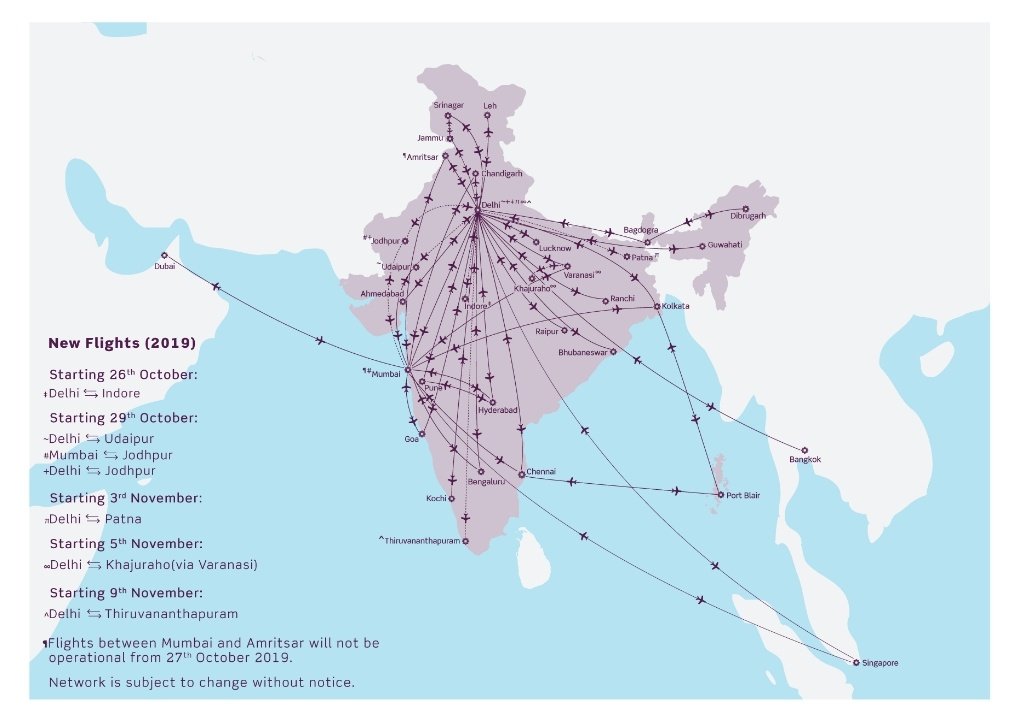 Vistara to Colombo from Mumbai – November 25
After all the flurry of domestic routes, Vistara announced Colombo as their 4th international destination. Colombo was expected to be the airline's inaugural route, however, it's still good to see them going ahead with their plans for this destination.
Vistara will operate their Airbus A320neo aircraft with a 3-class configuration on their flights to Colombo. The flight will operate on all days except Wednesday. Vistara has a launch round-trip all-inclusive fare for the Mumbai-Colombo-Mumbai sector at INR 18,599. The timings of the flight are a perfect fit for tourists flying into the ocean city.
UK131 BOM1100 – 1325CMB 320 (except Wednesday)
UK132 BOM1425 – 1700CMB 320 (except Wednesday)
Vistara also has interline partnership with SriLankan Airlines to help passengers flying SriLankan Airlines to connect to Vistara's destinations, and Vistara's passengers to connect to SriLankan Airlines flights.
Aircraft Change – Singapore to switch to A320neo from November 30
With the arrival of two brand new Airbus A320neo aircraft (VT-TNP and VT-TNQ), Vistara's fleet now comprises of 34 aircraft (13 A320 CEO, 12 A320neo, 9 Boeing 737-800) as on the date of compiling this article.
The two newest members of our family, @Airbus A320neos VT-TNP and VT-TNQ, have arrived and will be in operation soon! These are even more #NotJustAnotherNeo😀 pic.twitter.com/ZFyNduSQQT

— Vistara (@airvistara) October 25, 2019
With new A320neo aircraft in the fleet, Vistara now has the aircraft with the much needed Maximum Take Off Weight (MTOW) to perform the flights to Singapore. Therefore, as of November 30, 2019, the Airbus A320neo will take over the flights to Singapore from their Boeing 737-800s (on both the DEL & BOM sectors). This brings in the flavour of Vistara's Premium Economy on this international route. It will be interesting to see the loads on Vistara's Premium Economy class and the passenger experience on these 5+ hours sectors. If you are flying on Vistara's Premium Economy class on these DEL-SIN-DEL or BOM-SIN-BOM sectors, make sure you tag us on on your social updates (#teamvtaviation).
Wishing Vistara all success with the launch of their new routes and hoping to see them open more new stations in India and bring in more opportunities to "Fly the New Feeling"!
You can check out our Trip Report (Stories) on Instagram here – Vistara Trip Report Stories