Vistara, a joint venture between TATA Companies and Singapore Airlines, took delivery of their first state-of-the-art Boeing 787-9 Dreamliner aircraft on February 29, 2020. The aircraft, registered as VT-TSD (Tango Sierra Delta) flew from Boeing's Everette Factory, Washington to India on a non-stop 16 hour flight. The aircraft landed at New Delhi Indira Gandhi International Airport on February 29, 2020 around 1400 hrs.
View this post on Instagram
Vistara unveils the Boeing 787-9 Dreamliner
On March 2, 2020, Vistara, India's Premium airline, unveiled it's first Boeing 787-9 to the media and public. With the addition of this wide-body aircraft in the fleet (40th aircraft in the fleet), Vistara also launched it's new cabin to offer enhanced comfort to guests flying on long haul sectors.
During the unveiling event, Vistara's Senior Management showcased the state-of-the-art modern functionalities of the new bird. The new seating experience in Business, Premium Economy and Economy are in-line with the ever growing demands by guests and frequent fliers. Few of the special features on this aircraft include advanced air purification system, turbulence dampening technology, larger windows and lot more which would make the guests' journey more pleasant and comforting.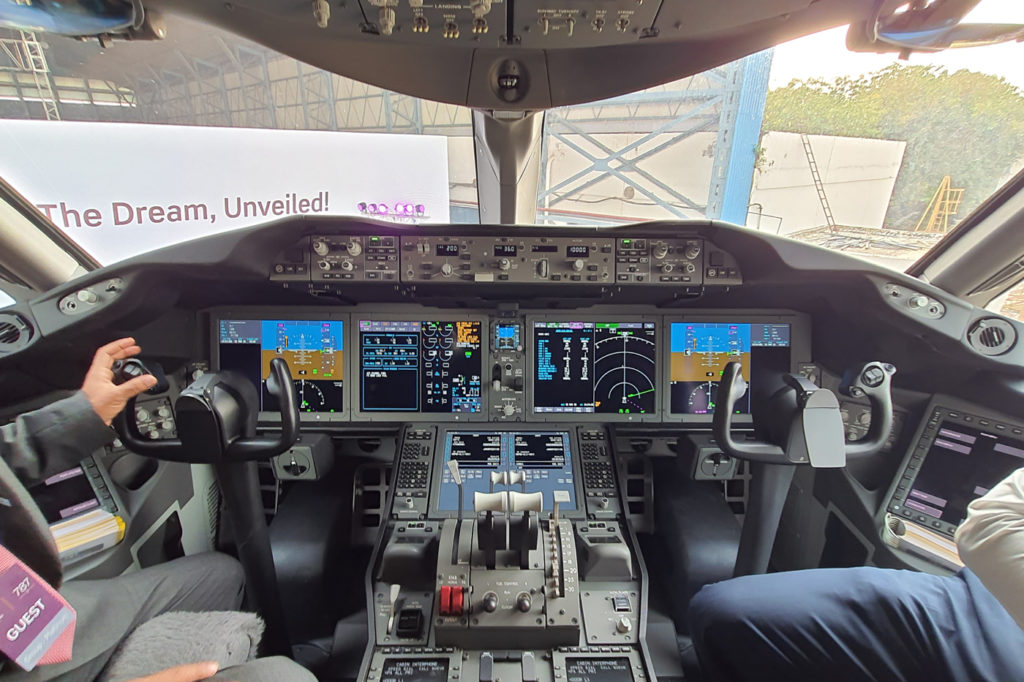 Seat Configuration on the Vistara Boeing 787-9 Dreamliner
Looking at the seating configuration, Vistara is offering 30 (1-2-1 configuration) flat-bed Business Class seats. The airline is offering 21 (2-3-2 configuration) Premium Economy class seats and 248 (3-3-3 configuration) Economy Class seats.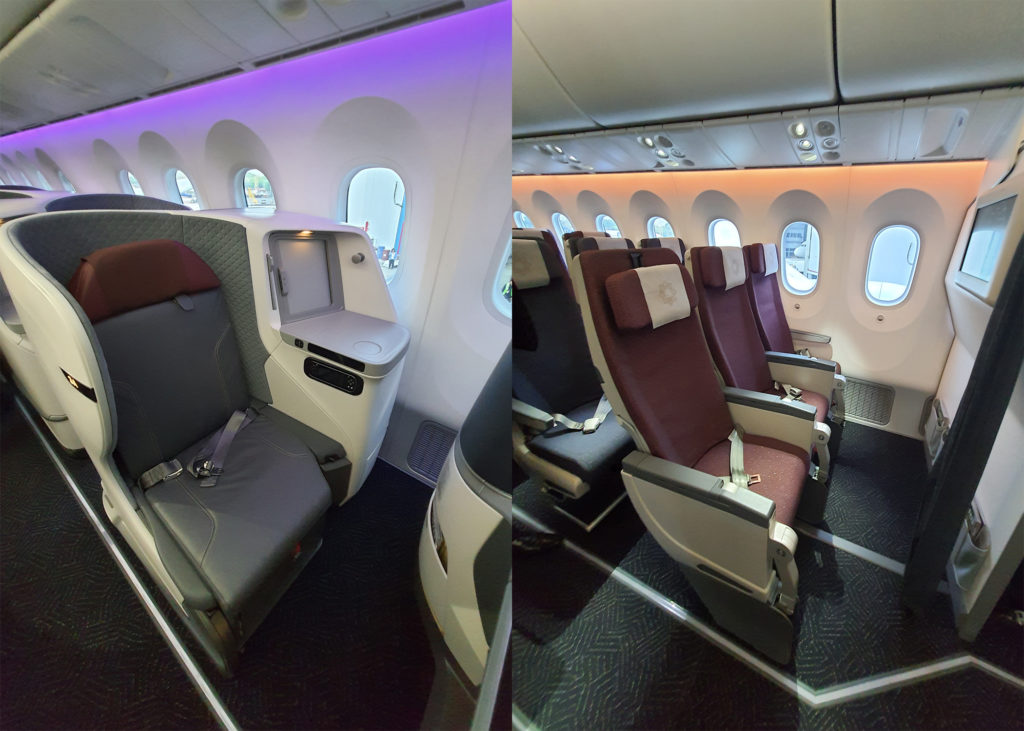 Key Features of the Vistara Boeing 787-9 Cabin
Business Class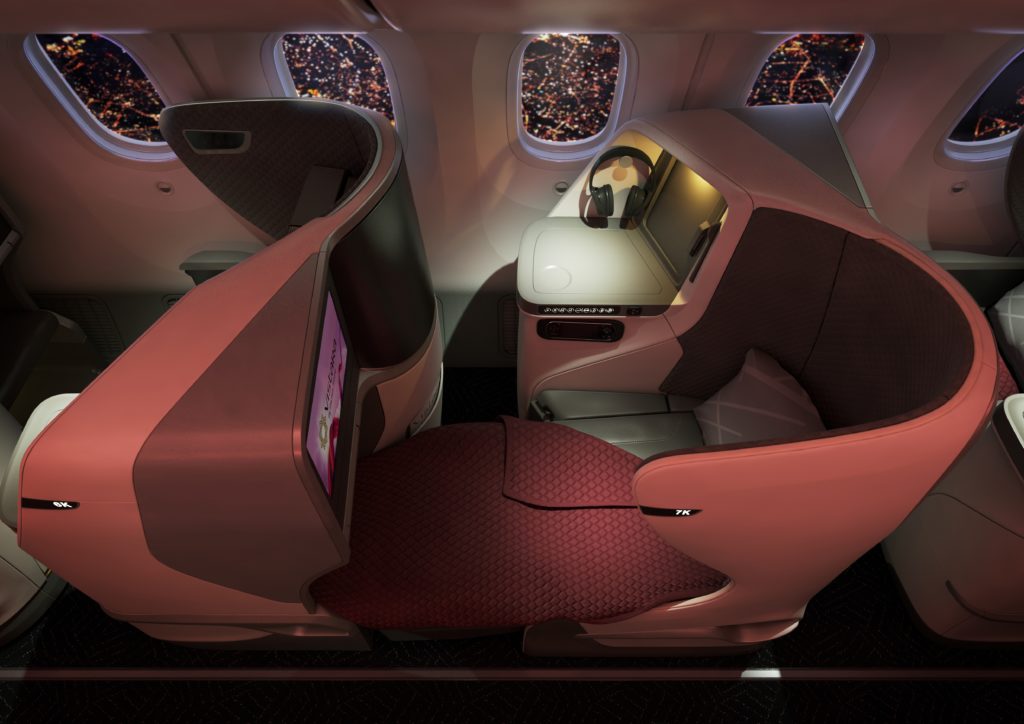 30 flat-bed seats in 1-2-1 configuration
Seat pitch : 44″ | Width: 20″ | Bed Width: 20″
HD IFE Touch Screen with 700 hours of entertainment
6 way head-rest, headset hook, stowage compartment, pull-out mirror, large cocktail  table, three-point seatbelt
USB Port and 3-pin charging port
Touch based passenger control unit to adjust and control seat functions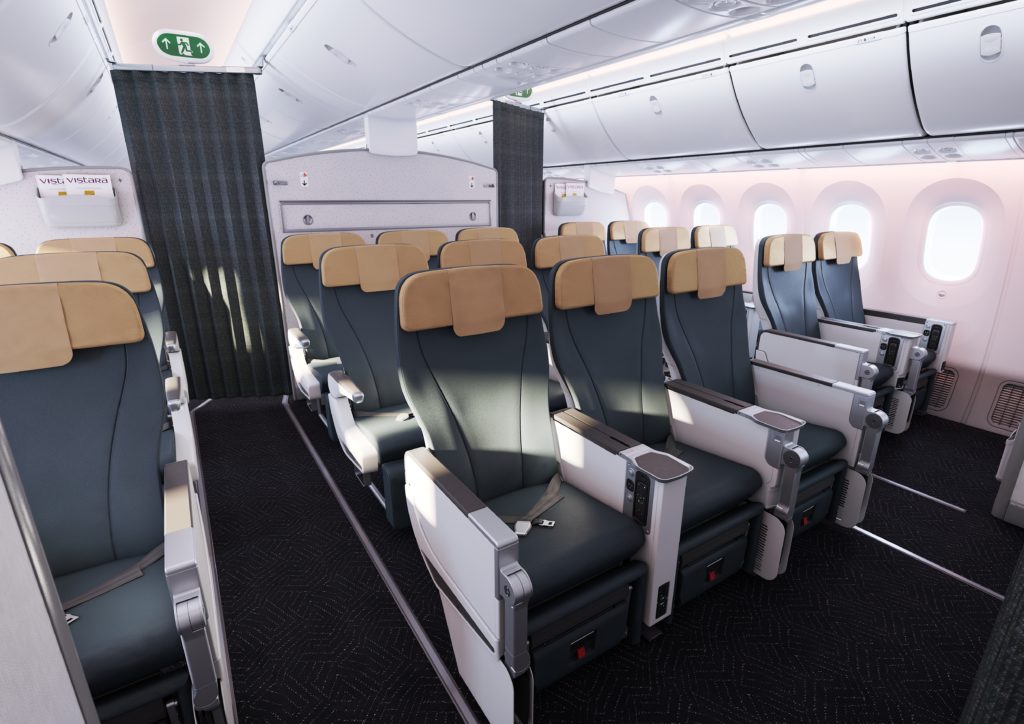 Premium Economy Class
21 seats in 2-3-2 configuration
Separate and private cabin
Seat Pitch : 38″ | Width : 19.09″ | Reclining angle : 7″
IFE Monitor size: 13″ seat back
12″ IFE monitor in-arm
Touchpad handset and audio jack
6 way head-rest, calf-rest, foot rest and cocktail table
USB Port and 3-pin charging port
Economy Class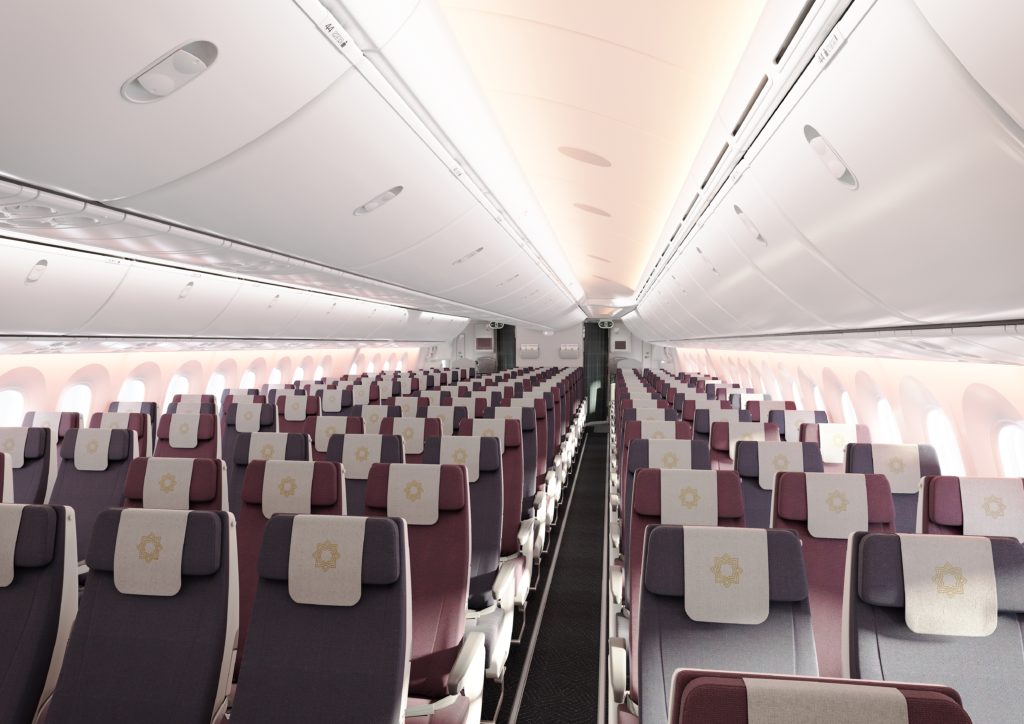 248 seats in 3-3-3 configuration
Seat Pitch: 31″ | Width: 17″ |
Reclining angle : 5″
IFE Monitor size: 12″ seat back and 12″ in-arm with touchpad handset
6 way head-rest for enhanced neck support
USB Port in every seat
3-pin charging port (2 between 3 seats)
In-Flight Wi-Fi and Connectivity Services
Vistara will be the first airline to provide in-flight Wi-Fi and Connectivity services once the necessary regulatory approvals are received. Guests will be able to browse the internet, send SMS and MMS, and also use 3G mobile data through GSM and GPRS in-flight. The aircraft is well equipped with the modern technology which allows all the passengers to make use of this in-flight connectivity services. The airline's IFE will include 150 movies, 200 short programs and almost 2000 sound tracks in English, Hindi, Simplified Chinese and Japanese languages.
We are really excited to see this bird up close as well as to #ExperiencetheDream.
What are your thoughts about Vistara's brand new airplane? Do you plan to fly on this aircraft? Leave your comments below.