Blue Dart, India's oldest cargo airline, was incorporated in May 1994 as a 100% subsidiary of Blue Dart Express Limited. Blue Dart Aviation commenced operations in June 1996 with a fleet of 2 Boeing 737-200F airplanes. Currently, the airline operates a fleet of 6 Boeing 757-200(PCF) airplanes which have a carrying capacity of 204 tones combined. The airline has a rich history of constant profits across the years from the year it started operations.
The COVID19 has forced the aviation industry into serious crisis. This in-turn has forced airlines around the world to suspend/curtail flight operations. Back in mid-March, India decided to shut down international flights from entering into Indian airports. The Directorate General of Civil Aviation (DGCA) also shut down domestic flight operations during the 21-day lockdown period. Only cargo flights had the permissions to operate regular flights. Few weeks later, DGCA gave permissions for flights to carry cargo in the passenger cabin and on seats. This is in addition to the belly cargo which enables airlines to accommodate more freight in view of the lockdown.
COVID19 Operations
Blue Dart has been in the forefront of operating cargo flights across India during the lockdown period. The airline has been operating flights between Chennai, Bengaluru, Mumbai, Delhi, and Kolkata. The motive very simple – enable medical equipment and pharmaceutical products reach hospitals and medical institutions on time. The airline also operated flights on two new air routes – Guwahati and Pune. This move was to ensure essential deliveries are not disrupted due to this pandemic situation.
Ketan Kulkarni, CMO and Head Business Development, said: (Source: Economic Times)
"Blue Dart's 'FIGHT COVID 19 – PRICE (FC19-P)' is a unique initiative and our duty towards the nation in these times of crisis. We have always stepped up as a 'FIRST IN LAST OUT' organisation whenever a disaster has struck the nation. Our aircrafts are the life line of the nation & our nation is grappling with a situation never experienced earlier & this has a widespread impact on the economy. Businesses across sectors and geographies are disrupted due to mobility suspension."
In an additional move to support customers with their shipping needs, the airline reduced its Retail Tariff Prices by 25%. This price reduction will be applicable to all the local retail customers and MSMEs. The FC19-P program will deliver a speedy and hassle-free experience to deliver essential items manufactured by MSME sector. The essentials include testing kits, reagents, enzymes, medical equipment (ventilators), masks, respirators, surgical masks, gloves.
Blue Dart flies International!
In a first for the airline, Blue Dart operated international flights in order to support the Govt. of India. India is currently importing essentials from neighboring countries like China and Bangladesh to cater the needs of the country. Beginning April, the airline operated flights between Kolkata and Dhaka on a frequent basis for bringing the important essentials. Blue Dart also operated flights to Guangzhou from Kolkata and Delhi to support the Govt. for getting the essentials. The airline also flew to Shanghai for uplifting relief essentials for the nation. Blue Dart also has plans to operate to Singapore in the future.
Three Air India/Blue Dart flights over the last two days have lifted more than 80 tons of cargo bringing 1 million sets of protective goggles from #Guangzhou to #Delhi | Appreciate assistance of Civil Aviation Authority of China and @MFA_China #IndiaFightsCoronavirus @airindiain pic.twitter.com/PIADD0m9Qi

— Vikram Misri (@VikramMisri) April 25, 2020
The airline is operating flights to uplift essentials on the requests of various state governments. The airline has carried items like testing kits, reagents, enzymes, medical equipment (ventilators), N95 respirators and surgical masks, gloves. The Boeing 757-200(PCF) has a carrying capacity of 34 tonnes. The airline has been making best use of the aircraft for these relief flights. To deliver the essentials, a door to door delivery has also been setup by the company. This will ensure uninterrupted service and delivery of essentials.
"Since the lockdown began, we have operated numerous cargo flights transporting more than thousands of tons of medical supplies, medicines, medical devices and other essential items for various state governments, medical and pharma companies. There are several components and ingredients that are coming from different places. To ensure continuity of the global supply chain, Blue Dart is flying Boeing 757-200 freighters round-the-clock to carry medical and other vital supplies in these difficult times," Blue Dart Express CMO and Head of Business Development Ketan Kulkarni said. (Source: Telangana Today)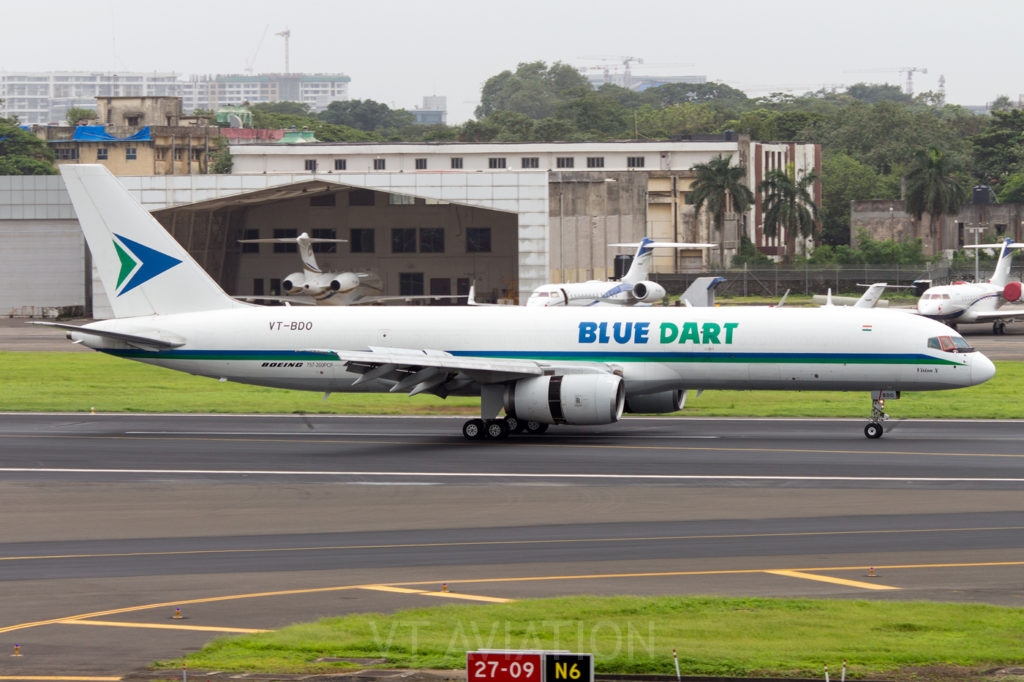 Blue Dart Express launches Medicine Delivery service to Indians living abroad
On April 28, Blue Dart launched a new service through which customers can send medicines to relatives living abroad. To benefit from this, customers can visit any Blue Dart/DHL counter across India. A valid medical prescription must be provided for sending medicines overseas to their family/friends. The medicine will be delivered through the Blue Dart-DHL's door-to-door express service.
Along with Blue Dart, Air India, Indian Air Force (SpiceJet, SpiceXpress, IndiGo, Vistara) are also operating domestic/international routes carrying relief essentials and repatriation flights. Check out the detailed coverage on these operations in our articles below –
The Airline That Won A Million Hearts for Operating COVID-19 Relief Flights
Blue Dart is not just a courier company but one of the giants in the Aviation logistics industry. The airline is striving hard to offer their support during this difficult times. They are also working to ensure an uninterrupted supply of cargo across the country. Blue Dart has also listed themselves on the dedicated Medical Air Cargo website www.civilaviation.gov.in. We express our thanks to everyone working dedicatedly behind the scenes to keep the smooth flow of operations!
What are your thoughts about Blue Dart's participation in the rescue operations during this COVID-19 crisis? Leave us your thoughts and feedback in the comments section.