Year 2020! Something that gives everyone a sour taste in their mouth when taking a look back today. The onset of (COVID-19) what just started as a normal virus to a pandemic has caused tables to turn and the economy to crumble badly. Aviation industry was one among the worst hit businesses. From passenger numbers crumbling to new lows, airlines shutting shop and aircrafts (such as the Boeing 747-400s, Airbus A350s etc) being phased out of the fleet, the aviation industry has seen one of the worst years in its history.
As we come to the end of the year 2020, we take a look back at how the year has been for us at Team VT Aviation. While the entire year has been majorly ruled by COVID-19 and given the strict lockdown impositions in India between March and September, it was a difficult year of #planespotting. On the positive note, the lockdown and the pandemic situation saw a tremendous increase in the number of cargo flights and repatriation flights being operated around the world. Commercial airline carriers even started to convert their passenger aircraft into cargo aircraft by removing the seats to increase cargo hold capacity. As a team, we made sure to capture every rare aircraft that flew into CSMIA, Mumbai during this time. Of course, we did follow all the safety precautions and social distancing as required when doing planespotting from common public areas.
Starting off this blog with our significant achievements of 2020 –
January 2020
We kicked off the new year with the click of British Airways Airbus A350-1000 from Bengaluru International Airport. British Airways launched their A350-1000 service to Bangalore from January 1, 2020 and it was a great moment for us to click the early morning departure of G-XWBB from Runway 09 (now 09L) on a foggy winter morning.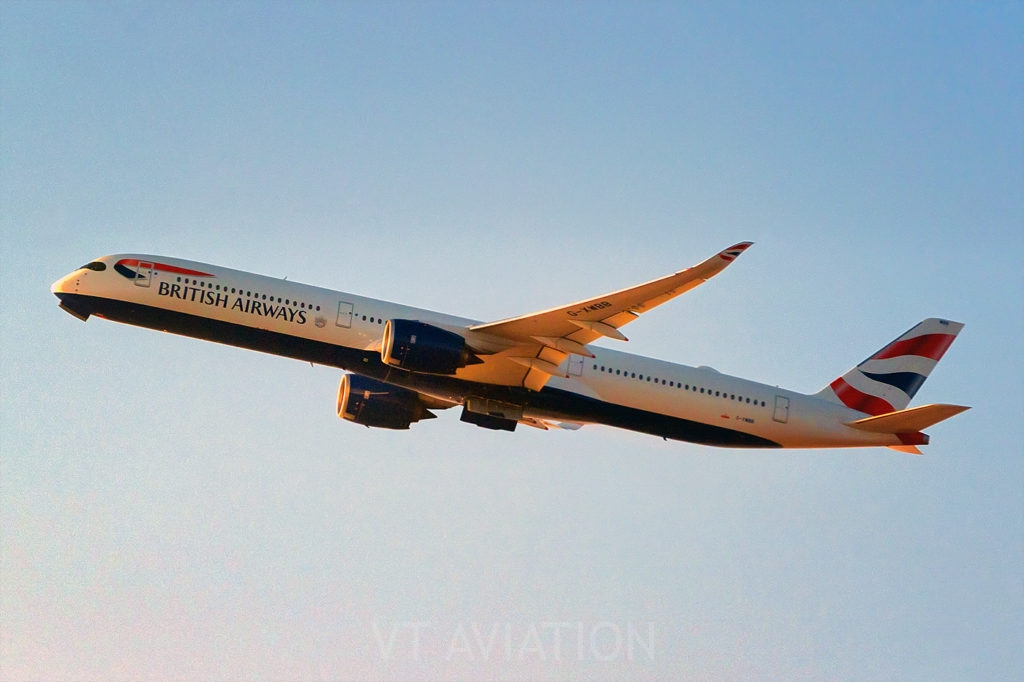 On January 31, Air India – the national carrier of India – operated the first of many special relief flights to Wuhan to bring back stranded Indian citizens. We covered a detailed story on our blog on these special relief flights by Air India. In case you missed our blog, check it out in the below link. This article covered by us has crossed over 16K reads so far.
Later, over the next few months, Air India operated relief flights to various destinations such as Tokyo, Milan, Rome, Israel, France, Germany, London, numerous ferry flights to China to bring relief materials as part of the "Air-Bridge" established between the two countries, Sri Lanka, Mauritius, Seychelles, Guangzhou, and numerous relief flights within India to deliver PPE kits and medical supplies. We covered this article as well in detail and we are happy to see that this article has crossed over 20K reads. It was a privilege for us to note that Air India also shared our article on their social media channels.
In case you missed reading this article, check out the link below –
The Airline That Won A Million Hearts for Operating COVID-19 Relief Flights
February 2020
After our successful stint at the Dubai Airshow in November 2019, this year it was time to head to Singapore for the Singapore Airshow 2020. By now, given the rise in the number of COVID-19 cases in South East Asian countries, countries like China, Japan, Indonesia, Singapore started to impose ban on flights. These countries also stepped up their medical infrastructure and had lockdowns in place to curtail the rising number of cases. This resulted in many exhibitors and companies to withdraw their presence from the Singapore Airshow 2020 event. The organizers of the event decided to go on with the event by following all safety precautionary measures.
Check out our exclusive pictures from the Singapore Airshow 2020 event below –
February also witnessed Air India launching two new routes from CSIA, Mumbai – London Stansted Airport and Doha, Qatar. We were privileged to witness the inaugural of both these routes from Air India. Check out our exclusive videos from these events –
April 2020
With the lockdown into full effect in India from the last week of March, airlines started to operate repatriation flights to fly back stranded citizens back to their countries. First up, CSMIA welcomed the Kiwi airline "Air New Zealand" from Auckland. Ship ZK-OKN, a Boeing 777-300ER, operated a direct 14:15 hour flight from Auckland to take back stranded citizens. Despite the lockdown at Mumbai, we at Team VT Aviation were invited by Mumbai Airport to cover the first historic landing of this airline at Mumbai airport. We took all possible safety precautions to cover this special event.
Check out our exclusive video from the Air New Zealand repatriation flight –
In April, we covered a detailed blog article on the efforts of the Indian Air Force to fight COVID-19. Along with Air India, the IAF also operated special rescue operation flights to Wuhan, Iran, Kuwait to bring back stranded citizens, and numerous operations within India to the states of Leh, Jammu and Kashmir, Nagaland, Manipur, Maldives, Sikkim, Odisha, Andhra Pradesh, Ladakh, Srinagar, Lengpui, and across India to deliver essentials and medicines.
Check out our detailed coverage of the Indian Air Force operations in our blog –
April also witnessed another first in the history of Indian Aviation. Blue Dart, India's oldest cargo airline launched international operations for the very first time. The cargo airline imported essentials from neighboring countries like China and Bangladesh to cater the needs of the country.
India's oldest cargo airline Blue Dart flies International for COVID19 operations
May 2020
We started off May with an exclusive shoot with the 121 HF squadron Sea Eagle at CSMIA, Mumbai on May 3. The squadron carried out a special salute for the #COVID19 warriors using their Mi-17 helicopters. This activity was carried out by different squadrons across India as a goodwill gesture to thank the frontline workers for their tireless efforts in treating the COVID patients.
Check out our exclusive album of the squadron preparing the birds and departing from CSMIA, Mumbai for this special operation –
Indian Air Force Salutes COVID19 Warriors – Mi17 at CSMIA Mumbai
May also had its fair share of surprises from airlines around the world. First, it was the Australian carrier "Qantas" to touchdown at Mumbai after a gap of 10 years. Qantas operated their repatriation flight to fly back stranded citizens. Ship VH-ZNE, a Boeing 787-9 Dreamliner operated the direct flight from Brisbane Airport. Team VT Aviation once again got the opportunity to be airside to welcome the Flying Kangaroo to Mumbai. Check out this exclusive video coverage of the arrival.
Within days, the totally unexpected visitor from South Africa made its presence at Mumbai. South African Airways also made its return to Mumbai (after previously ceasing operations to Mumbai). South African Airways operated their Airbus A340-600 aircraft registered ZS-SND from Johannesburg to Mumbai via New Delhi to repatriate their citizens. Yet again, thanks to the efforts of CSMIA, Mumbai, we were invited to cover the arrival of this aircraft into Mumbai. Check out the video of the arrival of South African Airways at Mumbai –
June 2020
June witnessed another new airline starting cargo operations to Mumbai. "Alitalia" – the flag carrier of Italy made its comeback to Mumbai and launched cargo flights using their Boeing 777 aircraft. Ship EI-WLA, a Boeing 777-300ER, operated the inaugural cargo charter from Rome. Check out the video from the Alitalia inaugural event.
July 2020
July 29, 2020, Indian Air Force took delivery of the first batch of state-of-the-art Dassault Rafale fighter jets. These birds flew all the way from France and landed at Air Force Station Ambala and received a warm welcome by everyone from the IAF.
Indian Air Force Gets First Batch of Dassault Rafale Fighter Jets
October 2020
Scroll to October 2020, we had (yet again) the opportunity to attend the Air Force Day at Hindon Airbase, New Delhi. Our team attended the rehearsal day event and got a chance to witness the "Star of the show" – the "Brand New Rafale Jets of IAF" that were delivered few weeks prior to the event. Don't miss out our collection of pictures from the Air Force Day event –
October also brought in one of the much awaited news for Indian Aviation – the comeback of "Jet Airways". The airline finally received new bidders amidst the COVID-19 crisis after eighteen months of shutting down. The new investors expect to restart the airline by mid-2021. Will this happen or is it just a myth? We have to play the waiting game.
November 2020
November also was a fantastic month with the much expected news of the Boeing 737 MAX aircraft receiving the clearance from Federal Aviation Administration (F.A.A) of United States of America to fly again. This "Fit-for-Operations" certification means the lifting of the 20-month ban of grounding the aircraft type. This is good news for airlines and at the time of writing this article, airlines in the U.S. have already started to use The Boeing 737 MAX aircraft for commercial flights.
Check out our article covering the certification of Boeing 737 MAX for commercial operations –
Boeing 737 MAX Receives FAA Clearance and is All Set to Fly Again
New/Rare airlines/liveries that made its presence at Mumbai in 2020
Alright, that's enough of inaugurals and airside stuff for 2020. The excitement just doesn't stop here. Between the months of March to December, our fantastic team members made sure they clicked every rare airline that made a visit to Mumbai – either as a repatriation flight or as a cargo charter. We did miss some really exotic carriers which will go down as a miss, but will remain happy with this unique collection of pictures in our database. We are happy to present this picture gallery of our prominent clicks in 2020 (in no particular order).
[supsystic-gallery id=1]
Wrapping Up
2020 has been a tough year for everyone. Our heartfelt thanks and wishes go out to the frontline workers, healthcare staff, hospital staff and airport/airline workers around the world to ensure safety. Without your support and dedication, it wouldn't have been possible to tackle the pandemic situation. As we close the year, we can only pray to Lord Almighty and hope that 2021 is a better year for mankind. On the aviation front, here's to hoping the industry will play a major role in transporting the much needed COVID-19 vaccine around the world and deliver better care towards ending this pandemic.
On this positive note, we wish all our readers a Happy and Prosperous New Year 2021! Be safe and make sure to follow the safety precautions wherever you travel. SAFE TRAVELS!