Update: July 29, 2020
The first five Indian Air Force (IAF) Rafale aircraft have arrived at Air Force Station, Ambala. The aircraft got airborne from Dassault Aviation Facility, Merignac, France on the morning of 27 Jul 20 and reached India this afternoon with a planned stopover en-route at Al Dhafra air base in the UAE.
The ferry was planned in two stages and was undertaken by IAF pilots. The aircraft covered a distance of nearly 8500 km from France to India. First stage of the flight covered a distance of 5800 km in seven and a half hours.  French Air Force (FAF) Tanker provided dedicated Air-to-Air Refuelling support during the flight. The second stage of the flight covering over 2700 km was carried out with Air-to-Air Refuelling by IAF Tanker. IAF deeply appreciates the proactive support provided by the French Government and Industry in France to ensure timely delivery. The tanker support extended by French Air Force during the ferry was crucial in ensuring that the long haul flight was accomplished successfully and in a time bound manner. – Source : PRO Defence, Mumbai
Here are some pictures from the induction ceremony held at AFS Ambala, Haryana yesterday. Air Chief Marshal Rakesh Kumar Singh Bhadauria, PVSM, AVSM, VM, ADC, the Chief of Indian Air Force welcomed the new bird to the IAF fleet. Rafale is a 4.5 generation advanced fighter jet.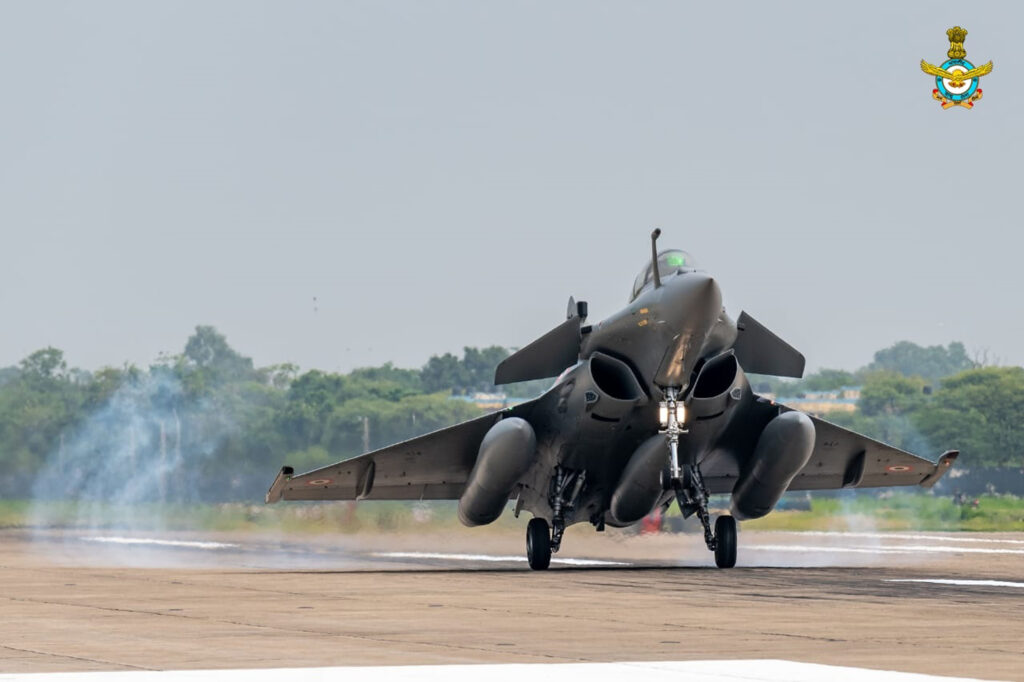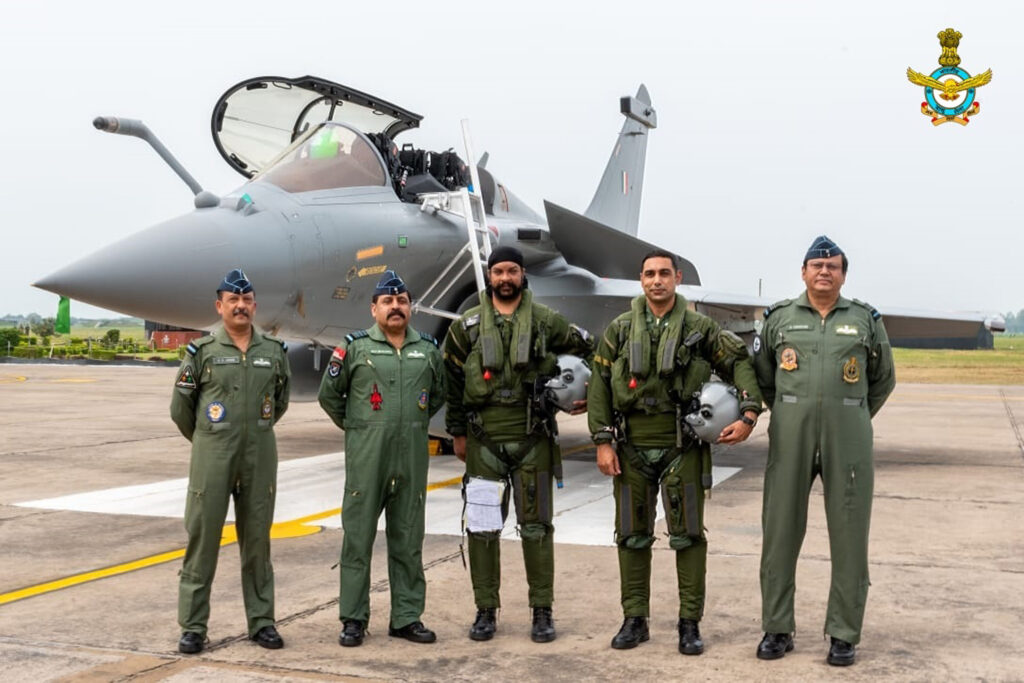 Update: 1545 hours
All 5 Rafales have landed at Air Force Station Ambala, Haryana. The were welcomed with the ceremonial water cannon salute.
#WATCH Water salute given to the five Rafale fighter aircraft after their landing at Indian Air Force airbase in Ambala, Haryana. #RafaleinIndia pic.twitter.com/OyUTBv6qG2

— ANI (@ANI) July 29, 2020
Update : 1530 hours
Our Indian Air Force Rafales have touched down safely in Ambala! Welcome home, new bird.
The Touchdown of Rafale at Ambala. pic.twitter.com/e3OFQa1bZY

— Rajnath Singh (@rajnathsingh) July 29, 2020
Update : 1415 hours
The Rafales have entered the Indian airspace and are being flanked and escorted by the Sukhoi SU-30MKI of Indian Air Force. Welcome home, Rafale!
The five Rafales escorted by 02 SU30 MKIs as they enter the Indian air space.@IAF_MCC pic.twitter.com/djpt16OqVd

— रक्षा मंत्री कार्यालय/ RMO India (@DefenceMinIndia) July 29, 2020
July 29, 2020 – Today marks a historic day for the Indian Air Force as the first five out of 36 Rafale jets are expected to land at Ambala Air Force Station in Haryana. Indian Air Force (IAF), aka भारतीय वायुसेना, is one of the most elite Air Forces in the world. The rich and vivid history of IAF comes from the early days of Royal Air Force. Indian Air Force has proved its mettle to the world in various battles and exercises. Having a superior state-of-the-art fleet including the Mig-21 "Bison", Mig-29UPG "Fulcrum", Sukhoi SU-30MKI "Flanker", Dassault Mirage 2000, Sepecat Jaguar and the "Made in India" Supersonic aircraft – Light Combat Aircraft (LCA) Tejas, IAF has proved its air power superiority to the world.
IAF takes delivery of first five of 36 Rafale Fighter Jets
In September 2016, Indian Air Force placed an order to France's Dassault Aviation for 36 Rafale fighter jets. This deal was worth 59,000 crore. 4 years since then, it's now time for IAF to finally receive the first batch of Rafale aircraft.
On July 27, 2020, five of these Rafale jets took off from France's Merignac Air Base located in the city of Bordeaux. These Rafale jets will be a part of the No. 17 Squadron of Indian Air Force, named as the "Golden Arrows" based in Ambala. Out of the first five aircraft, three are single seater and two are twin seater aircraft. With air-to-air refueling by the French Air Force' Airbus A330 MRTT, these Rafale jets covered quite some amazing distance in a few hours and landed at the Al Dhafra Air Base in United Arab Emirates.
Check out this amazing footage shared by Indian Air Force on their official Twitter account of the refueling process –
Indian Air Force appreciates the support provided by French Air Force for our Rafale journey back home. @Armee_de_lair @Indian_Embassy @Dassault_OnAir #Rafale#IndianAirForce pic.twitter.com/7Ec8oqOJmr

— Indian Air Force (@IAF_MCC) July 28, 2020
India is due to receive 10 of the 36 ordered Rafale jets this year and all 36 of them would be delivered in phases by 2021. As per a statement by the Indian Embassy in Paris, a total of 10 Rafale fighter jets are ready out of which 5 of them have left for India and the rest 5 are in France for training missions.
Last year, Defence Minister of India, Shri. Rajnath Singh took the delivery of the first Rafale while he was in France. Since then, India has been eagerly waiting to have these advanced fighter jets in the IAF. Not just this, India becomes the first country in the world to have these advanced jets in its fleet after France, where this aircraft is manufactured and tested. IAF has a long history of working with France from the time they had ordered and added the Mirage 2000 and Sepecat Jaguar in the fleet.
Why is the Rafale expected to play a major role for IAF?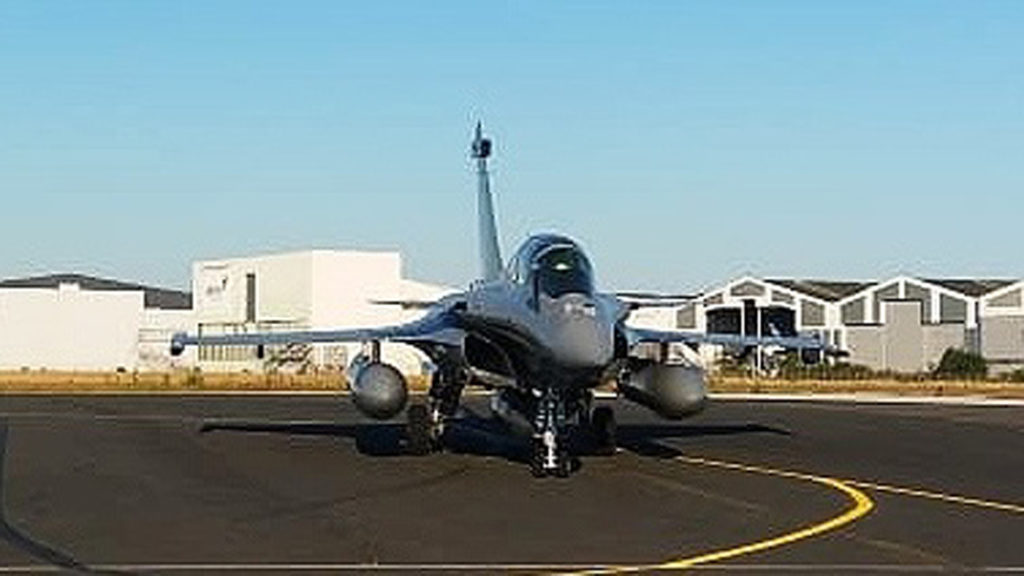 The Rafale is an apt aircraft for boosting up India's fighter jet capabilities. While tension with its neighbouring countries keep mounting every day, these fighter jets will play a major role in securing India's line of defence at the borders. Dassault Aviation's Chairman and CEO Mr. Eric Trappier shared his views and congratulated IAF for this milestone. "I am strongly impressed by the amazing efficiency and determination of the IAF and Indian Ministry of Defence, despite this unprecedented world health crisis, to master rapidly all aspects of the Rafale for comforting Indian sovereignty and contributing to the protection and security of Indian people," Dassault Aviation quoted him in a statement.
One other major talking point of the Rafale aircraft is the twin-engine fighter jet's 'payload fraction'. This is nothing but its maximum take-off weight vis-a-vis its overall empty weight — is unmatched in aircraft of the same class. The empty weight of this aircraft is about 10 tonnes while the maximum take-off weight is around 25 tonnes – says, an official who is associated with the Rafale Project.
What is the weapon carrying capacity of the Rafale?
The Rafale is capable of operating in the high altitude terrain especially at the borders. The aircraft is capable of carrying heavy payload and hence fits as a perfect match for the air-to-air and air-to-ground combat missions. These jets will be fitted with the Meteor missiles built by European defence major MBDA Missile Systems. Meteor is a next-gen missile which is lethal and will revolutionise the modern day air-to-air capabilities. These jets would also be fitted with a few Indian and Israeli equipments including the displays, radars, helmets and jammers. Not just this, Rafale even has the capability of 10 hours of flight data recording.
Wrapping it Up
The Rafale is expected be a game changer in the history of IAF. These fighter jets are rightly called the "Beauty and the Beast" – beauty for their design and maneuvering capabilities, and beast for its lethal attacking capabilities.
What are your thoughts about IAF adding the Rafale Jets to their armory? Share your thoughts and feedback below.